News > Spokane
Catholic Charities, city to consider land deal to spur affordable housing project near Gonzaga Prep
Fri., Aug. 16, 2019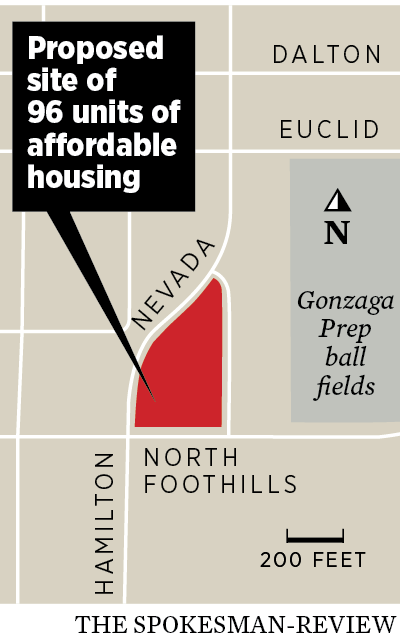 Teaming up with Gonzaga University and a network of nonprofits, Catholic Charities of Eastern Washington is leading an effort to develop 96 units of affordable housing with family support services in northeast Spokane.
Although the feasibility of the project still must be reviewed, the city will consider the sale of five parcels of land on and near North Nevada Street to Catholic Charities, with the goal of starting construction in 2020.
Described as a "service-enriched affordable housing project," the units would be made available as a supportive next step for families that graduate Catholic Charities' Rising Strong program.
Rising Strong provides housing and treatment to parents at risk of losing custody of their children, often due to a substance abuse issue.
A letter of intent that outlines the potential sale process will be voted on by the Spokane City Council at its Aug. 19 meeting.
The new affordable housing units would provide another layer of stability to the families who graduate Rising Strong, with services including access to health care, counseling, employment services and more.
"People who live here are going to be referred out of the Rising Strong program, so they will have gone through a yearlong program that helped them achieve sobriety, that helped them get their GED and become employed," said Jonathan Mallahan, vice president of housing at Catholic Charities. "This housing is a platform for them to maintain that success and build on it."
Gonzaga University is one of several partners to sign on to support the project, which "holds the potential for Spokane to establish a national model for supporting community-driven change," University President Thayne McCulloh wrote in a statement to The Spokesman-Review.
"While we understand this project to be in the early stages of development, Gonzaga University believes this development presents the opportunity to strengthen and expand our collective efforts to serve families in Northeast Spokane," Thayne said.
Gonzaga Preparatory School also is excited by the prospect of a nearby affordable housing development.
"If the proposed development is successful, we would look forward to working with the Northeast Spokane community, Catholic Charities, Gonzaga University, and other community partners to engage the Gonzaga Prep community in service to the families, and especially children, who would be our new neighbors," said Gonzaga Prep President Michael Dougherty in an emailed statement.
Although Catholic Charities is calling the project "Gonzaga Haven," the development would be substantially different than the affordable housing "Havens" operated by Catholic Charities in and around Spokane, which serve the chronically homeless.
Catholic Charities already operates Father Bach Haven, which provides 50 units dedicated to the homeless, as do Donna Hanson Haven and Buder Haven.
"We're not saying we're not serving homeless people ever in this building, but the referral path in this building is very different," Mallahan said.
Tenants of Gonzaga Haven would earn 60% or less than the median area income, with priority given to those who earn 30% or less than the median area income.
The project would encompass four parcels in the 2800 block of North Nevada Street as well as 920 E. Wolverton Court.
Owned by the city water department, the property is mostly a dirt lot used for employee parking but includes a small building used by code enforcement for field employees.
Despite an abundance of optimism surrounding the model, both Catholic Charities and the city acknowledge there are a number of hurdles to jump before a shovel hits the ground.
"We have some concerns about that location," said city spokeswoman Marlene Feist.
Most importantly, two major water lines run through the area and would require a 75-foot no-build buffer, meaning Catholic Charities would have to draft plans that do not infringe on that boundary.
Though the city would "really have to scope out whether that site is actually feasible for" the housing project, it recognizes "that there's a higher and better use for property with that kind of frontage," Feist said.
City Council President Ben Stuckart, who brought the letter of intent to the council for approval, said he is "bullish" on the proposal.
"We've got to overcome those hurdles, and I'm confident that we can," Stuckart said. "Those (hurdles) aren't a show stopper."
In a relatively new process authorized by the state Legislature last year, the city could declare the property surplus and transfer it to Catholic Charities if it agrees to build affordable housing.
Under the terms outlined by the letter, the buyer would have until June 1 to study the feasibility of the property for its purposes. The sale of the property would close no later than Oct. 1, 2020.
Alternative offices and parking for city employees would have to be identified.
"I just want to stress that what we're asking for the city at this point is the opportunity to pursue this idea. The council's action doesn't commit the city to anything," Mallahan said.
If approved by the City Council, the letter would give Catholic Charities the jumping off point it needs to line up financing for the project. About 70% of the project would be funded through the low-income housing tax credit program, with the remaining 30% projected to be a combination of state housing trust fund dollars, local municipal funds and private sources.
Catholic Charities hopes the new facility will open in 2021.
But before construction begins, Catholic Charities and the city say that neighbors would be consulted on the project.
"We fully intend and plan to engage the neighborhood surrounding there, so whatever we build matches the character of the neighborhood," Mallahan said.
Local journalism is essential.
Give directly to The Spokesman-Review's Northwest Passages community forums series -- which helps to offset the costs of several reporter and editor positions at the newspaper -- by using the easy options below. Gifts processed in this system are not tax deductible, but are predominately used to help meet the local financial requirements needed to receive national matching-grant funds.
Subscribe to the Coronavirus newsletter
Get the day's latest Coronavirus news delivered to your inbox by subscribing to our newsletter.
---