Sports
A Grip on Sports: The weekend actually has a lot of different sports-viewing options, if you don't want to risk a sunburn
Fri., Aug. 16, 2019 A GRIP ON SPORTS • What is the first thing you think about when you get up on Friday? Is it what to do on the weekend? We are here to help.
•••••••
• Is it just me or did the late summer's movie lineup seem a bit blah? Not being either fast or furious, or in my mid-20s, even the Lion King remake didn't move the meter for me. I'm kind of intrigued by this Springsteen movie, though someone told me recently it's actually not a documentary.
Movies have usually been our go-to weekend entertainment in the summer, especially when it's hot. Not this summer. But we do have a little movie theater in our house, even if Cinemax is no longer part of our cable package. The other night we settled in to watch an old western, "True Grit." Except we watched the far superior Coen brothers' version.
Sitting in front of a TV watching movies isn't the best weekend entertainment though. Watching sports is. So we checked through the weekend listings this morning just to see if there is anything to recommend.
There is.
Just nothing earth-shattering, unless "Deep Impact" is on somewhere.
If you like watching young kids playing baseball, there is the Little League World Series on just about all of the ESPN networks. Unless the rain continues in Pennsylvania, of course.
If you are more of a fan of older kids playing the game, there are two options: the American Legion World Series or a major league game. There are plenty of both listed and we all know anyone who plays baseball for a living has a lot of little boy in them.
But baseball isn't for everyone. Football is king. But the college version has yet to ascend to the throne this season. The NFL is sort-of on, what with it running through its preseason schedule, still trying to decide if it should make two of the fake games real ones down the road.
One thing that shocked me this morning. When I opened the Salt Lake City newspapers, there was a story on a high school football game. Not a preview, an actual game. Summer has ended in Utah.
Not on the golf courses, of course. There is a major tournament on this week, though only Bobby Jones, Jack Nicklaus and yours truly feel that way. The U.S. Amateur is being played at Pinehurst, N.C. It is, or more precisely, was, the most prestigious non-professional tournament in the world. Nowadays it is more of a steppingstone to the professional ranks, but there was a time not too long ago you could have watched a 21-year-old up-and-comer battling a 42-year-old money manager for the right to be considered the best non-professional in the world.
Until the 21-year-old turned pro on Monday. No matter. These days it's mostly a college tournament, but it's still fun to watch if only to try to calculate each participant's future earnings.
Present earnings are what the other big tournament this weekend is all about. The penultimate FedEx Cup event is going on near Chicago and we all want Justin Reed to win again, right? Either that or Brooks Koepka and Bryson DeChambeau to play together in the first group on Sunday, just to see how many holes DeChambeau would have left when Koepka finished. The over/under is seven.
There is also auto racing, tennis, basketball and boxing to watch, if that's your cup of java. In other words, it may be the middle of August, but the sports-viewing options are abundant.
By the way, a New York public relations firm offered me a giant color TV to watch all my football on this fall. No strings attached. But if I did want to mention the company's name, they wouldn't be adverse to that. No problem. It's the same company that made the TV in my kitchen. The one I have almost tossed in the garbage about 400 times because it takes at least two minutes to come on at times. No lie. Two minutes. That's less time than it takes to eat my dinner. By the time "Star Trek: Voyager" is up and running, I'm done with my rice pilaf.
What a waste.
•••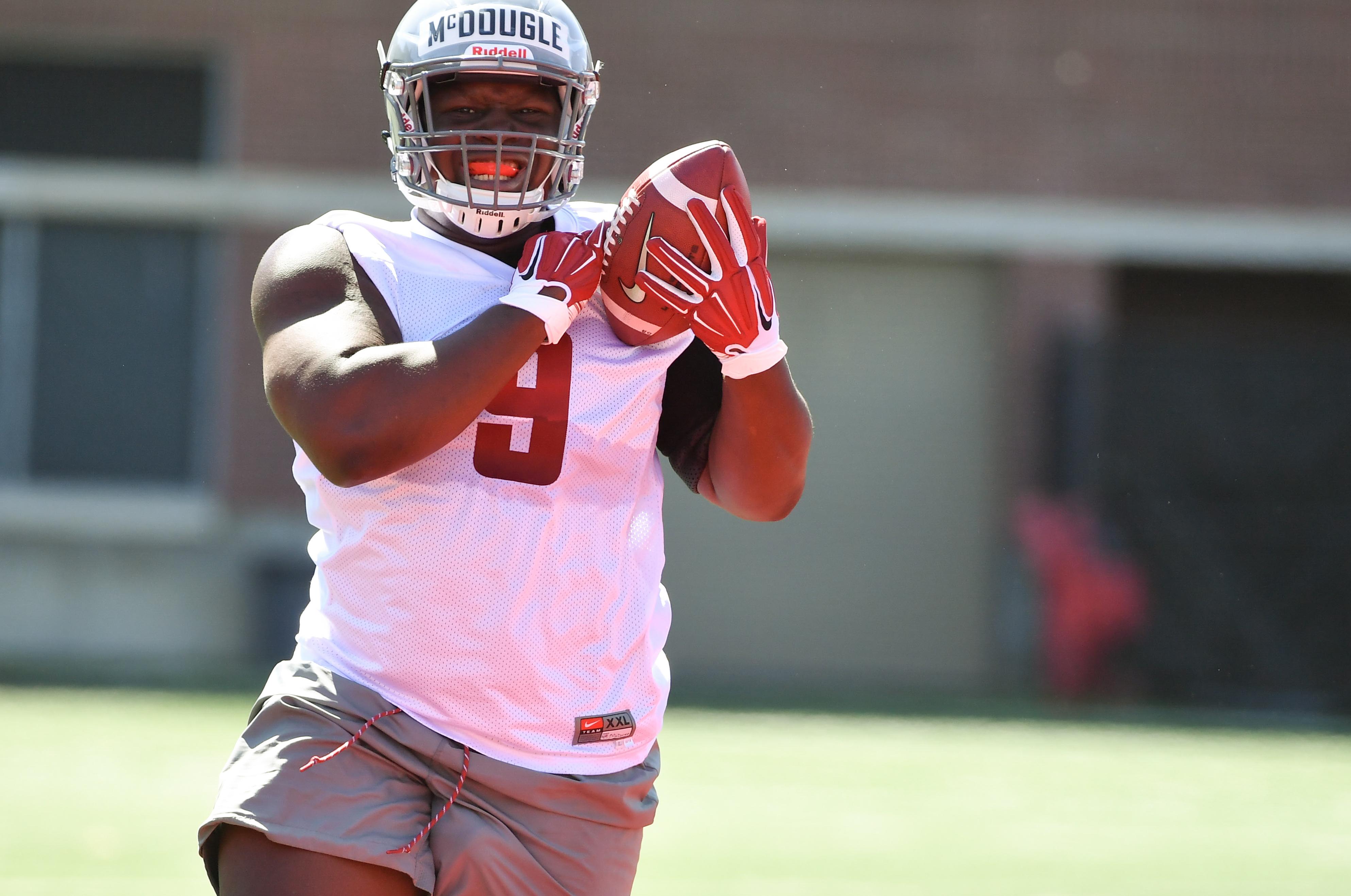 WSU: I'm not sure Lamonte McDougle has worn a shirt to any of his interviews this season. But when you have muscles on top of more muscles, why wouldn't you show them off? He and Misiona Aiolupotea-Pei are battling for the starting nose tackle spot. Theo Lawson writes about their battle today. … Theo also tells us what happened during practice yesterday and passes along interviews with receiver Kassidy Woods and assistant coach Eric Mele. … Kyle Smith has filled the scholarship spot he had open. The new WSU basketball coach welcomed Tony Miller, who last played at Seattle Pacific, to Pullman. Theo has more in this story. … Elsewhere in the Pac-12, even Nick Saban would like to see tougher schedules. How about the SEC playing a ninth conference game, Nick? … We are switching it up a bit today, leading off with Arizona and one of its new coaches. … There is also a new player at Arizona State. … UCLA's punter is new – but old. … The Coliseum looks new, though one of USC's new players hasn't been around to see it recently. … Utah has a couple new coaches on defense. … There have been more position changes at Colorado under new coach Mel Tucker. … Oregon State is going to need contributions from new players. … New receivers are in new places for Oregon. … What are the expectations for Washington's not-so-new tight ends?
EWU: Vernon Adams is still an Eastern fan. In fact, when talking with Ryan Collingwood recently, the current CFL quarterback picked the Eagles to win their season opener at Washington. … Larry Weir spoke with Paul Sorenson about Eastern and WSU football for the latest Press Box pod.
Whitworth: Preseason practice opened for the Pirates yesterday and Dan Thompson was there. Thankfully, the usual August smoke wasn't.
Indians: Spokane's pitching was outstanding, giving up just a run against Vancouver last night at Avista. Too bad the Canadians' was just a bit better in the 1-0 decision. Dave Nichols has the game story. … Elsewhere in the Northwest League, Tri-City got past Everett.
Preps: Two golfers who were playing for Gonzaga Prep a few weeks ago are facing off in the PNGA Junior Amateur title match today. Jim Meehan has the story.
Seahawks: It's a quiet group of Hawks that take the field each day at practice. The outspoken ones have moved on. … Pete Carroll is hopeful his new running back tandem and his tight ends will make some noise. … The Hawks may blitz more.
Mariners: If the M's could play Detroit, and only Detroit, they would win the World Series. Alas, they have to play others too. … There were more changes to the bullpen.
•••
• You know when it's time to wash the windows? When you look outside and think you see a car parked in front of your house you don't recognize. Then you realize it is just grime on the glass. Today's the day. Until later …
Local journalism is essential.
The journalists of The Spokesman-Review are a part of the community. They live here. They work here. They care. You can help keep local journalism strong right now with your contribution. Thank you.
Subscribe to the sports newsletter
Get the day's top sports headlines and breaking news delivered to your inbox by subscribing here.
---