News > Spokane
Spokane child care providers worry new state requirements will close in-home providers, limit future workforce entries
Fri., Aug. 16, 2019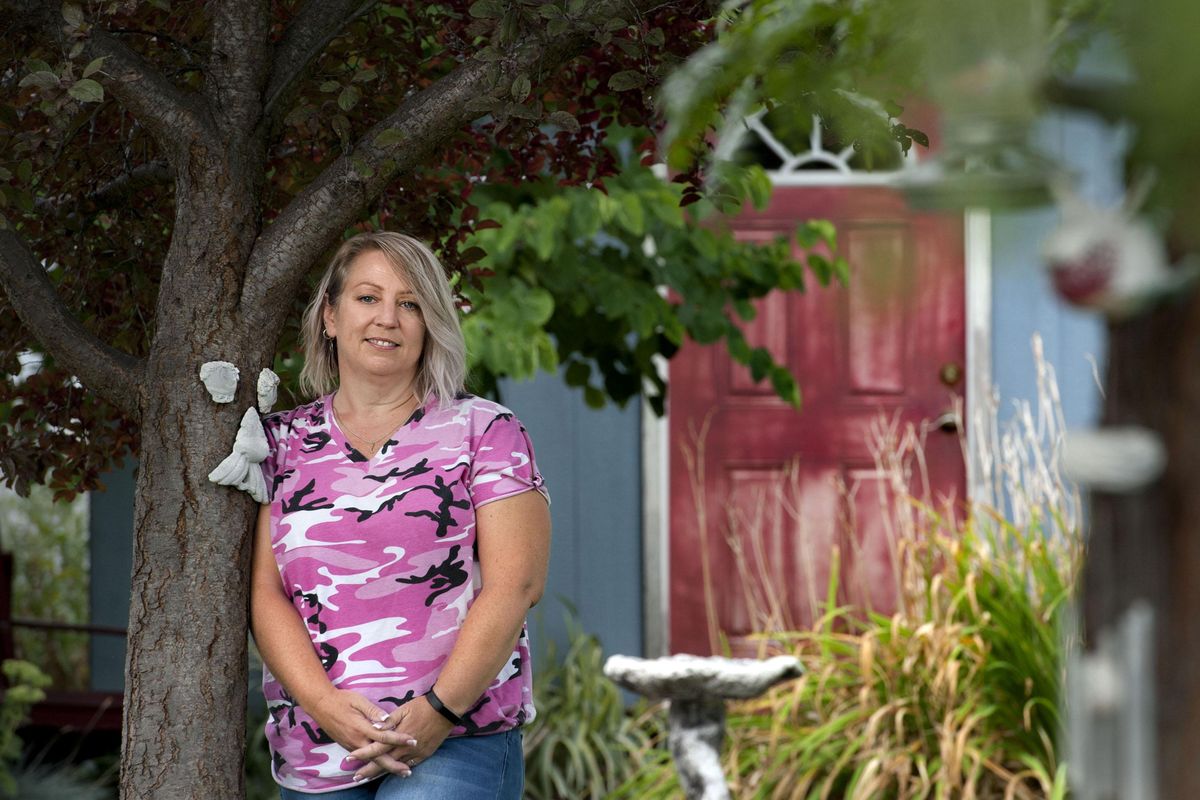 Angela Howerton, the former owner of Angela's Playcare, an in-home day care provider, recently closed her doors because of new state regulations. She is photographed at her home on Thursday, Aug. 15, 2019. (Kathy Plonka / The Spokesman-Review)Buy a print of this photo
Home-based child care providers in Spokane say state regulators have thrown the book at them over the past decade – and it's a book that's filled with regulations and that keeps getting longer.
The list of rules providers have to follow grew from about 60 pages in 2006 to more than 120 pages after a Washington State Department of Children, Youth and Families rewrite went into effect Aug. 1.
While an expanding list of rules have contributed to a number of family home providers going out of business, one particular area of the new Washington Administrative Code regulations has providers more concerned: education requirements that could send many providers back to school in the next five years.
"They're already 11- to 12-hour days I'm working, then I have my family, then they want me to goto school," said Debbie Thurber, owner of All Children of the World in Spokane Valley and president of the Eastern Washington Family Child Care Association.
Family home providers have a five-year grace period to meet all of the new standards, including education requirements, but some say even that timeline will be hard to meet.
"They're just making it impossible to comply with what they want," Thurber said. "And we want to comply."
Larger child care centers aren't immune to the problem, though. The new rules will send some teachers back to school.
The bigger worry is new education requirements will make it hard for child care providers, who already see high employee turnover and generally offer relatively low wages, to attract future employees.
Child care workers in Washington earned a median hourly wage of $13.11 in 2018, when the minimum wage was $11.50, according to data from the Bureau of Labor Statistics. Preschool teachers made a median wage of $15.16 per hour.
"If you're a person, why would you come into this field unless you have the (outside) resources to be able to do this job?" said Washington Childcare Centers Association President Luc Jasmin III, who is the owner of Parkview Early Learning Center in north Spokane. "It's not a livable wage for our employees."
With those wages, Jasmin says the cost of meeting education requirements could mean potential child care employees will enter other professions that offer similar pay but without costly requirements.
Education requirements
Over the past few years, DCYF, formerly the Department of Early Learning, had been working to consolidate three sets of state requirements for child care providers into one set of rules. For family home providers, that meant an expansion of standards in some areas while the regulations for child care centers remained largely the same.
But both types of providers saw a higher bar set for staff qualifications.
Family home child care owners and lead teachers will need a level of education that's equivalent to an initial 12-credit certification in early childhood education, or ECE, from a college, plus another eight college credits to complete what the state calls a "short certificate" in ECE in the next five years. Teachers also have to complete 10 hours of ongoing training each year.
"A highly qualified teacher is vastly more likely to prepare a child to be successful in kindergarten than one who is not," DCYF spokeswoman Debra Johnson wrote in an email. "We are trying to ensure that all kids are prepared for kindergarten, hence our interest in the educational qualifications of preschool teachers."
But providers are still awaiting what those educational equivalencies might be. The options are supposed to include a community based training program and possibly a way to show competency through a home visit from a licensor.
Previously, a high school diploma and basic training fulfilled the minimum hiring requirement. But many educators went above that to earn optional nationally recognized child development associate, or CDA, credentials.
"Any good provider will continue to increase their education," said Thurber, who has owned her day care for 30 years. "I went with the CDA because I thought it was developmentally appropriate with the children I work with."
Now the CDA only satisfies the initial certificate requirement.
"Even though I have hundreds of (training) hours and I have my CDA, it's still not good enough," Thurber said. "They mandated those (training) hours, but now they mean nothing to them."
Jasmin said child care providers need robust alternative education pathways just like other fields that offer apprenticeships and community based training.
"We have really a diverse workforce that we want to be able to honor," Jasmin said. "And we know that not everybody learns in the standardized learning system that is higher ed."
He said almost all of his 30 teachers will have to go back for extra education so he can have appropriate staffing levels when lead teachers and supervisors go on vacation.
One of the most beloved teachers at his school would find the time management of schooling almost impossible, he said.
"At the end of the day, we're asking individuals to go to back to an education system that might not fit them," he said. "And then, after they've earned their certificate or degree, they go back to working in a low-paying field. In any other industry, that wouldn't make any sense."
At Spokane Falls Community College, the online short certificate program costs close to $1,600, so some providers are concerned about the cost. While DCYF and the nonprofit Child Care Aware of Washington offer scholarships, providers say not everyone is aware of the resources available to them.
Family home child care
Thurber said each new set of WAC regulations has led to family home closures. She said there were about 600 family home providers in 2007 and now there are about 74.
At least 11 centers have closed or plan to close in the next five years, she said.
Angela Howerton, the former owner of Angela's Playcare in Spokane Valley, was a family home child care provider for 28 years before closing her doors this spring.
Howerton said she might have been able to make the additional education work, but a new rule about staying within sight and hearing of the children wasn't feasible.
"When you work by yourself as a single provider, that's impossible," she said.
So the extra schooling was just another measure that she said made her feel like she wasn't allowed to run her business like she wanted to.
"Running an in-home child care is a 24/7 business. And by the time you're done doing your daily care, you have all your other business things that you have to tend to to keep your license good," she said. "Then they want you to return to school and get the extra education, when many providers have education already. And they're not taking that into account."
Thurber said she has one staff assistant, while her husband and teenage son are certified to substitute. With the new regulations, they can't be alone with the kids and would have to complete the 10 hours of training if they work more than 19 hours in a month.
Thurber is already turning over in her head how she'd run her center if her assistant gets a long-term illness or becomes pregnant.
"There are so many rules it's impossible to look at every scenario that could possibly pop up," Thurber said.
Shannon and Tim Benn, a Spokane City Council candidate, have owned Little Precious One's Childcare in northeast Spokane since 2000 and both have CDAs.
"They want us to go back to college," said Tim, who has advocated on behalf of child care providers for about a decade. "And this is not a high-yield business."
While Shannon plans to do the extra schooling, Tim said it's not worth it.
He said he sees the new regulation as an example of DCYF creating another moving target for providers. He explained an instance in which he had to make the lot he owns next to his a home a "field trip" space because it has homemade play structures that became prohibited by DCYF rules.
Now parents sign permission slips for their kids to walk down the sidewalk to the slides.
"We're going to keep our facility safe and help these families that go to work and we're going to stay open until the state decides to crush us," he said.
Child care centers
Child care centers can have a tough time finding qualified applicants and the new WAC regulations make that even more difficult, Blueprints for Learning Executive Director Monica Bertucci said.
"It's an expensive proposition to think about paying people who have a more advanced education," she said. "The wages for the work don't necessarily suggest a higher level of education."
But in the end, it will be the families who suffer, because the cost will be passed onto them, Bertucci said.
The median monthly cost for Spokane County child care centers in 2017 was $966 for infants, $806 for toddlers, $715 for preschoolers and $464 for school-aged kids, according to data from Child Care Aware of Washington. That meant an increase by more than $100 for infants from 2016, $80 for toddlers and $65 for preschoolers.
The median monthly cost at a home provider in 2017 was more resistant to wage increases: $700 for infants, $665 for toddlers, $626 for preschool and $498 for school-aged kids. The biggest increases in cost from 2016 was about $60 for preschool and $50 for infants.
"It's a tricky situation. I totally appreciate that the state wants to improve quality," Bertucci said.
Herzog Family Center owner and child care advocate Brian Trimble said Spokane is in dire need of both child care employees and additional capacity. So the prospect of family home facilities closing is troubling.
The number of child care providers in Spokane County dropped from 357 facilities with capacity for 12,264 children in 2012 to 268 providers with capacity for 12,063 children in 2018, according to Child Care Aware of Washington.
That data signifies a shift from family homes to centers, said Ryan Pricco, Childcare Aware's director of policy and advocacy.
But from 2012 to 2018, Spokane County's population grew by around 30,000 people, according to state data.
Trimble said he has about 60 people looking for space in his facility each month. Bertucci said the Blueprints for Learning waitlist is usually 50 to 100 kids long.
Journey Discovery Center director Nicole Sohn said she won't have infant openings until October 2020 and won't be able to admit preschool-aged kids until June 2020.
Child Care Aware reported 823 families were looking for child care in 2018.
"Any loss of capacity in Spokane will put a greater strain on centers to accommodate more people and we just can't," Bertucci said. "So what it will really do is put more strain on families."
Trimble said the state needs to build a strong credentialing system to help providers adapt to the new requirements.
"There's not a sustainable model that's been designed yet, and I feel this is a little bit of the cart before the horse," Trimble said. "It's not providers saying they don't want to meet these expectations. They just want it to be done in a way that is sustainable."
How will state respond?
DCYF spokesperson Debra Johnson said the state hopes to release the full set of educational equivalencies by early next week and to expand scholarship options for child care workers.
Senate Majority Leader Andy Billig, a Democrat from Spokane, said there is support in the Legislature for giving providers an additional five years to meet the new education standards.
"We have to make sure the new requirements are phased in at a pace that works in the real world for current providers," he wrote in an email.
Sen. Claire Wilson, an Auburn Democrat who is the vice chair of the Senate Early Learning and K-12 Education Committee, said a priority of hers will be increasing funding for child care and early learning. The state allocated about 1.5% of its 2019-20 budget to early learning.
She said the Legislature has to look at funding more scholarships, augmenting child care employee wages and continuing to increase reimbursement rates for state-subsidized families.
She also wants to see equivalencies that acknowledge child care providers for their work as struggling small businesses.
"Many of our providers have been doing their craft for many, many, many years," she said. "To have this educational requirement without acknowledging that experience is a disservice."
Local journalism is essential.
Give directly to The Spokesman-Review's Northwest Passages community forums series -- which helps to offset the costs of several reporter and editor positions at the newspaper -- by using the easy options below. Gifts processed in this system are not tax deductible, but are predominately used to help meet the local financial requirements needed to receive national matching-grant funds.
Subscribe now to get breaking news alerts in your email inbox
Get breaking news delivered to your inbox as it happens.
---