100 years ago in Spokane: Down Columbia River ferry snarls traffic, strands drivers for days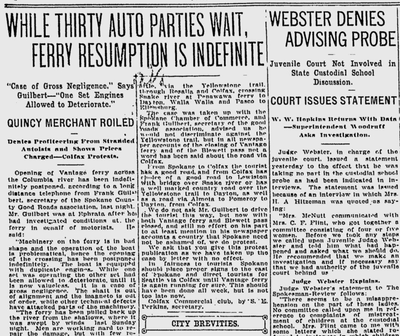 The ferry at Vantage over the Columbia River remained out of service, vastly complicating cross-state auto travel, The Spokesman-Review reported.
In fact, 30 autos were still stranded on both sides of the river after days of waiting.
The ferry had been swept downriver by winds earlier in the week. It had now been towed back up the river, but it had been seriously damaged. Mechanics were attempting to make a temporary fix, without success.
Frank Guilbert, secretary of the Spokane Good Roads Association, made a fact-finding trip to Vantage and was not happy with what he found. He said the ferry had been maintained so badly that it was "a case of gross negligence."
Officials in Grant and Kittitas counties, who operated the ferry, disputed these charges and said the "accident was unavoidable" and that they were doing everything they could to assist the marooned travelers.
A grocer in Quincy hotly disputed charges that food was being sold to the motorists at exorbitant prices. He sent The Spokesman-Review his price list, showing what he charged the motorists after driving 22 miles from his store. He said these prices were the exact same prices he charged over the counter in Quincy.
Guilbert urged motorists traveling across the state to head south to Colfax and Walla Walla, cross the river south of Kennewick and continue up the Yakima Valley.
The Colfax Commercial Club asked Spokane to place signs routing westbound traffic to Colfax, something that "should have been done all week, but is not too late now."
From the prison beat: Cleophas Viens, in prison for the kidnapping a 12-year-old Spokane girl and taking her in a buggy to Elk River, Idaho, escaped from the state prison at Walla Walla. He walked out of a prison kitchen with a trusty, and had not been seen since.
---