Sports
A Grip on Sports: When old (in more ways than one) friends gather, even the Mariners future seems bright
Sat., Aug. 17, 2019 A GRIP ON SPORTS • Memory Lane is a fun walk, especially when you are accompanied by a bunch of former friends and co-workers. Especially if there is pizza and, in my case, diet soda.
•••••••
• One of our co-workers celebrated a significant birthday yesterday and his significant other put together a party. For some reason even I was invited. Maybe they needed someone to do magic for the kids, but that doesn't seem right being it was held at a brew pub. And the only magic I know is how to disappear well before midnight.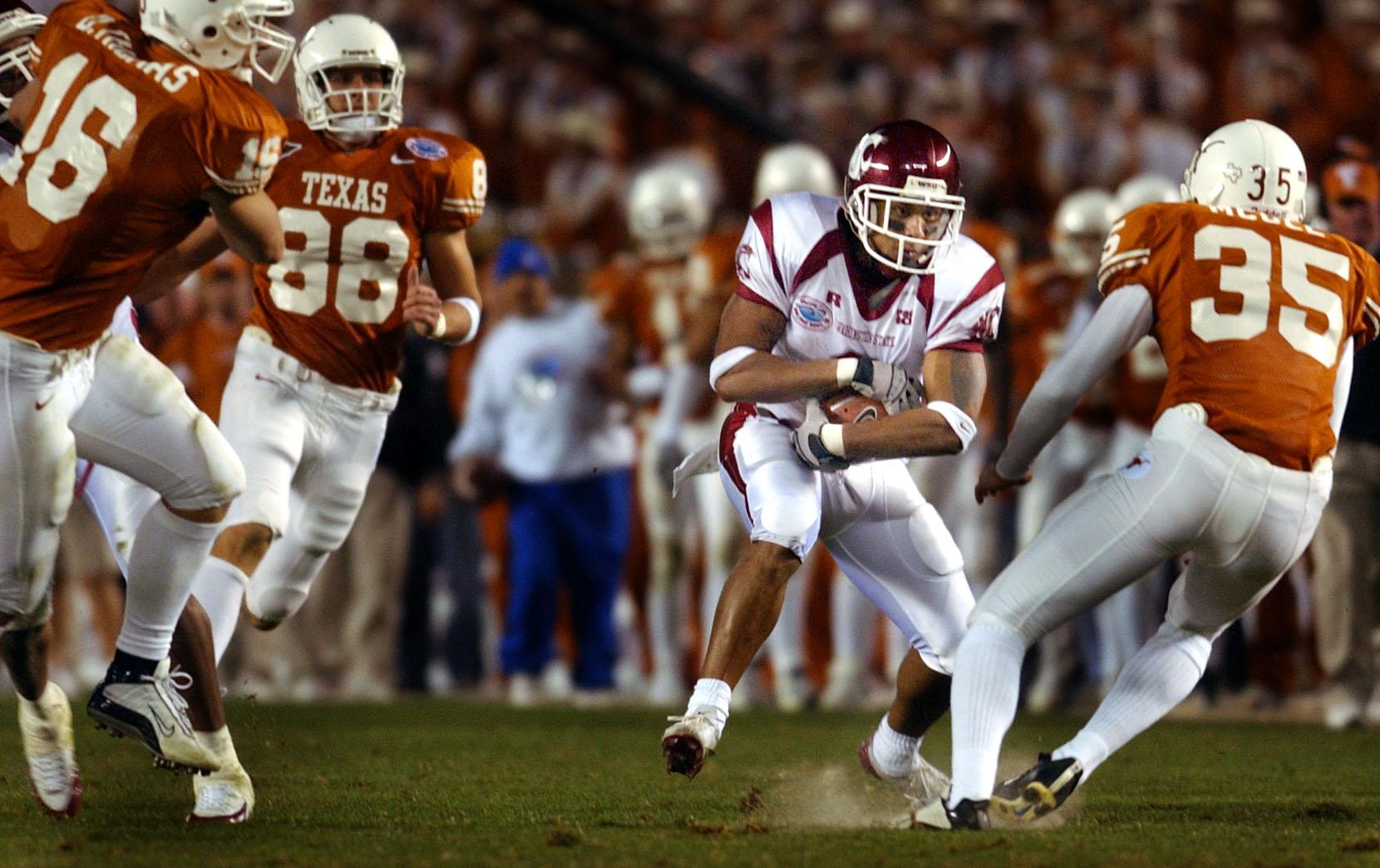 Anyhow, some of the more talented people that ever produced a daily newspaper in Spokane were there, which probably doesn't impress you. But there were two former Washington State beat writers, a former Gonzaga beat writer and a current Eastern Washington season ticket holder, so all of the local college sports teams were represented. As were our high schools, in the form of a couple of ancient former prep writers with either bad knees or bad hair.
As you might guess, the stories flowed as freely as the adult beverages, with some of the former probably even true. (I can't speak for the latter as I stuck to caffeine is a vain attempt to stay lucid past 8 p.m.)
Last night got me to thinking. You know all these Gonzaga Legend events the S-R has held recently? How about an S-R Legends event at Gonzaga? I'm sure such a table-turning forum would attract a handful of paying customers. Especially if you held it at a brew pub.
And offered free pizza.
• Someone asked me last night about the Mariners' future. I wasn't real positive. Another eavesdropper seemed a bit surprised, saying I had been so kind to them in print over the past few years.
Maybe so, but it's also true that even the most optimistic of folks (of which I certainly am not one) may turn into Eeyore after years and years of failure. And the M's have been almost thistle-like to a generation of fans in the Pacific Northwest.
The bottom-line right now with the team: Can you trust Jerry Dipoto to rebuild the franchise's fortunes? To answer that you must ask another question: Has he ever put together a winner? The answers to those two interrogatories are interrelated. Being honest, it's hard to answer yes to the first because the answer to the second is no.
•••
WSU: Mike Leach is a fan of the folks who wave the Cougar flag at ESPN's College GameDay. And he told Theo Lawson yesterday he's sure they will figure out a way to wave the darn thing at DisneyWorld. Of this, we agree. … Theo also has the usual summary of the Cougars' practice. … Our Larry Weir spoke with the Pac-12 Networks' Yogi Roth for the latest Press Box pod. … Elsewhere in the Pac-12, if you had questions about Washington, we can pass along a few answers. … There will be new stars emerging for Oregon. Happens every year to every team. … The defense had a good day at Oregon State's practice. … It's a theme. Another player has switched positions for Colorado. … For Utah to be successful, the revamped offensive line has to come together. … Hey, a California football story. … Former USC athletic director Mike McGee died recently. … One UCLA player may just be better on the track. … Arizona State is focused on the guys up front on both sides of the ball. … Arizona feels good about its defensive line depth.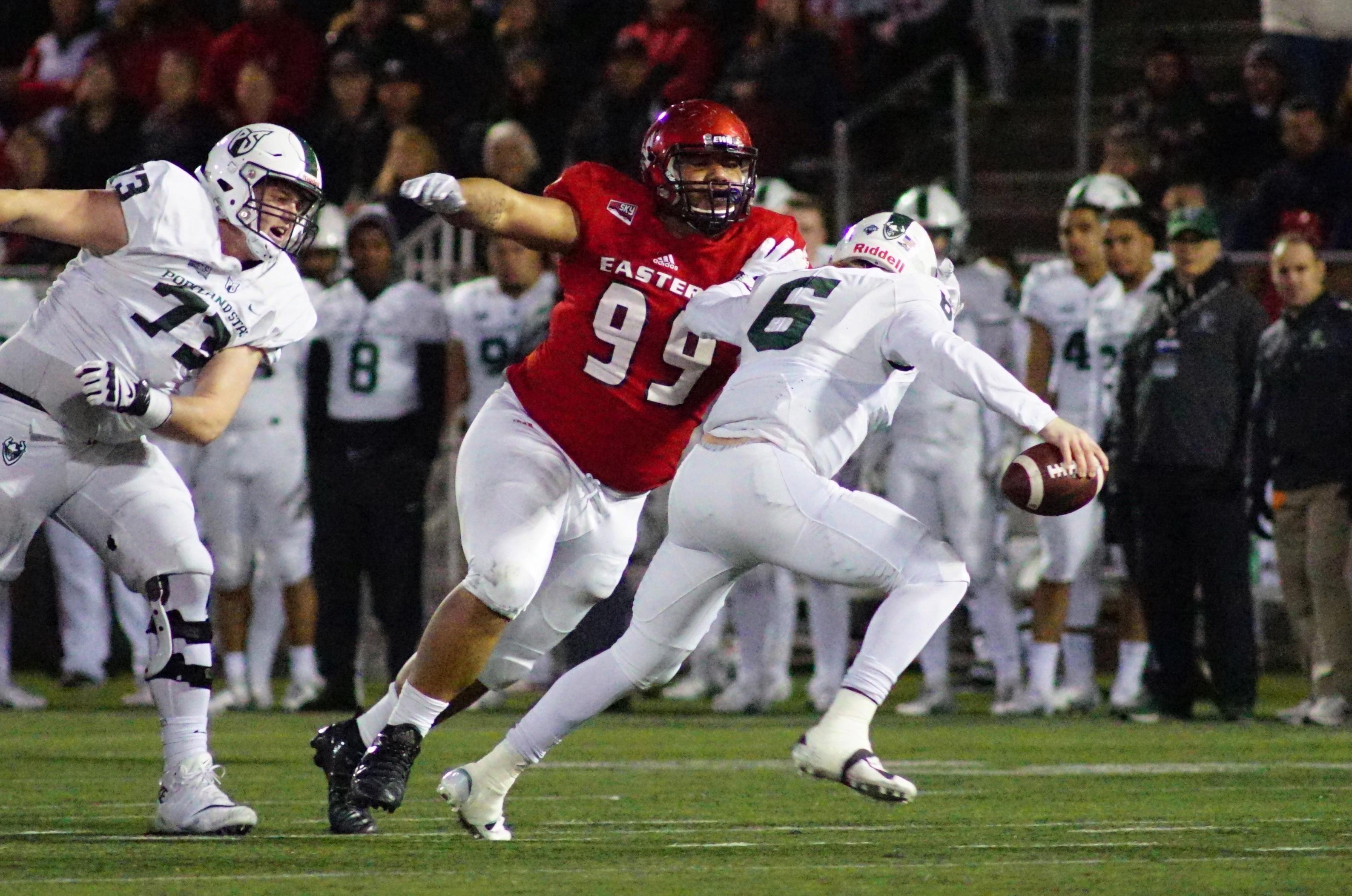 EWU: It's not unusual for players to make the jump from the Eagles to the NFL, at least not recently. Jay-Tee Tiuli is trying to become the next Eastern star to do just that, and he gets to do it with the Seahawks. Ryan Collingwood caught up with Tiuli recently and has this story. … Around the Big Sky, Weber State was relying on a transfer to solidify an inexperienced secondary. Not now. … Montana State has a reliable target in the slot. … Montana's Adam Eastwood was reliable carrying the ball last season – until he wasn't. … Idaho State can rely on its tight ends. … UC Davis is trying to discover if it can do the same with its receivers. … In basketball news, Montana picked up a late transfer from Utah. … Northern Arizona is still trying to fill out its basketball coaching staff.
Indians: The last two games with Vancouver were old-fashioned pitchers' duels, with the Indians rallying to win last night's 2-1. Dave Nichols has the game story. … Elsewhere in the Northwest League, Eugene finished off a sweep of Salem-Keizer.
Preps: Two Gonzaga Prep teammates faced off yesterday with the PNGA Junior Amateur title on the line. In the end, Nate Plaster edged Tommy Kimmel for the crown. Jim Meehan has more in this story.
Seahawks: If you had questions about the latest practice, we can pass along a few answers. … Bobby Wagner's status is no longer in complete question. He suited up yesterday. … No one can question Russell Wilson's business acumen.
Mariners: Vlad Guerrero used to torment the M's. Now his son is. He helped Toronto defeat Seattle yesterday. … Scott Servais isn't happy with Yusei Kikuchi.
Sounders: This team is sputtering. And the schedule doesn't get any easier.
•••
• We overslept this morning. Not because we were up late last night. Because we were up early. Does anyone want a cat? Ours went nuts about 3:30 in the morning, wouldn't stop bouncing off the bed and finally forced me to do something drastic. I ceded my space to the cat and tried to use the couch. No luck. I finally fell asleep at about 5:30 and, without the sun streaming in the window, didn't wake up at the usual time. The cat, meanwhile, is back to being its normal self, all quiet and calm this morning. What the heck? Until later …
Subscribe to the sports newsletter
Get the day's top sports headlines and breaking news delivered to your inbox by subscribing here.
You have been successfully subscribed!
There was a problem subscribing you to the newsletter. Double check your email and try again, or email
webteam@spokesman.com
---