River City Pizza, Genus Brewing Co. grand opening next week in Spokane Valley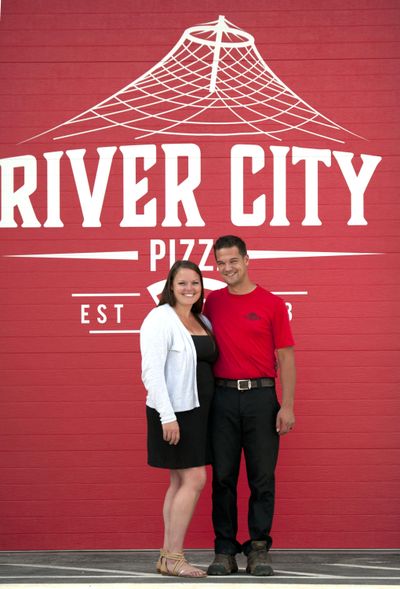 For months, River City Pizza owners Jacqueline and Phillip Barnard have been renovating a vacant building into a second restaurant that shares space with Genus Brewing Co. in Spokane Valley.
Renovations are now complete on the 5,000-square-foot building at 17018 E. Sprague Ave., and the two businesses will celebrate their grand openings next week.
"People have been calling all the time wanting to know when we're opening," Jacqueline Barnard said. "There's been a lot of interest."
River City Pizza's menu will be similar to its flagship location at 4707 N. Harvard Road. with carry-out, delivery and a new option – pizza by the slice available daily from 10:30 a.m. to 1 p.m.
River City Pizza's present location is a staple of the Otis Orchards community with many loyal customers, such as the Miller family, who placed their 700th pizza order in March and became the first inductees into the restaurant's "700 Club."
The Miller family is planning to order a carry-out pizza on Monday – River City Pizza's opening day – to show support for the second location.
"Although the Otis (Orchards) location is much closer to our house, we're of course excited about the new expansion," Eric Miller said in an email. "(I) was sorry to hear of the Newman Lake site closing, but pretty sure this one will do more business, especially being close to the brewery."
River City Pizza was founded more than two decades ago by John and Bridgette Tiffany. The Barnards purchased the restaurant, which is known for its fresh dough and cheese, in 2016.
The Barnards opened a second location last year in a former country store at the Newman Lake Marina, but it shuttered because new owners acquired the property to convert it into a cabin.
Jacqueline Barnard said they are looking forward to bringing River City Pizza closer to Spokane Valley residents west of their Otis Orchards location.
"We want to become a part of the community here in this area of the Valley," she said. "We are involved with the Otis Orchards community and are looking forward to creating those relationships here."
She said because River City Pizza and Genus Brewing share a building, it's beneficial for both businesses and their customers.
Customers will be able to have pizza delivered next door to Genus Brewing Co., or can take it with them from the restaurant to eat at the brewery or on the 1,000-square-foot shared patio.
"The combination of both of us works really well," Phillip Barnard said.
Peter McArthur launched Genus Brewing in 2013 with Michelle and Stephen Miller as a small brick-and-mortar homebrew supply store, Nu Home Brew & Bottles, at 14109 E. Sprague Ave.
Since then, the company has expanded into a microbrewery and also creates instructional homebrewing videos on YouTube.
Genus Brewing's new home provides more room to brew and serve beer to patrons. The brewery will feature 12 beers on tap, with focus on India pale lagers, sours and experimental "one off" beers that will be rotated regularly, said Logan Cook, brewer and a co-owner of Genus Brewing.
Genus Brewing will continue to sell homebrewing supplies and educational materials at its new location.
Cook said the brewery eventually wants to offer its beer recipes in a homebrewing kit, so if customers like a particular beer on draft, they can learn how to make it at home.
"Everything is a learning experience," Cook said. "We just want to educate customers."
Despite just a couple of social media posts about Genus Brewing's soft opening more than two weeks ago, the brewery is already gaining attention from customers.
"We've had a lot of people wandering in and buying beer," Cook said. "It seems like we are getting a positive response from the local neighborhood."
River City Pizza and Genus Brewing Co. are holding a grand opening event Aug. 24 that will feature a live broadcast with Molly Allen of KZZU-FM from 2-5 p.m. and live music by Emily Ridler from 5-9 p.m.
---