Sports > Seattle Seahawks
Seattle Seahawks fall to Minnesota Vikings 25-19
Aug. 18, 2019 Updated Sun., Aug. 18, 2019 at 9:59 p.m.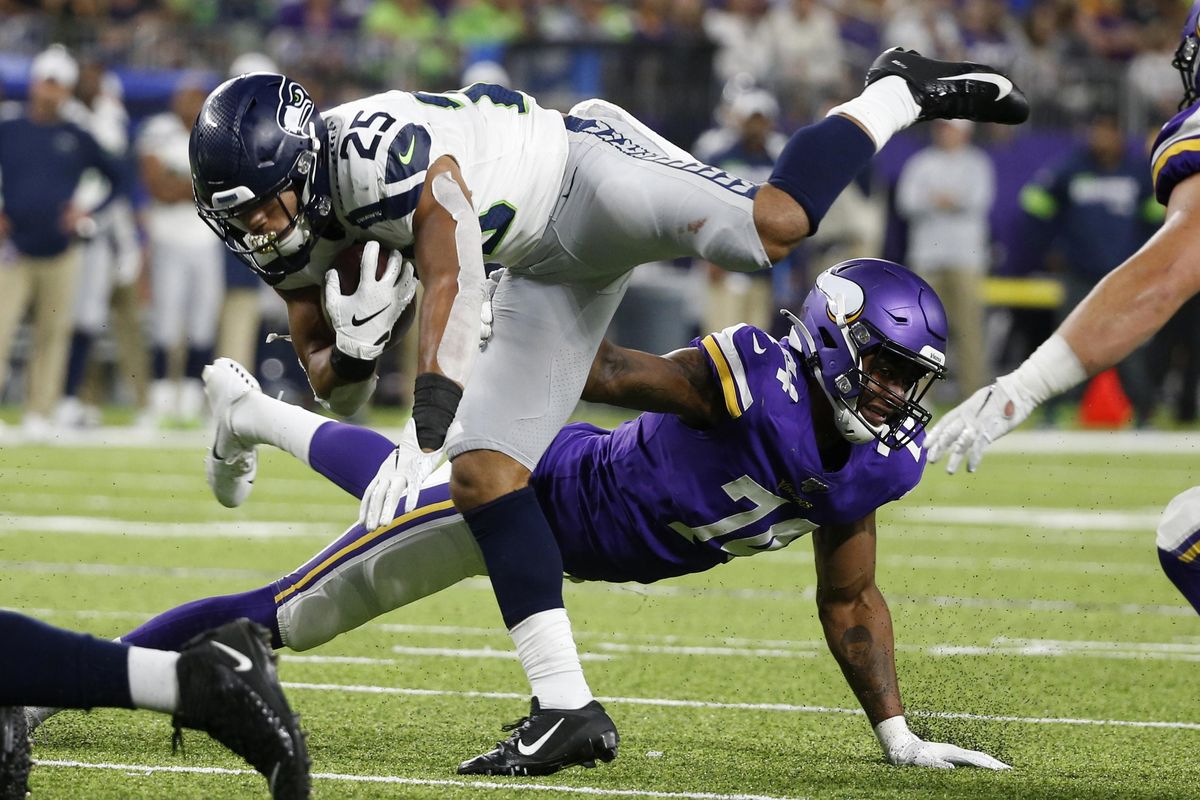 Seattle Seahawks running back Travis Homer (25) is tackled by Minnesota Vikings defensive end Stacy Keely, rear, during the second half of an NFL preseason football game, Sunday, Aug. 18, 2019, in Minneapolis. The Vikings won 25-19. (Bruce Kluckhohn / Associated Press)
MINNEAPOLIS – Well, at least the Seahawks can feel good about kicker Jason Myers.
When a 25-19 loss to the Vikings had mercifully-ended – Seattle's final two plays were a dropped pass by Jazz Ferguson and an interception thrown by J.T. Barrett – Myers' four field goals, an 88-yard pick six by DeShawn Shead, and a few nice plays by some of the team's offensive and defensive starters was about all there was to cheer.
Seattle had all of its starters play two series, with some staying on the field for a third, playing the Vikings fairly evenly.
But when the backups took over, so did the Vikings, who dominated the final three quarters statistically as the Vikings outgained Seattle 409-221 and had 27 first downs to the Seahawks' 13 to hold on for the win.
Here's more of what stood out:
Russell Wilson and number one offense have their moments, but bog down in mistakes: The Seahawks starting offense played two series and moved the ball each time — 46 yards on six plays the first time and 60 yards on 12 plays the second.
But both times the drives stalled due to the kind of thing that happens in the preseason and that the Seahawks hope they get out of their system now – penalties and ill-timed mistakes.
The first drive stalled thanks in part to a false start on Justin Britt, one of six penalties against Seattle in the first half (Germain Ifedi was also called for a false start on Seattle's second drive.)
After the penalty, Jaron Brown then dropped a pass on third down from Wilson that would have kept the drive going.
"I'm hitting myself," Brown said. "I had a drop on a crossing route. It was a good pass. I just clearly dropped it."
The second stalled at the Minnesota 15-yard line when a Wilson pass fell incomplete to Chris Carson.
"I missed the throw to Chris," Wilson said. "I was a little out in front. If I hit him there I think we are rolling. He may score. So those are things we work on and we fix and we are right where we want to be."
The Seahawks had gotten as close as they were thanks to a 33-yard completion from Wilson to Brown on a third-and-10 that the team felt was indicative of the way the first-team offensive line handled Minnesota's blitzes all night.
"That's awesome," said left tackle Duane Brown. "That's a very good front, especially playing in this stadium. It's loud. They are getting off the ball. … very encouraging couple of drives. If we eliminate our penalties we are talking 14 points on the board."
Wilson, seeing his first preseason action after sitting out last week, was 6-9 for 82 yards. Carson, also seeing his first preseason action, had 25 yards on five carries.
"I thought the first unit did a nice job," coach Pete Carroll said. "I thought Russ was moving the club pretty well. We missed a couple of third-down throws that would have made a difference in their outing but they did move the ball well."
Lynch leaves after hard hit to the head: The Seahawks backup quarterback position also took another injury hit as backup Paxton Lynch left with 3:53 remaining after taking a helmet-to-helmet hit from Minnesota cornerback Holton Hill, who was ejected.
Lynch lay prone on the ground for a minute or so before getting up and walking off under his own power.
And as bad as the hit looked, Lynch seemed to be doing OK after the game. He was not available to talk to media but was in the locker room and talking with teammates and staffers.
"He felt like he was okay," Carroll said. "But he's still got to pass those (concussion protocol) tests. So we have to recognize all the process and take care of that."
Lynch was set to play the final three quarters of the game after taking over for Wilson with Geno Smith sitting out after having surgery to remove a cyst in his knee last week.
The injury came as Lynch was leading one of his best of the six drives that he quarterbacked — he had rushed for three yards to the 19 when he was injured.
Lynch was one of the stars of the preseason opener against Denver, hitting 11-15 passes for 109 yards and a TD.
But with the Vikings mostly dominating the Seattle backup offensive line, Lynch didn't have a lot of success most of the night, completing six of 15 passes for 67 yards and also rushing twice for minus-one yard (he had 38 yards rushing against Denver).
"Yeah it wasn't as sharp as it was last week," Carroll said. "He missed a couple of throws to get going. But he looked comptitive."
Barrett, signed in the wake of the injury to Smith, finished the game and gained just five yards on a scramble on third-and-goal from the 7 as Seattle had to settle for another field goal.
Smith should be back for the third preseason game Saturday against the Chargers but the Seahawks may also need to keep Barrett around.
Poona, Poona, Poona: For the first two series, the Seahawks used what is basically its starting defense at this time (minus three key players in linebackers Bobby Wagner and K.J. Wright and rush end Ziggy Ansah).
The star was second-year tackle Poona Ford, who had three tackles in the first half, two for a loss, as the Seahawks held down Minnesota's running game early — the Vikings had just 25 yards on eight carries in the first quarter when it had its number one offense (including four of five starting linemen) on the field.
"I thought we had a good, competitive first half in the game," Carroll said. "It was a good, hard night with a lot of good ball."
Local journalism is essential.
Give directly to The Spokesman-Review's Northwest Passages community forums series -- which helps to offset the costs of several reporter and editor positions at the newspaper -- by using the easy options below. Gifts processed in this system are not tax deductible, but are predominately used to help meet the local financial requirements needed to receive national matching-grant funds.
Subscribe to the sports newsletter
Get the day's top sports headlines and breaking news delivered to your inbox by subscribing here.
---