News > Spokane
Spokane Buddhist Temple holds Obon Festival to celebrate ancestry, Japanese culture and traditions
Aug. 18, 2019 Updated Sun., Aug. 18, 2019 at 8:29 p.m. Spokane Buddhist Temple ministers read the names of three significant people during a Hatsubon memorial service Sunday afternoon.
But they weren't all founders or members of the temple, as might be expected. They were their relatives.
That's because the service is "a celebration of gratitude for those who have helped make us who we are," lead minister Melissa Opel said.
The memorial is one of the first parts of the annual Obon Festival that recognizes the importance of one's ancestors. The holiday, celebrated by Japanese Buddhists each year, dates back centuries.
The Spokane celebration also featured Japanese art, music, food and dance.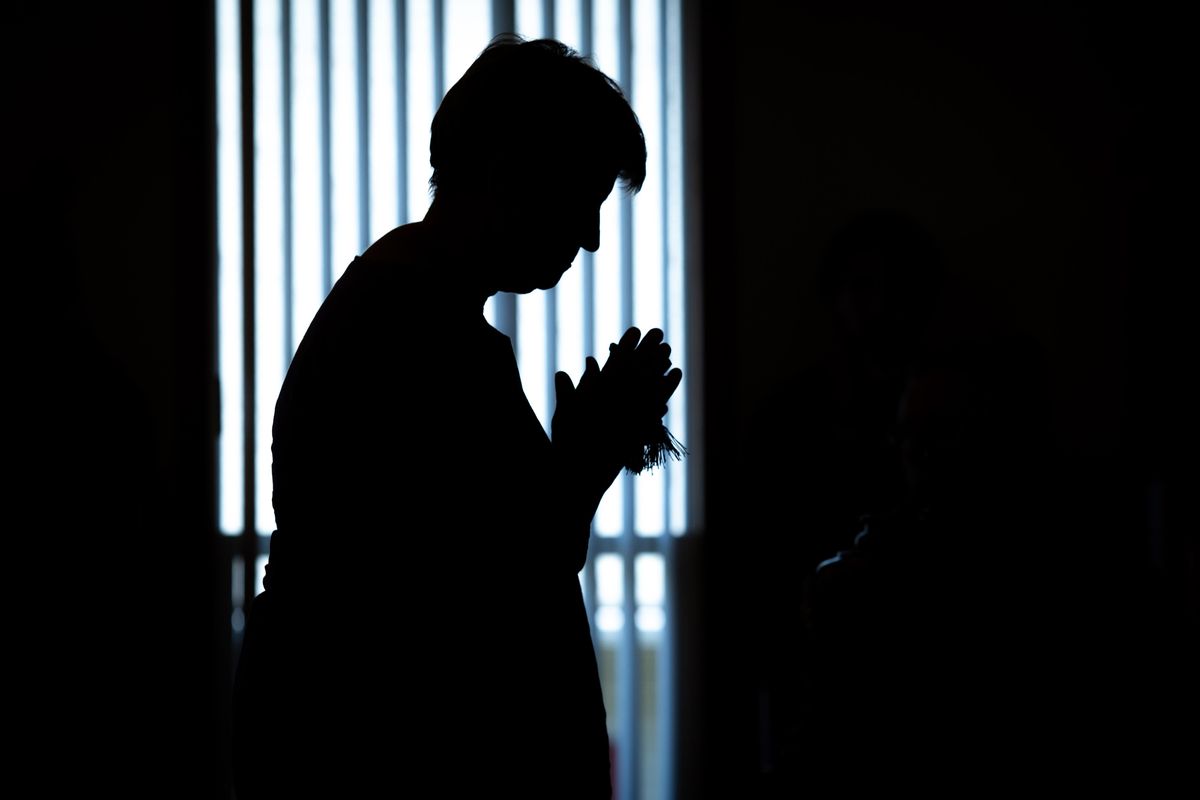 Templegoers participate in a service during the annual Japanese Obon Cultural Festival on Sunday, Aug. 18, 2019 at the Spokane Buddhist Temple. The day featured traditional Japanese art including origami, a memorial service, a Taiko performance and more. (Libby Kamrowski / The Spokesman-Review)
In the basement of the temple, Sue Iwata had a table of art for sale that included origami shadow boxes and paper cards decorated with mizuhiki, which are knots of twine.
"After I retired, I decided to get into my Japanese culture," she said. "And this was a chance to show what I have made."
The lawn outside the temple had a stage for performance art.
Once a performance from the Spokane Taiko drumming team finished, Jacqui Pierce took the stage with more than a dozen pupils whom she's instructed in Bon Odori dancing.
"My craft is the dancing, because I've been doing it for over 15 years," she said.
Pierce first decided to learn the dancing tradition after it was performed at a memorial service for her brother, who studied Japanese culture, she said.
She started practicing Buddhism when she traveled to Japan, and she's been a member of the Spokane Buddhist Temple for the past two years since moving to the area.
"Being part of a community, I felt very drawn to that," Pierce said.
Awna Reese, who had never been to a Buddhist service before Sunday, said she was similarly drawn to the religious tradition.
"My friend introduced Buddhism to me, and the last two years I've been doing as much research as I could," she said.
Then she met Pierce at a recent anime convention, and Pierce invited her to the Obon Festival.
"It feels right when I'm here," she said. "And this is the first time I've been here."
Reese, who attended the festival with her girlfriend, said she's encountered homophobia growing up in a Christian faith tradition and appreciates how accepting Buddhism is.
"It's very peaceful and you don't have to worry about failing," she said. "It doesn't have the whole heaven-and-hell aspect. You just do what you can to be a good person."
She said she also appreciated the message from the Hatsubon service to appreciate one's ancestors.
"There are so many people it took just to make me," she said.
Loren Nishimura, a lifelong Buddhist, said he's appreciated having a temple to attend for the past two years since moving from Anchorage, Alaska, two years ago.
He said in communities with bigger Buddhist populations, the Obon Festivals are huge and usually last three days.
"It's a day when we welcome the spirits of the dead back, and we take care of them," he said.
Local journalism is essential.
Give directly to The Spokesman-Review's Northwest Passages community forums series -- which helps to offset the costs of several reporter and editor positions at the newspaper -- by using the easy options below. Gifts processed in this system are not tax deductible, but are predominately used to help meet the local financial requirements needed to receive national matching-grant funds.
Subscribe now to get breaking news alerts in your email inbox
Get breaking news delivered to your inbox as it happens.
---