100 years ago in Spokane: Stockholders hope to revive Spokane's film industry by buying Minnehaha studio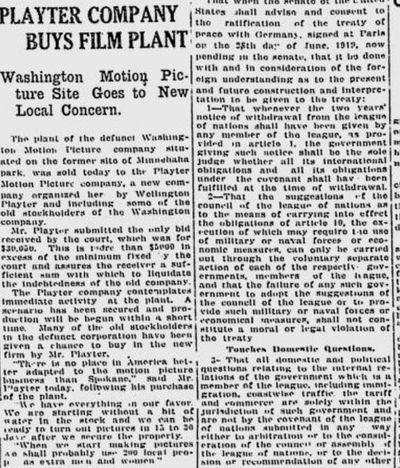 Only one bid was received for the defunct Washington Motion Picture Corp. studios at Minnehaha, a $30,050 offer from Wellington Playter, a filmmaker for the old company.
He and some former stockholders were planning to take over the studio and revive the fledgling Spokane film industry.
"The Playter company contemplates immediate activity at the plant," said the Spokane Daily Chronicle. "A scenario has been secured and production will begin within a short time."
The story added that many of the old stockholders had been given a chance to buy into the new firm, but, after a less-than-stellar outcome, there was no guarantee that many would be interested.
From the marital beat: The Spokane Daily Chronicle ran a full-page ad for the Pictorial Review magazine, which was teasing a new serialized novel titled "Happily Married," by Corra Harris.
Don't let the title fool you.
This is what the ad said: "If you found a letter from another woman in your husband's pocket – what would you do? Would you faint? Would you send for a lawyer? Would you remain silent and wait? Or would you do what Mrs. Madden did, when the other woman came along?"
The ad quotes the author as saying, "The test of a woman's quality is how she conducts herself when she finds that another woman is stealing her husband's love."
The ad said that Mrs. Harris "understands every emotion (women) feel" and she "divulges all their little tricks in a most delicious manner."
"If you want to learn how to manage a man without letting him know it, read this extremely entertaining three-part novel."
---