Emma Randolph, beloved member of Spokane art community, dies at 96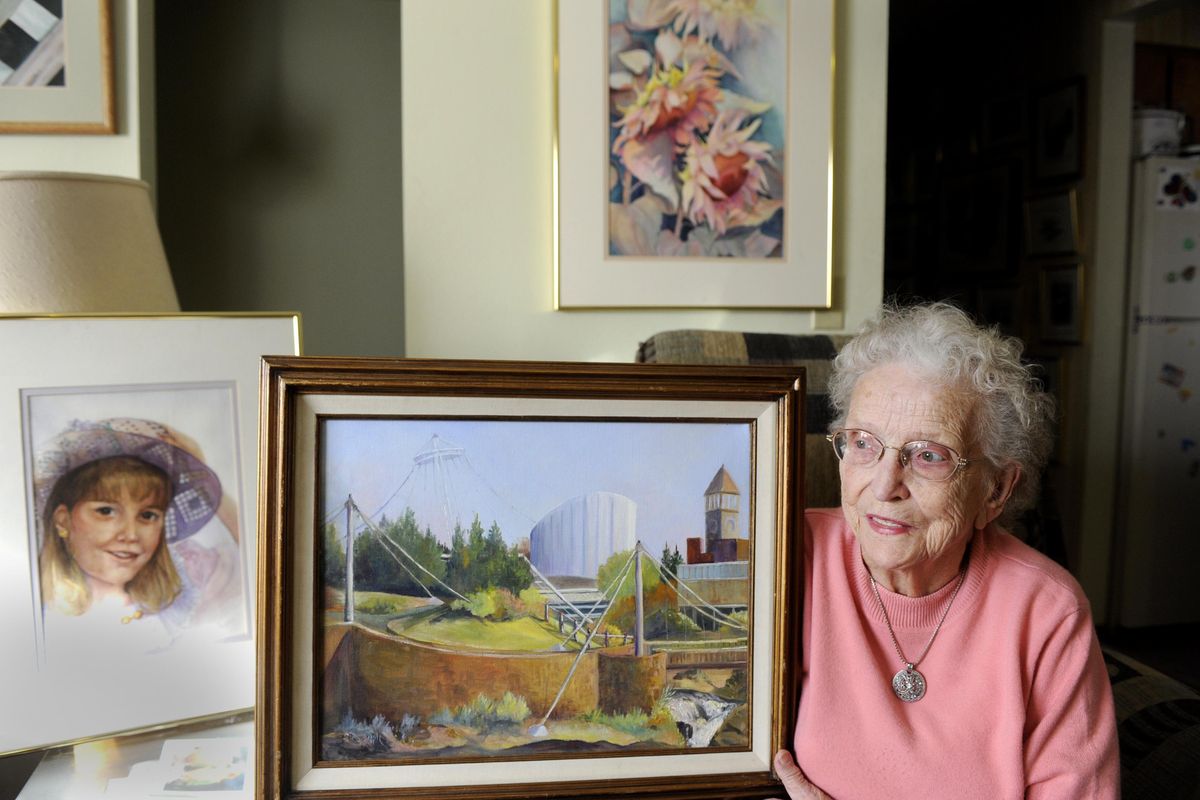 Family, friends and the Spokane art community remember Emma Randolph as a determined and hard-working artist.
"She just approached everything with the idea that she was going to be as good as she possibly could be, and she stuck with it until she was," said Leslie Randolph, her daughter.
The Spokane artist, known in her later years for her vivid watercolor paintings, died of old age Monday at 96 years old.
"Painting is rewarding. All your hopes and dreams become alive on paper or canvas and are captured forever as memories," Randolph said in a 2009 interview with The Spokesman-Review.
Randolph was born June 10, 1923, in Rose, Idaho. She grew up in Sandy, Utah, and was the second youngest of nine children.
"She came from a line of Mormon stock – grew up on a farm, worked hard, and they were expected to be busy," Leslie Randolph said. "That translated to what she became, and what we all became because of that."
Randolph was artistic from a young age and began painting at 14. She studied art and costume design at the University of Utah.
During that time, she met and married the love of her life, Walter Randolph. The couple moved to Spokane and had three daughters.
After about a decade in Spokane, her husband got bored and wanted to move somewhere else, so they picked up and moved to Bermuda. Their three daughters were ages 10, 6 and 4.
They spent the next 21 years in Bermuda, where Randolph worked as a painter and costume designer.
"She just had to start over again in a new country," Leslie Randolph said. "She did it and made a name for herself there."
She designed costumes for locals like the Bermuda Musical and Dramatic Society and the Bermuda Civic Ballet, and her reputation spread beyond the island.
The supermodel Twiggy commissioned Randolph to design outfits for her personal wardrobe.
In 1978, she created the costumes for the movie "Bermuda Depths," starring Connie Sellecca and Burl Ives. She dressed actors in dozens of films and traveled often for fittings.
Throughout her successful costume design career, Randolph was always painting.
She sold seascapes and landscapes to tourists in Bermuda and showed in galleries.
"I sent my daughters through college doing that," Randolph once said. "My paintings are on every continent."
In Bermuda, Randolph painted mainly with oils. It wasn't until 1978, when her husband retired and they moved back to Spokane, that she began her watercolor career.
"She looked around and said, 'I think it's just watercolor here,' " Leslie Randolph remembered.
Randolph's husband started creating custom frames for his wife's work.
"They were quite the team," Leslie Randolph said.
Randolph became a fixture in the Spokane arts community.
"She was the kind of person who worked all the time that showed a level of determination and grit," said Karen Mobley, former longtime director of Spokane Arts.
Randolph was a founding member of the River Ridge Association of Fine Arts.
The River Ridge is a group of artists who come together to share ideas, hear guest speakers and hold demonstrations of different techniques.
Randolph served as president for many years.
She was active in many community arts organizations, Mobley said.
"She was just a lovely, really encouraging person," Mobley said.
If an artist was in the newspaper she would send a little card that said something like, "I'm really proud of you, honey," Mobley recalled.
"One of the things that set her apart from a lot of other artists was her hard work and dedication," Mobley said.
Artist Betty Jo Cook recalls looking up to Randolph as a "wonderful teacher."
Both women taught classes at Spokane Art Supply and were members of the Spokane Watercolor Society.
"I was impressed with how she put her colors and her brushwork together," Cook said.
When friends in Spokane are able to buy a piece of her work they call and tell me they are "thrilled," even to this day, Cook said.
"She was a very dear person," Cook said. "I admired her very much."
Randolph is survived by her three daughters, Sharon Randolph, Sally Yorke and Leslie Randolph, along with her seven grandchildren, 15 great-grandchildren, and three great-great-grandchildren.
In her later years, Randolph moved to Salt Lake City to be closer to her daughter Leslie.
Even in her assisted living home, Randolph put aside her walker to hang an art show for three hours with fellow artist Trevor Southey.
"You would be hard-pressed to find a more determined, self-disciplined, focused human being," Leslie Randolph said.
A graveside service for Randolph will be held at 9 a.m. Aug. 30 at Fairmount Memorial Park.
---