Sports
A Grip on Sports: It seems like forever, but it hasn't been that long since college football dominated our Saturdays … Yes it has
Sat., Aug. 24, 2019 A GRIP ON SPORTS • What was it Jerry Ford said back in the day? Something about a national nightmare being over? That's how many of us feel every year, when college football season begins.
•••••••
• The season starts today. No "preseason" games. No exhibitions. Nope. Just strap-it-up, hit-each-other football from the get-go. Heck, even GameDay is on, albeit more as a vehicle for Disney-owned ESPN to plug the company's theme parks – and make Washington State fans wonder how the heck the Cougar flag is going to be shown. (For the record, the Ol' Crimson did wave, albeit in an understated manner, something that seems really out of place on ESPN – and at DisneyWorld.)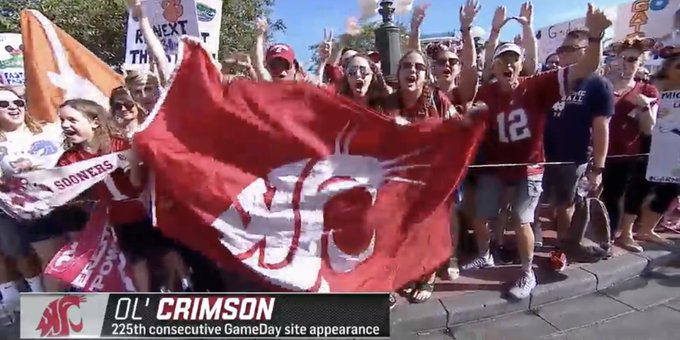 Herbie, Lee and the rest are in Orlando, near where Miami will play Florida, the best matchup ESPN could put together to start the season. Neither team will be in the national title hunt – that's limited to about eight squads even this early in the year – but, if you were a college football fan in the 1980s and 1990s, the matchup resonates.
The other three games on TV during "Week Zero," as the NCAA calls it? There is an FCS matchup, Villanova at Colgate, along with Samford at Youngstown State and the game with the most West Coast interest, Arizona at Hawaii.
The last isn't exactly #Pac12AfterDark, but it could turn into an exciting battle, considering the Wildcats have the conference's most explosive quarterback, Khalil Tate, and the second-most burden on a coach – second-year UA coach Kevin Sumlin trails only USC's Clay Helton in the dreaded "needs-to-win-his-opener" category.
If you're interested, the Arizona game begins at 7:30 p.m. our time and is carried by the CBS Sports channel.
I'm sure a certain neighbor of mine – and former co-worker – will be watching. After that, the ratings in Spokane may not be all that high.
• Nope, most Spokane fans are waiting for next week. The Cougars host New Mexico State. Eastern Washington travels to Washington. Idaho earns a paycheck in State College against Penn State.
That's when college football really gets going. But as Don Fanucci once said, today we get to wet our beak a little.
By the way, Vito Corleone was an 11-point underdog in that one and still managed to pull out a win.
•••
WSU: Who will the Cougars have on the field, defensively, next week? Theo Lawson takes another shot at getting their "three-deep" right. And he includes the special teams. … Elsewhere in the Pac-12, just about everyone has named their starting quarterback (except, officially, Mike Leach and the Cougars). Jake Luton will start for Oregon State. … Chris Petersen made it official with Jacob Eason but he did say another Washington quarterback would play. … Oregon is getting healthier. … Colorado has a new coach. The school president is in his corner. … Most Utah quarterbacks struggle their senior year for some odd reason. … How good will Stanford be? … There is a lot of heat around USC, but Graham Harrell is more concerned with just moving the ball. … UCLA could be really improved but the schedule may not allow the Bruins to show it. … The quarterback battle is over at Arizona State. As of now there is no fallout. … As we said above, Arizona is at Hawaii. There are some historical connections between the schools.
Gonzaga: Around the WCC, BYU returned from their European trip with a 4-0 record. The Cougars also returned with a key player in a boot. Surgery is next.
EWU: If there is one position group at Eastern that needs to gain experience over everything else, it is the Eagles' secondary. Ryan Collingwood introduces us to the guys who will man the back line – in some cases, you can take the work "introduces" literally. … In preparation for the matchup, Larry Weir talked with an old friend, Christian Caple, who covers the Huskies these days for The Athletic. It's the subject of the latest Press Box pod. … Nsimba Webster is turning heads as he tries to make the Rams' roster.
Idaho: The Vandals are finished with preseason practice. Now comes game preparation, what with Penn State looming. Peter Harriman takes a quick look back at what's transpired thus far in Moscow.
Indians: Hillsboro, who may just be the best team in the Northwest League's South Division right now, scored early and often at Avista last night, topping the North's best, Spokane, 8-2. Dave Nichols was there and has this game coverage. … Elsewhere in the Northwest League, Everett rallied for a late win against visiting Eugene.
Seahawks: Tonight is the third game of the preseason, usually the most pivotal for any team. The Hawks play in San Die … oops, Los Angeles, against the Chargers. … Jim Zorn played a few games in Los Angeles. … There are many Seahawks with a lot to prove tonight.
Mariners: Justus Sheffield showed resilience in his first start, which might be the most important attribute the M's needed to see. His teammates rallied to win over visiting Toronto, though it sounded as if the game was in Canada. … Another reliever is out with a season-ending injury. … Felix Hernandez is back tonight. … Gene Warnick has his Out of Right Field recap of the game. I have been mulling over Out of Right Field column ideas for tomorrow's paper and finally settled on – sorry, you'll have to wait. All I can say is I'm using Pete Carroll for my inspiration.
Sounders: Playing a rivalry game is all about the noise, the action, the chippiness. Well, two out of three isn't bad. The Sounders took a crucial 2-1 win out of Portland last night in a match played before a quiet crowd – at least for the first 33 minutes. The supporters of both teams were protesting the MLS' ban on political-based organized cheering.
•••
• It's the last weekend without college football, really, which means I'll be busy "working" each Saturday, what with the games on TV and my commitment to watching. For work, of course. So Kim and I are taking a weekend off (sort of). We are getting away from the dogs. Honestly, we just want to spend a quiet night and not getting woken up with whining. If you have two old dogs (or any number of young kids), you know what we mean. Until later …
Subscribe to the sports newsletter
Get the day's top sports headlines and breaking news delivered to your inbox by subscribing here.
---