Spokane Chiefs' Cordel Larson stands out in Red-White scrimmage Heading into his 18-year-old season in the Western Hockey League, Cordel Larson knows what to expect as the preseason approaches. A small but shifty player, Larson spent the summer trying to gain some weight and speed.
There is plenty of time to figure out those results, but Larson's performance Sunday in the Spokane Chiefs' annual Red-White scrimmage showed fans that Larson is no longer a newcomer but one of the team's veterans to be leaned on.
Larson scored twice for the Red squad, leading it to a 4-1 victory over team White.
"For me, I'm a smaller guy, so I was trying to put on a little bit of weight, some muscle on my legs, my belly and my core," Larson said. "A lot went into that, a lot of weight training and speed stuff, so it's been working out well."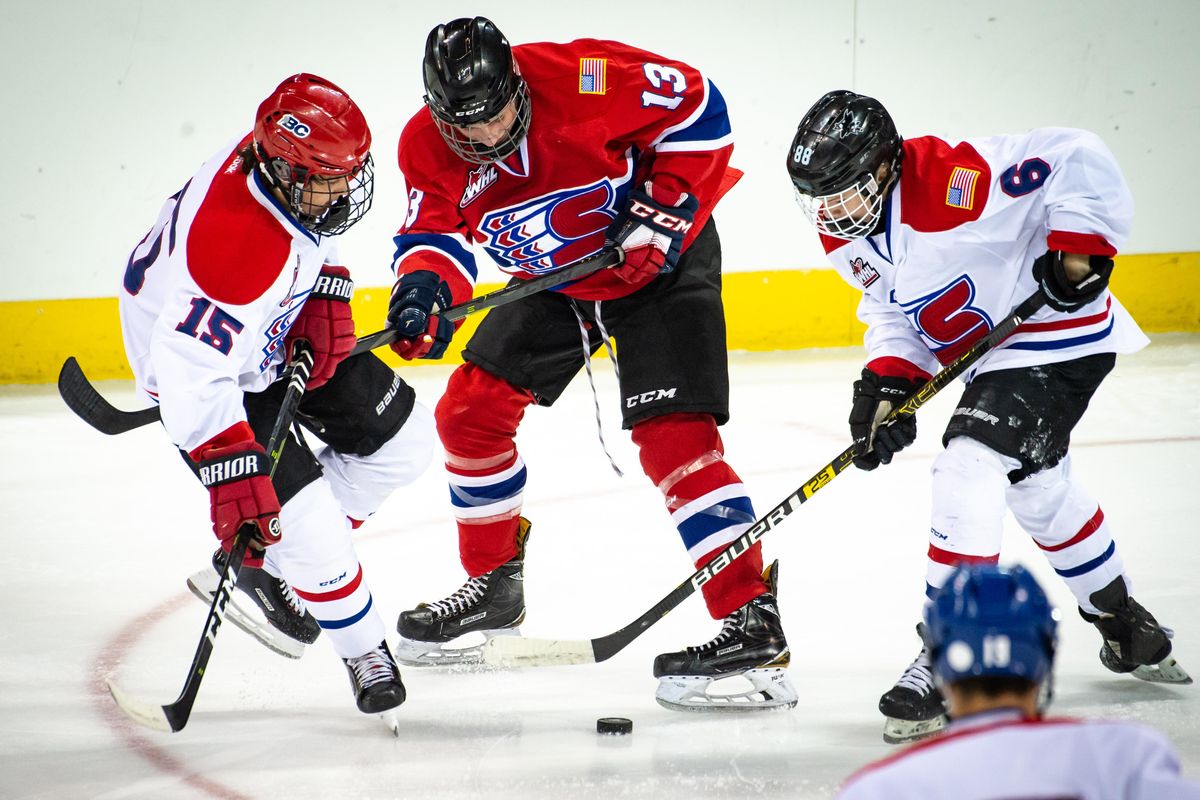 Adam Beckman and Eli Zummack each had two assists for the Red.
The Chiefs clustered their veterans on the top lines and paired the younger players together on the third and fourth lines. The Chiefs also sat goalies Reece Klassen and Lukas Parik to get a better look at four younger goalies.
Campbell Arnold was the only perfect goalie, stopping all 15 shots he faced. Tyler Palmer stopped 9 of 11 shots and Mason Beaupit stopped 13 of 14 shots for Red. Paxton Geisel stopped 18 of 19 shots for White.
Ty Cheveldayoff, a 2003-born forward, opened the scoring out of a scramble in front of the net in the first period. Larson's first goal made it 2-0 in the second when he put home a rebound.
White got on the board when 17-year-old Erik Atchison scored unassisted, but Larson's second goal of the game in the third period cemented Red's victory. Matthew Langdon, a 2004-born forward, scored an empty-netter for Red's fourth goal.
Overall, Manny Viveiros was pleased with his first training camp as the team's head coach.
"I thought as training camp went along including today, it got better and better as far as the skill level, the tempo and the physicality," he said. "I'm really impressed with my veteran players, but also some of the good young prospects, too."
Those young prospects were all over the ice, as 22 players were either 2003- or 2004-born prospects. Players with a 2003 birth year are eligible for full-time duty this season as 16 year-olds. The 2004 birth year has to wait another year.
"They're really impressive. Especially today and yesterday, they've really been throwing their body around, I'd say almost more than anybody else in camp," Larson said of the younger players. "Our '04 draft class looks real good, so it's a bright future for the Chiefs."
One prospect unable to play was defenseman Graham Sward, the team's top pick in the 2018 Bantam Draft. Sward took a puck to the foot earlier in training camp and was held out as a precaution, Viveiros said.
Jake McGrew was named the player of the game for White. McGrew had a number of scoring opportunities, including a breakaway in the first period, but couldn't quite find the net.
McGrew is entering his 20-year-old season and is one of the veterans who will be counted on to score. The team will eventually need to get down to three 20-year-olds – it currently has five – and it's a decision that everybody knows is coming, just like it does every year.
"It's always in the back of your mind, but I was focused on this camp and now I'm focused on the preseason," McGrew said. "I have some stuff in San Jose that I need to focus on as well, so I try to not think about that too much and play my game, keep it simple and do my job."
McGrew will eventually head to his NHL camp with the San Jose Sharks, who may decide his playing destination.
The Chiefs will shrink the roster for three preseason games in Everett starting Friday. The Chiefs will play three more preseason games the following week in the Tri-Cities before the season opener at Kamloops on Sept. 20.
---