News > Spokane
Former Spokane resident reflects on Navy career, opportunity at new post
Mon., Aug. 26, 2019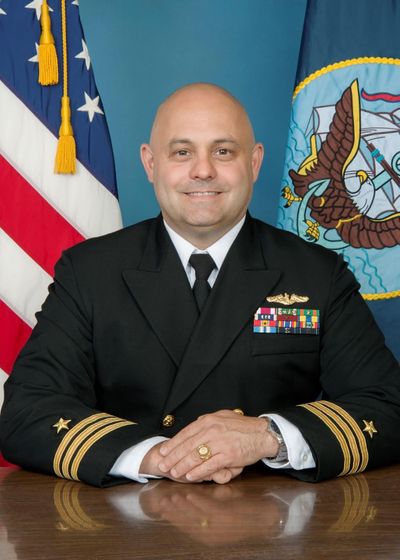 After decades spent traveling the world with the U.S. Navy, University High School graduate Commander Lance Denham is settling into his new job as executive officer at Naval Base Kitsap within driving distance of two of his favorite places – Zip's and Ron's Drive-Inn.
Denham said he always makes it a point to stop at both restaurants when he comes home to visit family, and also has fond memories of working at Ron's when he was in high school.
"It was such a great place to work," he said. "The place hasn't changed much. The food is still good."
Denham's father served in the U.S. Army and he was born in Germany. The family settled in the Spokane Valley in the early 1980s. Joining the Navy after he graduated high school in 1993 seemed like a natural thing.
"I come from a long line of military," he said. "It was just always there. I remember sitting down and talking to my dad. He wanted me to use it as a stepping stone to grow up."
Denham said the idea of serving on ships and submarines intrigued him. "The Navy had the specific things I was looking for," he said. "I just wanted to have a job where I could deliberately travel."
He is one of seven siblings, and his four brothers all enlisted, two in the Navy and two in the Army.
His first job was as a missile technician on the USS Nevada. He soon applied for the BOOST officer training program and got his degree in metallurgical engineering from the University of Washington in 2002. He met his wife, Jennifer, at UW and the two married in 2003.
Denham did a lot of moving around, but managed to serve in Norfolk, Virginia, for 12 years. He was in Florida and toying with the idea of retiring to spend more time with his three kids when he learned of a posting in Western Washington, close to his wife's hometown of Redmond. He asked his wife if she thought he should take the job, and she couldn't answer yes fast enough.
"I almost didn't get to finish the sentence," he said. "This is where we always wanted to be."
He served in Bremerton with the Tomahawk Land Attack Missile program, then was executive officer for the Blue Crew of the USS Pennsylvania, an Ohio-class submarine based in Bangor, Washington.
He was the submarine operations officer and future plans officer for Carrier Strike Group 11 based in Everett before arriving at Naval Base Kitsap.
Denham has been in his new job for two months. Naval Base Kitsap encompasses five installations with more than 35,000 military and civilian personnel. It includes a submarine base, a Naval shipyard, a fuel depot, a hospital and a naval undersea warfare division.
"I assist the commander," Denham said. "My job is to make sure we keep all these ships ready to go to sea. I think it's pretty fantastic."
He said he encourages people to join the Navy to learn a trade skill and get a college degree: "I think it's a very noble profession."
And it's a good way to see the world. Denham said he's visited ports in Guam, Scotland, Norway, France, England, Portugal, Germany, Switzerland, Spain, Panama and Japan during his career. "I loved every one of those port calls," he said.
Denham said he has enjoyed his 26-year career in the Navy: "I have loved almost every single day of getting my uniform on."
The excitement of serving in the Navy hasn't waned for Denham, and he's enjoying his latest assignment.
"I'm still having a blast," he said. "So far it's been the funnest post. It's also a considerably larger challenge than my previous posts. I'm going to hit the deck plates running, just like I tell the new recruits."
Local journalism is essential.
Give directly to The Spokesman-Review's Northwest Passages community forums series -- which helps to offset the costs of several reporter and editor positions at the newspaper -- by using the easy options below. Gifts processed in this system are not tax deductible, but are predominately used to help meet the local financial requirements needed to receive national matching-grant funds.
Subscribe to the Coronavirus newsletter
Get the day's latest Coronavirus news delivered to your inbox by subscribing to our newsletter.
---