Sports
A Grip on Sports: An opening game for a college football season can hold surprises, both good and bad
Mon., Aug. 26, 2019 A GRIP ON SPORTS • By this time next week, at least one pair of school pants you bought at Target will have a hole in them. At least one new school supply will be lying by the side of the road, having mysteriously fallen out of the backpack. And at least one local college football team will wonder how everything went so wrong.
•••••••
• It is bound to happen, right? No season begins perfectly. Never does, never will. The hard part is figuring out what will break down. Will it be the new starting quarterback or the new special teams scheme? Will it be the position with the most depth or the one everyone felt was really thin?
See, the opposite can happen too. A hole may open somewhere but close in another spot at the same time. The reason is simple. Until the games begin, sometimes coaches (and fans) just don't know what they have. Heck, even the players aren't sure.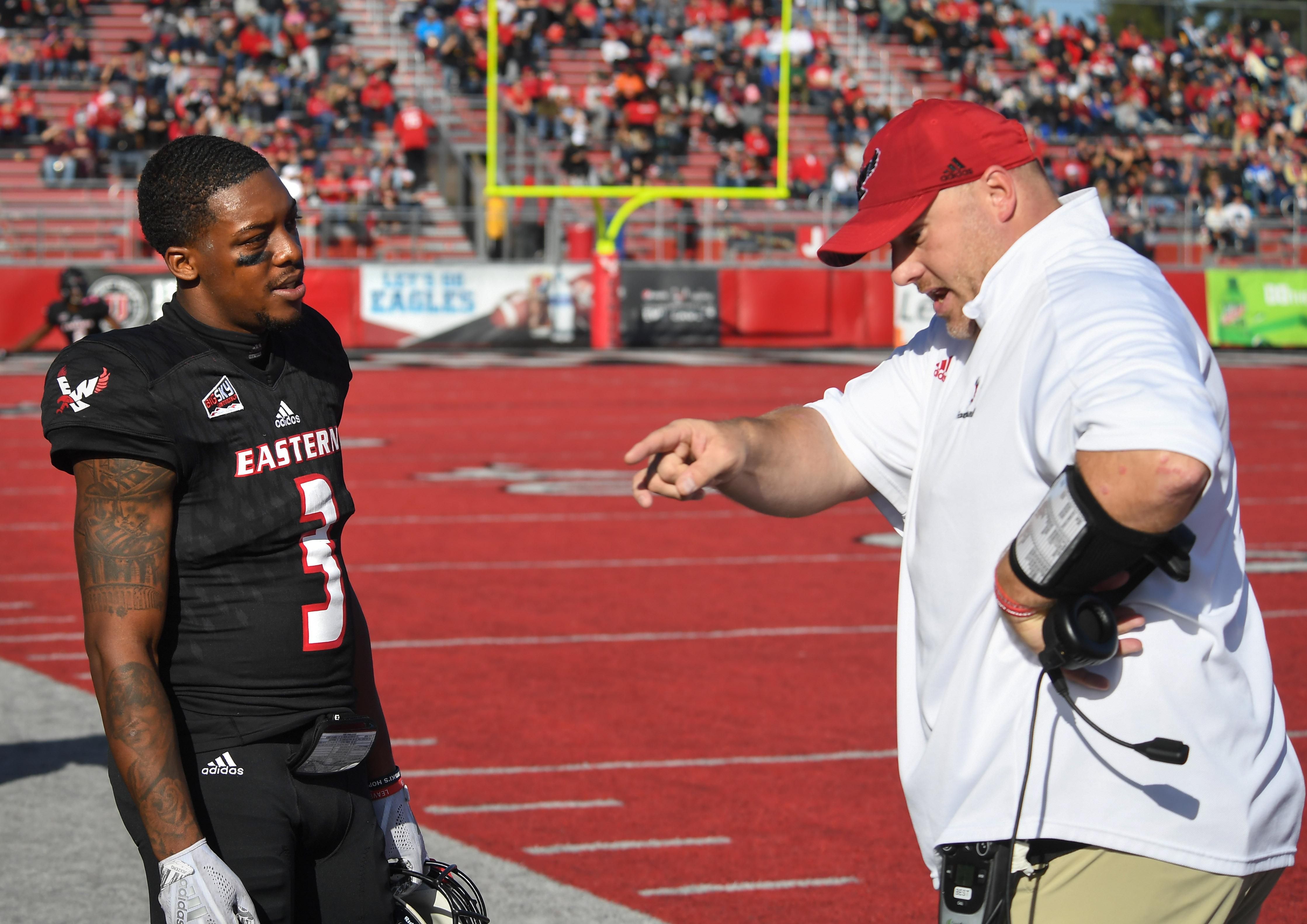 Two examples last year at the most important position give you an idea.
The Cougars had to replace Luke Falk at quarterback. No big deal, right? After all, he was just the Pac-12's all-time leading passer for goodness sake. It seemed bleak. Except it wasn't. Gardner Minshew rode in and, for one season at least, was the greatest quarterback Washington State fans ever saw.
Up the road in Cheney, the Eagles had a fifth-year senior at the position who was one of the best in the FCS. Until Gage Gubrud went down with an injury. Then the Eagles had a redshirt sophomore who was one of the best in the FCS. Eric Barriere went on to lead Eastern into the national finals.
Those are examples of the good. There will be examples on the other end of the spectrum this weekend as well. Where will it happen? Let's try to figure it out.
– Idaho travels to Pennsylvania for the toughest matchup – or the second toughest – of the three local colleges. Penn State is always big, physical and tough at home. This year shouldn't be different. Any weak area the Vandals have – and there has to be some considering UI is coming off a 4-7 season – will be exposed.
The best that can happen for Idaho? A couple of spots show improvement and everyone walks out of Happy Valley healthy.
– Eastern Washington takes its seemingly annual foray into Pac-12 territory trying to post another upset. It's happened before. Will it happen Saturday at Washington?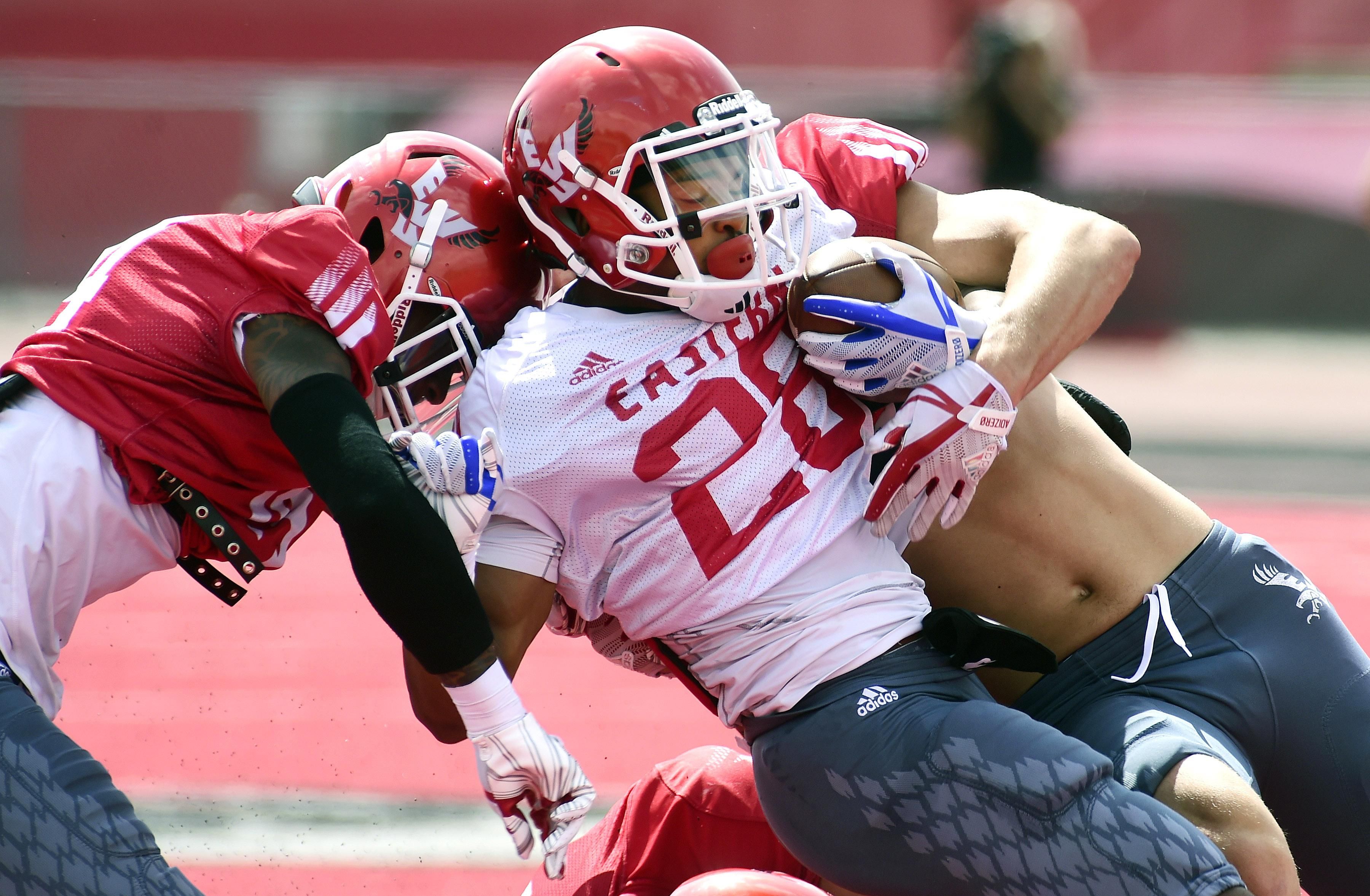 Only if the receiving corps is better than expected. The position has been one of strength for the Eagles for years, but with the graduation of Nsimba Webster, the glory days may be in the rearview mirror. Or maybe someone who has flown too low for the radar the past couple years will rise up and catch a few Barriere bombs.
– Don't expect Washington State to have trouble winning Saturday night. New Mexico State just doesn't matchup physically. But the celebration may be muted if Anthony Gordon doesn't shine after three years of waiting for his chance.
The fifth-year senior began his career in the California junior college ranks, running a version of the Air Raid. Now he gets the opportunity to handle the real thing. All 30,000 or so in Martin Stadium will enter wondering how this year's start will do.
One hint. B.J. Symons spent four years at Texas Tech, most of the time backing up now Arizona Cardinals head coach Kliff Kingsbury. Symons got one opportunity to start, his redshirt senior year of 2003.
He threw for an NCAA-record 5,833 yards.
By the way, the next year redshirt senior Sonny Cumbie started for the Red Raiders. He only threw for 4,742 yards.
• We didn't have a lot of links yesterday, in part because I accidentally left my computer glasses at home. I was able to read more stories this morning and boy do we have a lot of links. Way too many, actually. Unless you enjoy football and are able to hide your computer screen from your co-workers.
•••
WSU: Around the Pac-12, the most interesting opener this weekend may be Oregon meeting Auburn. … Or it could be Oregon State hosting Oklahoma State. An upset in Reser Stadium on Friday night would really help the conference's image around the nation. And may cause another Mike Gundy "I'm-a-man-I'm-40" rant. … The conference's image took a hit in Hawaii last weekend, that's for sure. … Jacob Eason has to show he's more than just a great arm for Washington to succeed. … Colorado has just one senior cornerback. … Rivalry games are stressful for everyone, including family members. But Utah's quarterback is happy to back for one more. … Dorian Thompson-Robinson will start at quarterback for UCLA in the opener. But the Bruins lost another linebacker. … It's a new era of Arizona State football. … We can pass along another look at Arizona's loss. If you have a youngster in the house, show him or her Manly Williams' last-second play. The Hawaii defensive lineman didn't quit and ran 40 yards to catch Khalil Tate from behind. The play saved the game.
EWU: Around the Big Sky, Idaho State has experience up front. … Montana State announced its lineup for the game at Texas Tech. … Dalton Sneed enters season two as Montana's quarterback. … Weber State is once again a Big Sky favorite and has playmakers on offense and defense. … A Southern Utah freshman is trying a new position. … New Northern Arizona coach Chris Ball has questions to answer. … UC Davis is ready to start the season.
Indians: If the series with Hillsboro – sorry about the headline on the link – is a preview of the Northwest League's championship series, Spokane is doing just fine. Dave Nichols has this coverage of the Indians' 7-4 win, their second in the four-game series with the Hops. The series ends tonight. … Elsewhere in the Northwest League, Eugene will have trouble catching Hillsboro after losing another game to Everett.
Chiefs: It's time to begin winnowing down the roster for the regular season. The first big step in the process occurred yesterday with the Red-White scrimmage. Kevin Dudley was in the Arena and has this story. Libby Kamrowski joined him and has a photo report. … Everett also held a scrimmage yesterday.
Seahawks: Just who will survive the final cut? There is only one more chance to make a good impression.
Mariners: Maybe the best thing about today? Major league teams will no longer be wearing those awful uniforms from the weekend. Everyone in black and white? Whose terrible idea was that? The M's played pretty well in them, though, riding Marco Gonzales to another win yesterday over reeling Toronto. … Gene Warnick has an Out of Right Field recap of yesterday's game.
•••       
• I'm heading downtown today. Larry Weir is gathering the greatest minds around (and me) to talk college football. It's for something called "a podcast." Modern technology always throws me for a loop. Until later …
Local journalism is essential.
Give directly to The Spokesman-Review's Northwest Passages community forums series -- which helps to offset the costs of several reporter and editor positions at the newspaper -- by using the easy options below. Gifts processed in this system are not tax deductible, but are predominately used to help meet the local financial requirements needed to receive national matching-grant funds.
Subscribe to the sports newsletter
Get the day's top sports headlines and breaking news delivered to your inbox by subscribing here.
---