News > Spokane
Condon expresses doubts whether city's efforts to handle homelessness are working
Tue., Aug. 27, 2019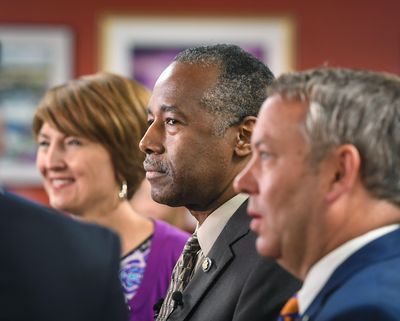 Mayor David Condon is having second thoughts about Spokane's housing first approach to helping the homeless.
The "housing first" efforts focus on providing emergency shelters for homeless people without requiring that they be drug-free, and then working to quickly find them permanent housing.
But he sees opportunity for improvement.
"We've tried out a lot of innovative things that have not worked. And I think sometimes in defending the incumbency, we try to pretend like everything has worked. It has not," Condon said in an interview last week.
Condon's approach to homelessness requires an understanding of his approach to other problems: Does the solution achieve the goals laid out in the city's strategic plan? Does it create a "safe and healthy community"? Does it contribute to an "urban experience"?
Those questions serve as guideposts for Condon, even as his views evolve and as political candidates debate the city's efforts to combat homelessness during a hotly contested election season.
In the race for mayor, political newcomer Nadine Woodward has criticized the city for its reliance on low-barrier shelters and advocated for a tougher approach to homelessness, which she directly correlates with drug addiction.
Her opponent, City Council President Ben Stuckart, has blamed increasing homelessness on a housing crisis that he has promised to alleviate through policy. Meanwhile, he has continued to advocate for a new emergency shelter.
Condon, who was prevented by law from seeking another term as mayor this year, said the city's efforts to address the issue have brought mixed results.
The city and county spent about $22 million on homeless services between July 1, 2017, and June 30, 2019. But the number of homeless people without shelter in Spokane County during that time continued to rise, according to annual point-in-time counts.
The city continues to work to open a new shelter following last year's decision to end a partnership with Catholic Charities to operate a 24/7 emergency shelter.
Condon hasn't ruled out providing "housing first," the federally approved approach that emphasizes drug-free, or low-barrier, emergency shelters and efforts to find a person experiencing homelessness a permanent home as rapidly as possible.
But during a visit to Spokane earlier this month, U.S. Secretary of Housing and Urban Development Ben Carson said the federal government also believes "in Housing Second, and Housing Third" – a theory that resonates with Condon.
"I own this. I made the determination we should go to low-barrier housing. There's components of it I think I'm kind of with the secretary," Condon said.
Practically applied, this revision to "housing first" is aimed at identifying an individual's barrier to permanent housing – such as a substance abuse disorder – and forcing that person to enroll in a program to qualify for housing.
But when it comes to determining what level of commitment is required from the individual to maintain services, Condon is unsure. It could be a requirement that within 30 days of obtaining shelter, a person has to enroll in a program. Perhaps if they fail three times, they are kicked out.
"That is what the secretary opened, and I owe him my thoughts on that," Condon said.
Condon lamented the rigidity of the federal government, which doles out funding and emphasizes low barriers – meaning an emergency shelter cannot impose requirements such as sobriety on its guests.
"I would rather see more flexibility," Condon said. "Do I still think we should do it? Absolutely. Do you think at this point if the federal government allowed Catholic Charities – as the (provider) of the facilities that we do have – if they could change some of those to a different type, would they?"
Jonathan Mallahan, vice president of housing at Catholic Charities, said the nonprofit will "always serve people regardless of their faith, their gender, their health or otherwise." He acknowledged more flexibility would be welcome, though it would "never be an ultimatum." For example, Mallahan said, the nonprofit could make treatment a condition for housing for a person with an identified substance abuse disorder.
"I think we'd like to have the ability to do that. Right now we can offer, but if someone declines, there's really not much more we can do," Mallahan said.
Moving forward, Condon is adamant that the city take a regional approach to combat homelessness.
But the city's effort to collaborate with Spokane Valley and the county on a 120-bed emergency shelter on East Sprague Avenue, at the site of a former Grocery Outlet store, appears to be in danger of failing.
County and Spokane Valley officials have questioned the new shelter proposal, including the annual projected costs and why the location on East Sprague was selected.
Though the East Sprague shelter has not officially been scrapped, the city is now actively considering alternative sites.
Condon has no confidence that a targeted-capacity emergency shelter for adults will be open by fall and expects the city will have to rely on temporary warming centers, as it did last winter.
"People act as though that's a failure, (but) we've been doing that for decades," Condon said.
He would have expected the city to have a new shelter identified by June, but regional efforts, like that proposed on East Sprague, take longer, he said.
Asked if a regional shelter can be opened before he leaves office, Condon answered bluntly: "I'm afraid that you don't win 'em all."
Though he said he still believes a "metropolitan" approach is the right one, "I'm also pragmatic enough to realize that some of these things have become too difficult to do."
Local journalism is essential.
Give directly to The Spokesman-Review's Northwest Passages community forums series -- which helps to offset the costs of several reporter and editor positions at the newspaper -- by using the easy options below. Gifts processed in this system are not tax deductible, but are predominately used to help meet the local financial requirements needed to receive national matching-grant funds.
Subscribe now to get breaking news alerts in your email inbox
Get breaking news delivered to your inbox as it happens.
---