100 years ago in Spokane: Major break in case of missing real estate entrepreneur; presidential visit announced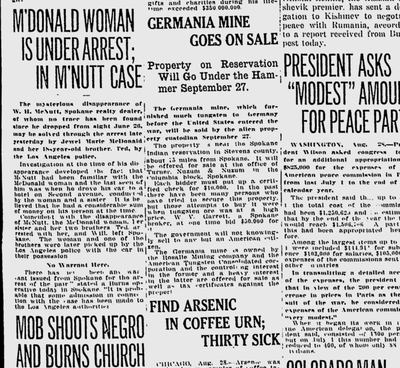 The Spokane Daily Chronicle reported that Los Angeles police announced a major break in the mysterious disappearance of Spokane real estate entrepreneur W.H. McNutt: They arrested Jewel Marie McDonald and her brother Ted McDonald in Los Angeles.
McNutt had been involved in an acrimonious business dispute with Fay McDonald Wilkinson and other members of the family in Spokane on June 26. He was last seen while on the way to confront the McDonalds in a Spokane lodging house. No trace of McNutt had yet been found, but Los Angeles police found his new auto in the possession of the McDonalds.
Details of the arrests were not yet available, but the Chronicle said, "It is probable that some admission in connection with the case has been made to Los Angeles authorities."
It was also not clear whether Jewel Marie McDonald was one of Fay's aliases or whether Jewel was Fay's sister.
From the presidential beat: President Woodrow Wilson announced plans to make a speech in Spokane in September as part of his nationwide tour to promote the peace treaty and the League of Nations.
The event was "to be made as nearly nonpartisan as possible." A site had not yet been chosen.
Also on this date
(From the Associated Press)
1963: More than 200,000 people listened as the Rev. Martin Luther King Jr. delivered his "I Have a Dream" speech in front of the Lincoln Memorial in Washington, D.C.
---