News > Crime/Public Safety
Spokane jury convicts man in killing of Montana Sen. Tester's nephew
Aug. 28, 2019 Updated Wed., Aug. 28, 2019 at 9:21 p.m.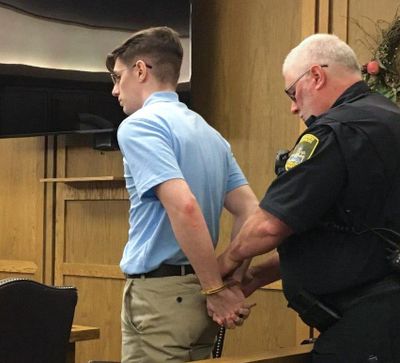 The 8-year-old daughter of Robert Tester awoke in 2016 to see a masked man plunge a sword into her father. The killer then turned toward the girl with a message: "Stay here, I'm going to kill your daddy," according to court testimony.
A jury on Wednesday convicted John A. Radavich, 25, of first-degree murder in the death of Tester, 35, whose body was found on Sept. 6, 2016. Tester was the nephew of U.S. Sen. Jon Tester, D-Mont.
The two-week trial before Spokane County Superior Court Judge Maryann Moreno was delayed in April when Moreno declared a mistrial after new evidence was discovered.
The evidence included gruesome photos of the scene in the house in south Spokane County where Tester had suffered more than 66 wounds. He died from a blow with a splitting maul to the back of his head. One detective later said the crime scene was one of the worst bloodlettings he had ever seen.
The trial included testimony from Tester's daughter, who was sleeping in the same bed as her father on the night of the attack.
"She will live with the menace of this," Deputy Spokane County Prosecutor Kelly Fitzgerald said of the now 11-year-old girl. "She awoke to her daddy being stabbed with his hands up. Her daddy was begging for help and was asking to be taken to the hospital."
The killer followed Tester out of his bedroom as he crawled on his hands and knees, Fitzgerald said.
"This was not a fight that was mutual," she said. "This was an execution."
Radavich testified in his own defense. Defense attorney Douglas Pierce told the jury that Radavich only wanted to send a message to Robert Tester that he needed to stop abusing a 17-year-old girl, who Radavich had recently dated.
Pierce, who spoke only for about 17 minutes, said Radavich put a bandana over his face because he didn't want Tester to know who was delivering the warning.
"My client, John Radavich, did not intend to kill" Tester, Pierce said. "His plan was to walk out there and tell him, 'You don't get to beat up (the 17-year-old girl) anymore' and then leave."
The case remained unsolved until Radavich called a friend, Richard Watt, in Texas. Watt recorded the phone call and turned it over to deputies, who had not previously identified Radavich as a suspect.
"I thought about it and prayed about it. I finally said 'I've had enough,' " Radavich said on the call. "I took care of it."
Watt, in the recording, asked Radavich what he meant. "I kind of removed him from the equation," Radavich said. "I killed a man."
Pierce reminded the jury about Radavich's explanation for those comments. "My client was trying to impress his friends," he said.
On the night of the killing, according to Pierce, Radavich knocked on Tester's door, which he opened while holding a splitting maul in his hands. Radavich claimed that Tester pulled him into the home and then initiated a fight to the death that Radavich ultimately won in self-defense.
"The fight started when the maul came at him," Pierce said of his client. A detective "walked you through the bloody scene to stir your passions. 'Look at the mess. Clearly this was a murder.' "
When asked directly on the witness stand if he intended to kill Tester, Radavich said no.
"It is tragic that (the girl) lost her dad," Pierce said. "But it was not due to a murder on my client's part. If this was a planned execution, why leave a witness?"
Fitzgerald told the jury Radavich's explanation of the killing did not add up. She showed the jury the front door and nearby trash bins and a large sack of dog food that had not been disturbed, as would be expected if Tester had forced Radavich into the home.
The killing most likely started in the bedroom, Fitzgerald said, just as the now 11-year-old daughter testified.
Detectives found an unlocked front door to the home. But they found a blood trail extending throughout the house that appeared to have started in the bedroom where Tester and his daughter were sleeping that night.
"She has been consistent with what she saw and what she heard the defendant say. He said,'Stay here, I'm going to kill your daddy,' " Fitzgerald said. "Consistency comes from telling the truth and witnessing things."
In addition to once more showing the jury a photo of how emergency responders found Tester in a pool of his own blood, Fitzgerald showed them a photo of the daughter. Wrapped in a gray blanket, she was sitting in a patrol vehicle with a look of shock on her face.
"Would anyone open a door to a masked man with your daughter sleeping inside? It defies logic and the evidence," Fitzgerald said. "This was a killing and an execution."
Local journalism is essential.
Give directly to The Spokesman-Review's Northwest Passages community forums series -- which helps to offset the costs of several reporter and editor positions at the newspaper -- by using the easy options below. Gifts processed in this system are not tax deductible, but are predominately used to help meet the local financial requirements needed to receive national matching-grant funds.
Subscribe now to get breaking news alerts in your email inbox
Get breaking news delivered to your inbox as it happens.
---