Memorial sign erected at site of 2003 crash that killed Spokane sheriff's deputy is first of 27 honoring fallen law enforcement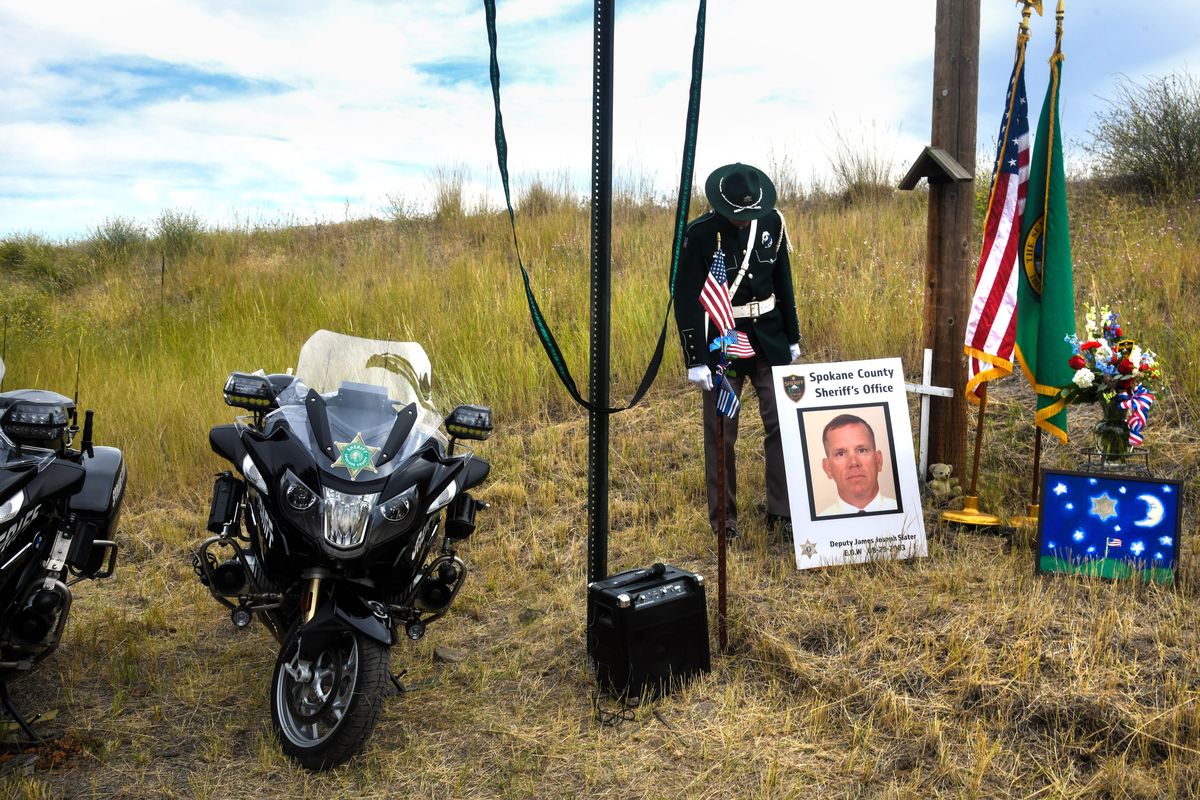 Dozens gathered Thursday morning on a bend in South Grove Road, normally a quiet country highway southwest of Spokane, to honor fallen Spokane County Sheriff's Deputy James Slater, who died there 16 years ago.
Slater died from his injuries after he crashed his patrol car when rounding the sharp curve on his way to a report of a stolen vehicle. After his vehicle slid off the roadway, it struck a power pole head-on, then rolled over four times, at least 60 feet before coming to rest in a ditch.
As a part of Spokane's Fallen Officer Memorial Project to honor local law enforcement who died on duty, the Law Enforcement Memorial Project Committee built the first of 27 signs at the site of Slater's crash.
Miriam Slater, the deputy's widow, and their daughter Coral, 42, unveiled it.
"It was more than I was expecting," Miriam said. "I'm just honored that they still care for the spot."
Slater, who was 41 at the time of the accident, served in the U.S. Marines for 22 years before moving to Spokane with Miriam and their two daughters in 2000. He joined the sheriff's office in 2001 and patrolled rural Spokane County on the graveyard shift.
During his shift, "He would always call me, 'Good morning, beautiful,'" Miriam said.
Slater was known for being a caring mentor to young deputies even though he was relatively new to the force himself.
"He always took time to figure out how your day was going," Spokane County Sheriff Ozzie Knezovich said. "He was interested in you."
Knezovich said a part of the swearing in ceremony for new deputies was inspired by an essay Slater wrote while he was in the law enforcement academy. When Knezovich hands deputies their badges, he does it in a way that they shake hands with the badges in between.
"I look at them and say, 'Do nothing to ever dishonor this badge,' " he said.
Slater's essay was titled "What Law Enforcement Means to Me: A Notion of An Ideal."
"I think law enforcement is the preservation of individual freedoms and the taking of those freedoms if necessary," Knezovich read from the essay. "Law enforcement is ensuring that people feel safe in their homes and on our streets without fear of criminal activity or unjust prosecution.
"I want my daughter, and yours, to be able to look upon our memory and say: 'My father was honorably engaged in an honorable profession. He was a Police Officer. He kept the star shiny,' " he continued reading.
After the crash, Slater's other daughter, Shelby, now 24, painted a picture of a sheriff's badge shining in the night sky that hangs in Knezovich's office.
"That, folks, is why the badge is between me and the deputy," Knezovich said. "Because it symbolizes the bond between you and us."
Slater donated all of his organs after he died. The man who received his heart, Fred George, 65, was at the memorial service.
After 22 months in the hospital due to a heart condition, he saw an article about the crash in The Spokesman-Review.
"I looked at my wife and I said, 'That could be my heart,'" he said.
"It means a lot to have a veteran's heart," said George, who served in the Coast Guard. "It's the gift of life."
Slater was the first Spokane deputy to die on the job in more than 40 years. The investigation of the crash determined he had been traveling above the posted speed limit of 35 mph by 6 to 15 mph. He was wearing a seat belt.
Investigators were not able to determine if Slater had swerved to avoid another vehicle or an animal.
Slater made his last radio call at 2:17 a.m. and a 911 caller reported his vehicle in a ditch 10 minutes later.
After having surgery at Providence Sacred Heart Medical Center a few hours after the crash, he died from a head injury that night while on life support.
"He kept his star shiny," Knezovich said at the end of his speech. "And we always have to fight to make sure we keep that star shiny."
The next sign dedication will be for Spokane police Sgt. Brian Best on Feb. 13.
---