Sports
A Grip on Sports: Run around and wave your own flag on college football's first full Saturday – or at least flip through the channels with abandon
Sat., Aug. 31, 2019 A GRIP ON SPORTS • Take a deep breath. Exhale. All is right in the world. It's Saturday morning, the sun is shining (everywhere we hope) and college football is on the television. Heck, you can see the Cougar flag flying on GameDay as it has since Wes Welker was catching passes for Mike Leach in Texas.
•••••••
• Welker has finally retired from the NFL for good (we think) but the flag keeps on keeping on. Today the show was in Fort Worth in anticipation of Pac-12's most important non-conference football game since, well, since the Pac-12 had its last chance to show the country it isn't the weak-brother of the Power 5.
But that's only one of the games today. There are many more, including many with local ties.
Who cares if they might not be close?
(Before we move on, let's examine the three and try to determine which one has a chance to be a game in the fourth quarter. New Mexico State invading Pullman? Nope. The Cougars will win handily. Idaho traveling to Happy Valley? Nope. The Nittany Lions will defend home turf with ease. Eastern Washington in Seattle? Well, maybe. If the Eagles play at their best, exploit the inexperienced Husky secondary and score a bunch, this one could still be in doubt in the final quarter.)
It's football. It's Saturday. And there is nothing that beats it … until March Madness rolls around.
• High school football was also being played in the area last night, albeit across the border in Idaho. I wonder if folks driving around at dusk near Coeur d'Alene High looked up, saw the glow of the lights and wondered, for a second or two, what was going on.
Then it probably hit them. "Oh ya, it's Friday night. I know why those lights are on."
• We will be back here as soon as possible following the Cougar game tonight with three quick thoughts on the outcome.
My points of emphasis? We will be watching Anthony Gordon, of course. How could you not? We're also interested in how the middle of the WSU defense performs, what with the changes at safety and at middle linebacker. Other than that, we'll play it by eye. What ever happens, happens. Like you, we just like to watch.
• Before we move on to the links (and there are a lot of them), we didn't want to miss what happened at Avista Stadium last night. No, not the Indians winning again. They have been doing that often this summer.
Nope, we want to highlight the 6,859 folks in attendance for the regular season's last home game. They pushed the Indians over the 200,000 mark for the year, the first time over that total as a Short Season A team.
Let's put that in perspective. In the Northwest League, only the Vancouver Canadiens also went over that mark. The greater Vancouver metro area contains almost 2.5 million people. The greater Spokane area? About 545,000. This area loves itself some minor league baseball, that's for sure.
•••
WSU: If the Cougars play a four-hour game tonight, no big deal, right? After all, there are no NFL games tomorrow. But before we sit down to watch Washington State host the Aggies, let's go through Theo Lawson's two-minute drill. … Theo also has a preview of the contest as well as his pick (spoiler alert: he thinks they will win easily). … Throughout the day, Theo will also keep you updated on the NFL prospects for local players, including those from WSU. There will also be live updates throughout the game done by the guys in the office, one of whom I consider a close personal friend. … Former quarterback Mark Rypien is no longer facing domestic violence charges. Tom Clouse's story explains they were dismissed yesterday. … Mike Leach is a good football coach. And the Cougars have a good offensive line. All will be on display tonight. … Elsewhere in the Pac-12, Washington won't take the Eagles lightly, what with past history and coaching connections. … How important is the Oregon game to the conference? So important even Husky, Cougar and Beaver fans should be rooting for the Ducks against Auburn. Sorry. … There were two conference teams in action Friday night. Colorado got the Mel Tucker era off well, with a win in Denver against Colorado State. CSU coach Mike Bobo expressed his feelings about the Pac-12 officiating crew. … Oregon State's offense seemed pretty good, but the Beavers' defense was either feast (many tackles for loss) or famine (many more big plays). Mostly famine. … USC opens with Fresno State, which would have had a great chance for an upset last year. … California fans will be able to drink beer in the stands this season. Insert your own smart remark here. … Utah is (and should be) a running team. The Utes win showed that. … What is UCLA? … Former Arizona coach Rich Rodriguez was dropped from a lawsuit and given an apology.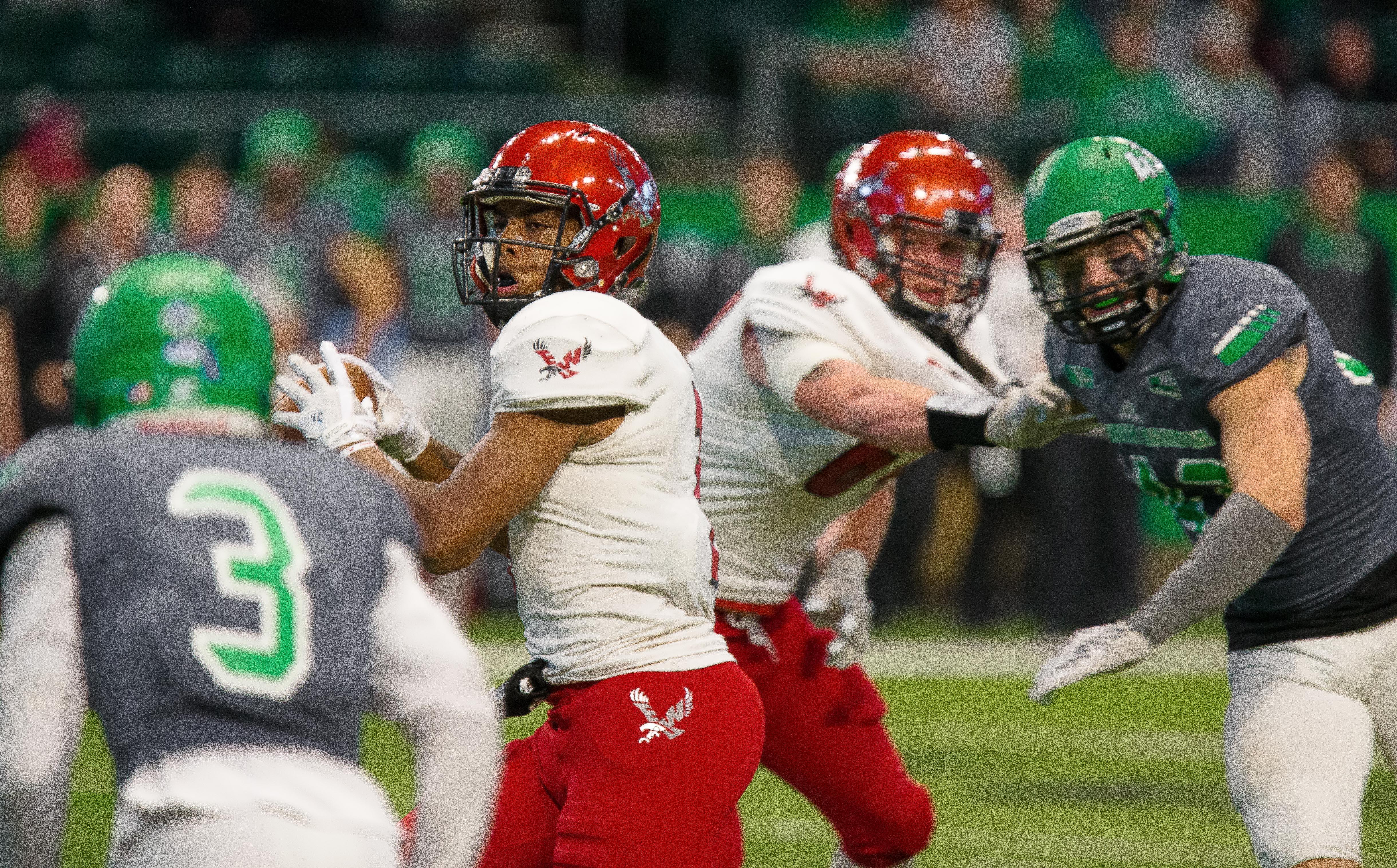 EWU: Today's game will be a big test for Eric Barriere, who hoped in high school to end up playing more games against Pac-12 schools. Ryan Collingwood has that and more in this preview. … Ryan also takes the time to pick all the Big Sky games this weekend, including the Eagles'. … Around the Big Sky, UC Davis found out yesterday they have lost one of its starting linebackers, Montell Bland. And yes, he is the younger brother of a former WSU starter, Louis. … The Troy Taylor era begins today at Sacramento State. … Cal Poly will feature a new quarterback in its opener. … Weber State will try to knock San Diego State around. … Montana opens on the road in South Dakota. … Montana State is opening at Texas Tech. … Northern Colorado hopes to draw better this season – after the Bears open with two FBS schools and Sacramento State on the road.
Idaho: The Vandals have their hands full this morning at Penn State. Peter Harriman has a preview as well as a story on two Boise State transfers who should help on the defensive side of the ball. Oh, and they are brothers.
Preps: As we said, the season began last night in North Idaho, with Coeur d'Alene holding off Rigby (Jason Shoot has that story) and Post Falls pulling away from Sandpoint (Jim Meehan was at that one). … Tyler Tjomsland was at the Cd'A game and has this photo gallery.
Indians: Spokane finished off the home portion of the regular season with a 4-2 win over Everett. Dave Nichols was at Avista Stadium and has this game story. … Around the Northwest League, Hillsboro won again as well.
Seahawks: The Hawks (and every other NFL team) will be making cuts today as they reduce their roster to 53. Next week, personnel directors will scout the waiver wire and make some pickups and more deletions. … One player cut yesterday was DeShawn Shead in a what-can-you-do-for-me-now move. … In the breaking news category, the Hawks seem really close to trading for Jadeveon Clowney.
Mariners: Marco Gonzales has 25 decisions. That's a lot. The latest was a loss to Texas last night. … The M's are still trying to figure out the bullpen as August ends. They are not alone. …The rosters expand tomorrow.
•••
• Today a nap is a must. Can't be dozing off as Max Borghi scores his third touchdown of the night sometime after 10 p.m. Have to stay focused. There is a problem, however. There are games I want to watch, heck, need to watch, almost all day. What's your plan along those lines? Have you figured out a good break? When will I fit in 40 winks? Stay tuned. I may tell you tomorrow. If I can remember. Until later …
Subscribe to the sports newsletter
Get the day's top sports headlines and breaking news delivered to your inbox by subscribing here.
---