News > Spokane
Local nonprofit offering 'showers of hope' to homeless in Spokane, Spokane Valley
Sat., Aug. 31, 2019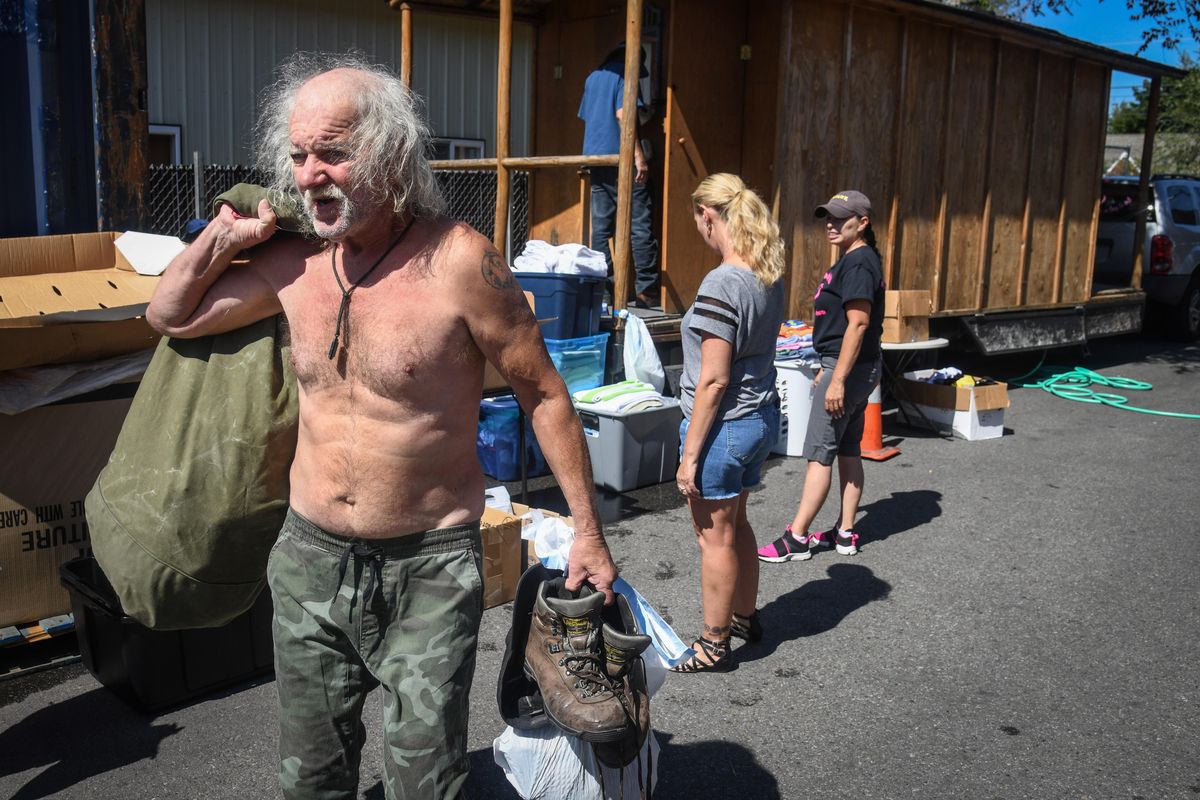 Mike Quesnell, 66, is all refreshed after cleaning up in the Shower of Hope mobile shower, Tuesday, Aug. 28, 2019, in the Spokane Valley Partners parking lot. The group Jewels Helping Hands started the mobile shower unit to reduce body lice in the homeless community. (Dan Pelle / The Spokesman-Review)Buy a print of this photo
When Mike Quesnell emerged from the only free shower in Spokane Valley, he said he felt like a new man.
Quesnell, 66, became homeless for the first time last year and said his only option for a shower in Spokane Valley was bathing in a cold sprinkler system at night. He said he lives with his dog Charlie in a vehicle, and became homeless after he was injured and could no longer work.
"You do what you got to do," he said. "But a nice hot shower is always better than a cold shower."
Finding a free, hot shower is hard for people who are homeless, especially in Spokane Valley. While there are free showers at several shelters and nonprofits in the city of Spokane, Spokane Valley has nowhere that offers free showers and laundry.
But the nonprofit Jewels Helping Hands is changing that, offering free showers a few days a week in a shower trailer parked in front of different service providers in the region every day.
Julie Garcia – the founder of, and the "Jewel" in, Jewels Helping Hands – said most of her group's time is spent in front of service providers in Spokane. But the group is hoping to get the word out to people in Spokane Valley that a few times a week they can get a shower, as well as a free pair of socks and underwear.
"That makes all the difference in somebody's day," Garcia said, "if you're able to shower and get something to eat."
The trailer looks more like a rustic cabin than a shower. Volunteers keep it clean and running so every person has at least 10 minutes. "Shower of Hope" is painted across the back.
Each shower stall is its own room, where people can disrobe and bathe privately. At the entrance of the trailer, there's also a sink and mirror and soon it will also be equipped with a toilet.
Garcia said the trailer was donated by the Guardians Foundation, the service provider the city of Spokane contracted with last winter to run several shelters. The foundation built the trailer several years ago because its first facility didn't have showers for the veterans the organizations served.
Michael Shaw, the director of the Guardians, said the group gave the trailer to Jewels Helping Hands because it no longer needed it and because Garcia's group was also using it to help reduce a body lice outbreak in the warming centers this winter. Jewels Helping Hands raised $2,000 and was able to fix the trailer.
Jewels Helping Hands has been offering free showers around Spokane for several months, but expanded the service into Spokane Valley earlier this month.
Garcia said many of the people staying in temporary warming centers over the winter had issues with body lice because there were no places to bathe or do laundry. Body lice is easier to treat than head lice, because a person who has it only needs a shower and a clean set of clothes. But many people who are homeless don't have access to basic hygiene, and outbreaks are common in that community.
Shaw said body lice was so severe in some shelters that staff asked patrons to keep their extra belongings in plastic bags while staying in the shelter.
Shaw said he doesn't yet have a contract with the city for warming centers this winter but hopes there will be some way for people staying at warming centers to have a shower, through a trailer or some other way to reduce the spread of lice and other health issues.
Shelters such as Union Gospel Mission require patrons to place their belongings in a heat closet, which kills any potential bed bugs or lice. Patrons also can take a shower if they are staying there and are provided with pajamas. House of Charity also has showers, but people don't have to stay at the shelter to use them. Women's Hearth, Hope House, City Gate, Cup of Cool Water and Family Promise also have showers available.
Garcia said Jewels Helping Hands was a small group that just officially became a nonprofit this spring. It now has a shower trailer that travels the community and a bus that the group uses to deliver food, clothing and supplies. Garcia hopes someday to have a laundry trailer as well.
David Stone, program director for Spokane Valley Partners, said the shower trailer is filling a huge need in the community.
He said homelessness isn't as visible in Spokane Valley as it is in Spokane.
"It may look a little different," he said. "But the needs are still the same."
He said everyone who took a shower and stopped in at the office afterward was pleased. He hopes his group will host the shower trailer again soon.
While people already at Spokane Valley Partners were taking turns in the shower trailer on Tuesday, Garcia drove the bus to pick up anyone who needed a shower, stopping by a place frequented by people who are homeless, Balfour Park.
Garcia is a recognizable figure with a long black braid, a baseball cap and a tattoo that says "follow your heart" just below her T-shirt sleeve.
Garcia's own heart was damaged from a health condition that affects her organs and arteries, which led to two heart attacks and two strokes. After repeated health issues, she quit her job as a waitress and chose to spend her remaining time serving people who are homeless.
"I don't have a long time left," she said. "So I want to build something that will keep going on."
Word about the shower trailer has already spread in the city of Spokane and hundreds show up for a shower and a clean pair of socks at every location. But when Garcia pulled up in her black-and-rainbow bus to Balfour Park, only one man accepted her offer.
After getting a clean shower and a pair of socks, Tom McCaslin said he'd tell everyone he sees in Balfour Park and his girlfriend, who he lives with in her car. He said they used to live together in her apartment, but after she was incarcerated, they ended up homeless.
McCaslin said he's working on getting a job at a fast food restaurant, getting off drugs and into a rapid rehousing program. A shower, he said, is motivating and a relief. He said when he tells his girlfriend there are free showers in Spokane Valley, he has no doubt she'll cry. He said as soon as he could get to a charger, he planned to call her and tell her where the next shower event was.
"She'll love this," he said.
Local journalism is essential.
Give directly to The Spokesman-Review's Northwest Passages community forums series -- which helps to offset the costs of several reporter and editor positions at the newspaper -- by using the easy options below. Gifts processed in this system are not tax deductible, but are predominately used to help meet the local financial requirements needed to receive national matching-grant funds.
Subscribe now to get breaking news alerts in your email inbox
Get breaking news delivered to your inbox as it happens.
---