News > Spokane
100 years ago in Mullan, Idaho: Rescued miners recount weeks trapped in darkness
Sun., Dec. 1, 2019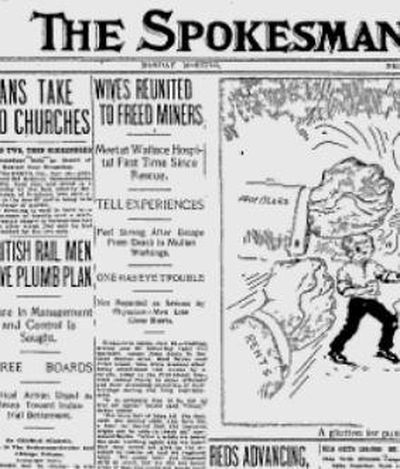 Rescued miners Emil Sayko and Peter Grant told chilling stories about their two-week ordeal deep in the Gold Hunter Mine near Mullan.
One of the worst moments came when they were down to one match and one stub of a candle.
"I managed to light the candle and started to find the water (barrel), but stumbled and fell, and the candle went out," Sayko said. "I lay there for a minute and didn't care if I got up or not. But Grant scrambled past me and I got up and followed him. We got a pail of water and drank it, and then we felt better."
Yet they were in utter darkness.
"So that we might have some idea of the passage of time, I took the crystal off my watch and from time to time felt the hands with my fingers," Sayko said. "I finally knocked the minute hand off by feeling in the dark and this hampered us somewhat, but we had a fair idea of the passage of time."
They could hear that rescuers had not given up.
"We could hear the diamond drill at work, but we did not know what it was and could not guess, until the pipe came through and struck Grant on the head," Sayko said.
Despite the bump, that was the most joyful moment of the ordeal. From then on, rescuers were able to pass matches, candles and food down the pipe. The candles provided a bit of heat as well as light. Before that "we suffered greatly from the cold," Sayko said.
Both men were reported in good condition and doctors said they should be able to go home soon.
Local journalism is essential.
Give directly to The Spokesman-Review's Northwest Passages community forums series -- which helps to offset the costs of several reporter and editor positions at the newspaper -- by using the easy options below. Gifts processed in this system are not tax deductible, but are predominately used to help meet the local financial requirements needed to receive national matching-grant funds.
Subscribe to the Coronavirus newsletter
Get the day's latest Coronavirus news delivered to your inbox by subscribing to our newsletter.
---