Sports
A Grip on Sports: The last month of the year means football is on its last legs, though it's about to get really fun
Sun., Dec. 1, 2019 A GRIP ON SPORTS • We are almost there. Almost to bowl season. Almost to the NFL playoffs. How do I know? It's easy. Today is Dec. 1. The last month of the year. And the beginning of winter.
•••••••
• My favorite line from Shakespeare? That's easy. It's the opening one from Richard III, my second-favorite of his historical plays. "Now is the winter of our discontent made glorious summer by this son of York." This is the time of year, when the calendar turns to December, when I begin to long for the sun of anywhere, actually.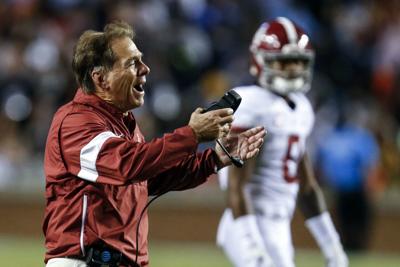 The days are short. They will get shorter. But in three weeks or so, the earth will slowly begin its rotation back toward summer. Dec. 21 should be a national holiday, that's for sure.
Between now and then we will be able to enjoy football that is either played for the ultimate consequences (the NFL's run to the playoffs and the elimination games for the CFP) or for fun in the sun (all of the rest of the bowls).
Football is a tough sport to play. It is filled with violence and takes a determination rarely seen in other sports just to get on the field.
Which is why the reward of a bowl game should never be lost. Yes, it is a game. And with any football game, there are risks. But it is more than that. Most bowl games include a week-long runup filled with experiences many of the players would never have otherwise.
Most are fun. Some are educational. Others are just silly.
My favorite bowl tradition lands in that last category. The Rose Bowl has a tradition in which both teams gather at a L.A. area restaurant, Lawry's, and see who can eat the most prime rib. Yes, it's silly. But it's also really fun. And since it began the same year I did, 1956, it's always held a special place in my heart – and the players' arteries.
• December also holds another tradition these days. It's the month college basketball conference schedules tip off.
Yes, much of the next few weeks will be crammed with nonconference battles – Gonzaga plays three special games over the next few weeks, against Arizona, Washington and at home vs. North Carolina – but when they are finished, the Pac-12 or WCC or Big Sky schedule awaits.
For some, it is just more in the way of a bunch of tuneups for the NCAA Tournament (we're looking at you GU). For others, it's a long slog with a possible .500 finish, an admirable goal for the Palouse schools. And for others, winning the conference tournament earns them a golden ticket into the promised land, whatever level of NCAA tourney you aspire to gain.
•••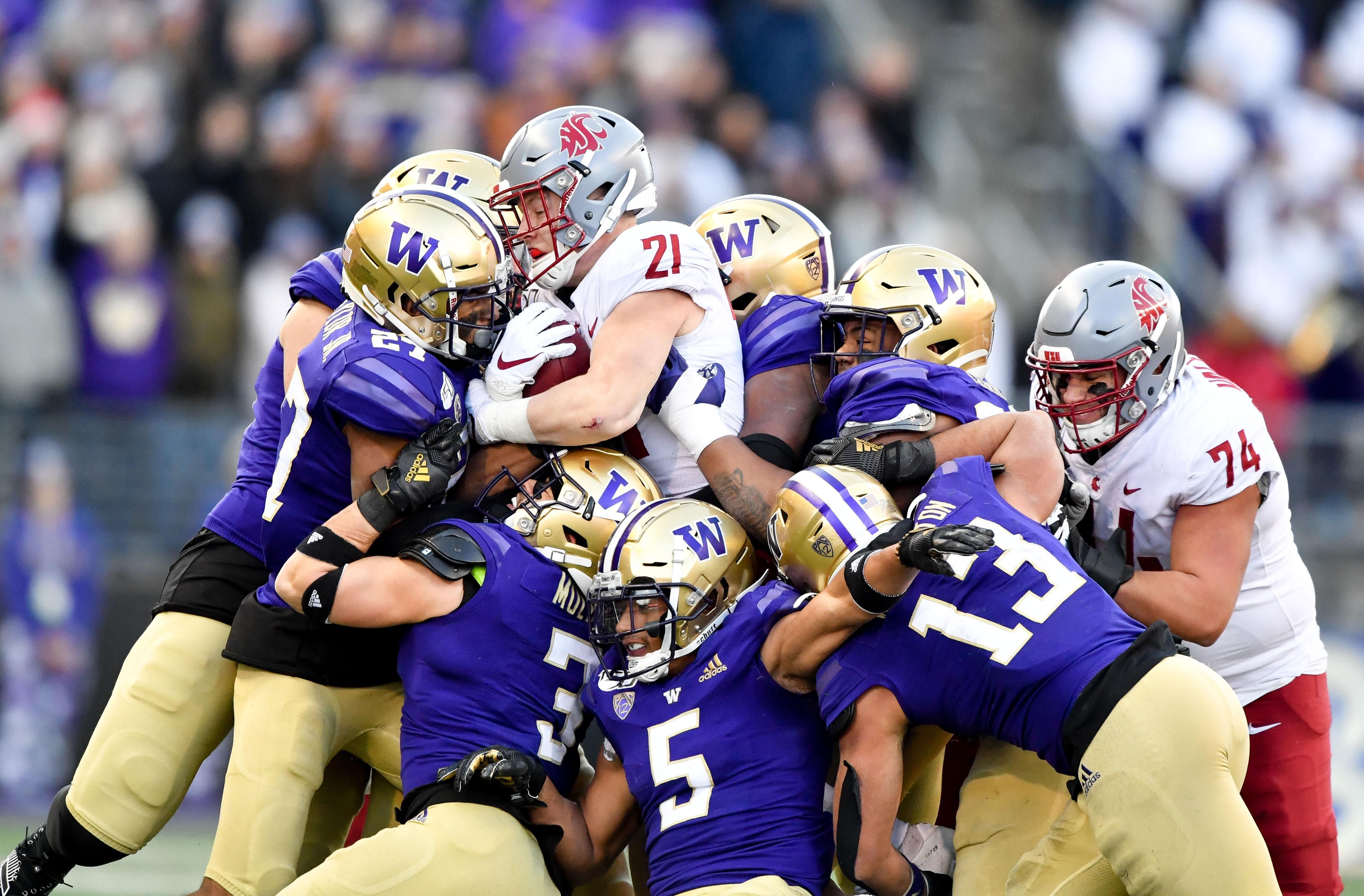 WSU: Theo Lawson takes one last look at the Apple Cup defeat and then puts it away, waiting for the upcoming bowl bid. My guess: Las Vegas. (I pick that one just to make Cougar fans happy.) … The volleyball team upset Washington in Seattle, sweeping the Huskies this season. … The women's basketball team suffered its third consecutive loss. … Elsewhere in the Pac-12, the rivalry games didn't lead to any upsets, which is kind of sad. … Oregon State's Jake Luton was injured in the WSU game and couldn't play against Oregon. Without him, the Beavers had trouble moving the ball. But so did the Ducks, which doesn't bode well for them against Utah in the Pac-12 title game. … As for the Utes, they dominated Colorado after a bit of a slow start. After Utah got going, however, its 30-point win kept it right in the CFP hunt. … Arizona State started slowly too, but the Sun Devils dominated Arizona in the second half and handed the Wildcats another in a series of season-ending losses. And yet, Kevin Sumlin will be back. … No real rivalry in the Rose Bowl, just miserable weather conditions. And miserable football by UCLA, which lost to California. … Utah's win ended any chance USC had of winning the South. So what's next for Clay Helton? … Notre Dame dominated Stanford in the second half, ending the Cardinal's worst season in more than a decade with another defeat. … Washington threw the ball to win the Apple Cup. But that might not be the Huskies' best strategy in a bowl game. … In basketball news, Colorado remained undefeated.
Gonzaga: The loss to Michigan notwithstanding, the Zags came out of the Bahamas with a lot of positives. Good health, however, is not one of them. But, as Jim Meehan notes in this Battle 4 Atlantis rewind, there is a little time to get healthy before the key mid-December stretch. … The women moved into the finals of their holiday tournament, getting past Middle Tennessee in Florida. They will face undefeated Purdue in today's final. … Around the WCC, BYU played its last game without Yoeli Childs and routed Montana Tech. … USF lost to Hawaii.
EWU: What would Sunday be without an interesting story about an interesting athlete? That would be Kim Aiken Jr., today, as Ryan Collingwood profiles Eastern's senior who has come a long way and still has a long journey ahead – if he wants to reach his political goals, at least. … Around the Big Sky in hoops, Montana State lost and Northern Arizona won. … Next week's FCS playoff games are set. Montana will host Southeastern Louisiana, Montana State has Albany in Bozeman, Weber State welcomes Kennesaw State to Ogden and Sacramento State faces Austin Peay.
Idaho: The Vandals lost in Seattle, falling 74-55 to Seattle U.
CCS: The Sasquatch will play for a basketball tournament title today. … Former CCS legend Bobby Jack Sumler will be the focus of an upcoming documentary. Over the years we have heard some hard-to-believe stories from folks who played with the high-flying guard. You probably have as well.
Preps: Deer Park fell in the 1A football semifinals Saturday night in Everett. That result is part of our roundup of state action.
Chiefs: It was Spokane's turn last night to rally late and pick up an overtime win. Kevin Dudley was in the Arena and documents the 4-3 victory over Victoria. … The organization, now in its 35th year, added five players to its top 30 players list from five years ago. That's all part of our local briefs.
Seahawks: Chris Carson is still the guy for the Hawks despite Rashaad Penny's breakout game. … It looks as if the Hawks will have both of their guys up front defensively for Monday's showdown with Minnesota. That includes Jadeveon Clowney. … The newest safety is quickly becoming a favorite of Pete Carroll's.
•••       
• My favorite of Shakespeare's history plays? That's easy. Henry IV Part 1. Or Henry IV, Part 2. Prince Hal was a hero of my youth, as Falstaff became one of my middle age. (I actually think I used to play softball and bowl with a non-linear descendant of Falstaff, but that's another story.) Henry was really cool, until he turned into a king. Until later …
Local journalism is essential.
Give directly to The Spokesman-Review's Northwest Passages community forums series -- which helps to offset the costs of several reporter and editor positions at the newspaper -- by using the easy options below. Gifts processed in this system are not tax deductible, but are predominately used to help meet the local financial requirements needed to receive national matching-grant funds.
Subscribe to the sports newsletter
Get the day's top sports headlines and breaking news delivered to your inbox by subscribing here.
---