Sports
A Grip on Sports: In the hustle and bustle of the holiday (hoops and football) season, let's not forget other sports
Mon., Dec. 2, 2019 A GRIP ON SPORTS • Though the Seahawks play a crucial game this evening, a game made even more important with San Francisco's loss yesterday, this Monday seems to be a good day to focus on other sports. At least for a while.
•••••••
• Yes, we will get to the Hawks. But we will start with volleyball.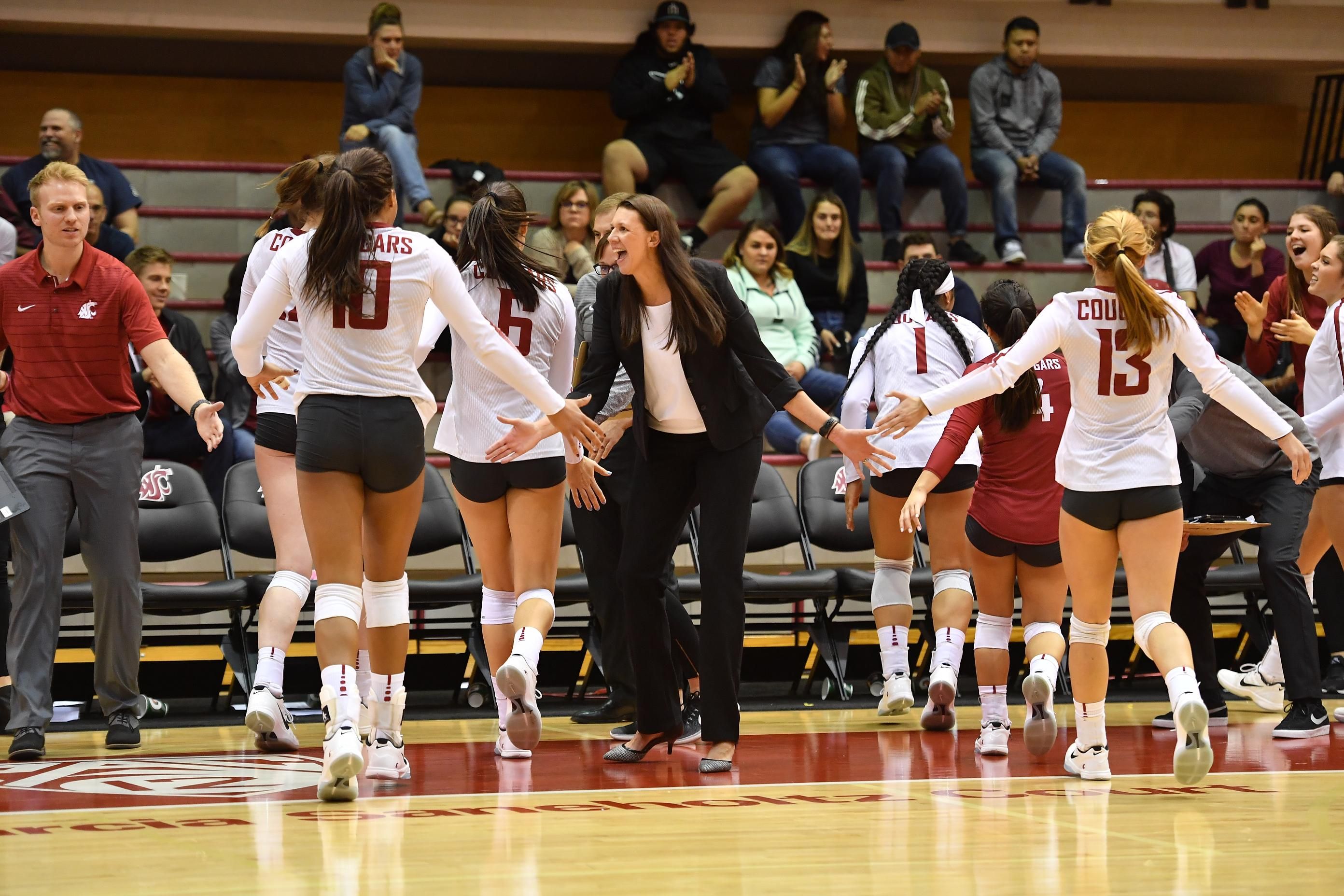 Washington State was one of the last to be invited to the NCAA Tournament, though that may not have been why the Cougars exploded in celebration when their name was called. 
After all, it was in the neighborhood of 20 degrees in Pullman when the announcement was made and they were on their way to Hawaii.
Sure, it's a business trip, but even business trips are better this time of year in somewhere warm.
What might make this season's trip to the tourney – WSU's fourth consecutive one – even sweeter is how the Cougars got there. If not for a season sweep of rival eighth-seeded Washington, there is little chance Washington State is playing this weekend.
It made last Saturday's win in Seattle twice as sweet.
• High school basketball games begin this week on both sides of the border.
From now until March, gyms throughout the Inland Northwest will echo with the sound of feet shuffling on the floor, whistles screeching and the sweetest sound of all, that "swish" noise heard when the ball touches nothing but the bottom of the net.
Dave Nichols presents his season previews, with four features on the GSL boys and girls along with short snippets on every Washington team in our area. Like always, there are probably a lot of names you will recognize.
• Baltimore's last-second field goal yesterday – that was a gutty decision from John Harbaugh to leave it on his kicker's foot from nearly 50 yards in a rain storm – not only allowed the Ravens' to raise their record to 10-2, it also allowed the Hawks a clear path to the playoffs.
And some margin of error.
If Seattle wins four of its final five games, and one of them is the last one, against the 49ers in CenturyLink, it wins the NFC West. Heck, if the Hawks win four of five and lose to San Francisco, there is still a good chance they win the division.
But it all starts tonight against Minnesota, a franchise that seems to give Seattle fits recently – and one in its own battle for a division lead.
For folks above the Mason-Dixon Line, it makes this Monday night game one worth watching.
•••
WSU: After the Cougars' explosion was broadcast over social media, Jim Meehan was able to get volleyball coach Jen Greeny to talk a while about their NCAA berth. … Elsewhere in the Pac-12, Utah moved up to fifth in the AP poll, but the more important ranking won't be out until Tuesday. … The Utes will meet Oregon on Friday with not only a Pac-12 title on the line but that playoff standing as well. … The bowl picture seems a little more confusing than it should be. … One of the men who helped derail Oregon's CFP chances is out as Arizona State's offensive coordinator. … Chip Kelly says there is no truth to rumors he's about to bail on UCLA. … Sports Illustrated reported yesterday Clay Helton was certain to fired. Then Sports Illustrated reported Sports Illustrated was wrong. Ya, it was a confusing day. … Oregon State improved this season. … So did Colorado, but the Buffs will probably lose one of their biggest weapons. … Arizona didn't, but the athletic director is willing to give Kevin Sumlin more time. … In basketball news, Washington plays tonight against the nation's best 3-point shooting team, South Dakota. … UCLA, USC and Arizona all won yesterday. Only the Bruins weren't in a tournament, though the Trojans didn't win a title as the Wildcats did. … Oregon State held on to top Portland State, but didn't feel good about it.
Gonzaga: The men may have come up one game short in their holiday tournament, but the women didn't. They handed Purdue its first loss of the season and won the Gulf Coast Showcase at the same time. … In other WCC men's action, San Diego lost to St. Bonaventure. … Saint Mary's got past Omaha. … Portland defeated Incarnate Word. … Pepperdine lost to Providence.
EWU: A last-second Pepperdine shot kept the Eagle women winless. … Around the Big Sky in basketball, Montana lost at New Mexico.
Preps: As we mentioned above, Dave has previews of the 4A girls and boys, the 3A girls and boys and the boys and girls elsewhere in Washington. … The Seattle Times also has its first state rankings out. The top-ranked girls 4A school on this side of the state features one of the nation's top recruits. How recruits are handling their final high school years is the subject of this Times' story.
Seahawks: As we said, tonight's game is for first-place in the NFC West.
•••       
• What a weird weekend. It was late November, early December and there was no local football on Saturday or Hawks' game on Sunday. Now that I look back on it, it might have been a great weekend to begin my Christmas shopping. My bad. Until later …
Local journalism is essential.
Give directly to The Spokesman-Review's Northwest Passages community forums series -- which helps to offset the costs of several reporter and editor positions at the newspaper -- by using the easy options below. Gifts processed in this system are not tax deductible, but are predominately used to help meet the local financial requirements needed to receive national matching-grant funds.
Subscribe to the sports newsletter
Get the day's top sports headlines and breaking news delivered to your inbox by subscribing here.
---