News > Spokane
Author tells how she went from zookeeping with a notebook to successful self-publisher
UPDATED: Wed., Dec. 4, 2019 Libbie Grant's two pen names are her book-branding super power, except her real identity isn't a secret.
Libbie Hawker – the name Grant built her audience with while she was self-publishing books – signals to readers that the title they're about to read will be a dive into the fictional past as far back as ancient Egypt.
When Grant later stepped into the shoes of Olivia Hawker – what she calls a "fancy pants" version of Libbie – she had already built an audience for her writing. That meant she had some some bargaining power when Lake Union Publishing approached her with an offer to publish a more mainstream novel that could be classified as literary fiction.
For stories by Olivia, Grant has found inspiration from her family. But her first two books were rooted in the past.
Grant visited the Northwest Passages Book Club on Tuesday night to discuss her latest novel, "One for the Blackbird, One for the Crow," which was released in October under the name Olivia Hawker.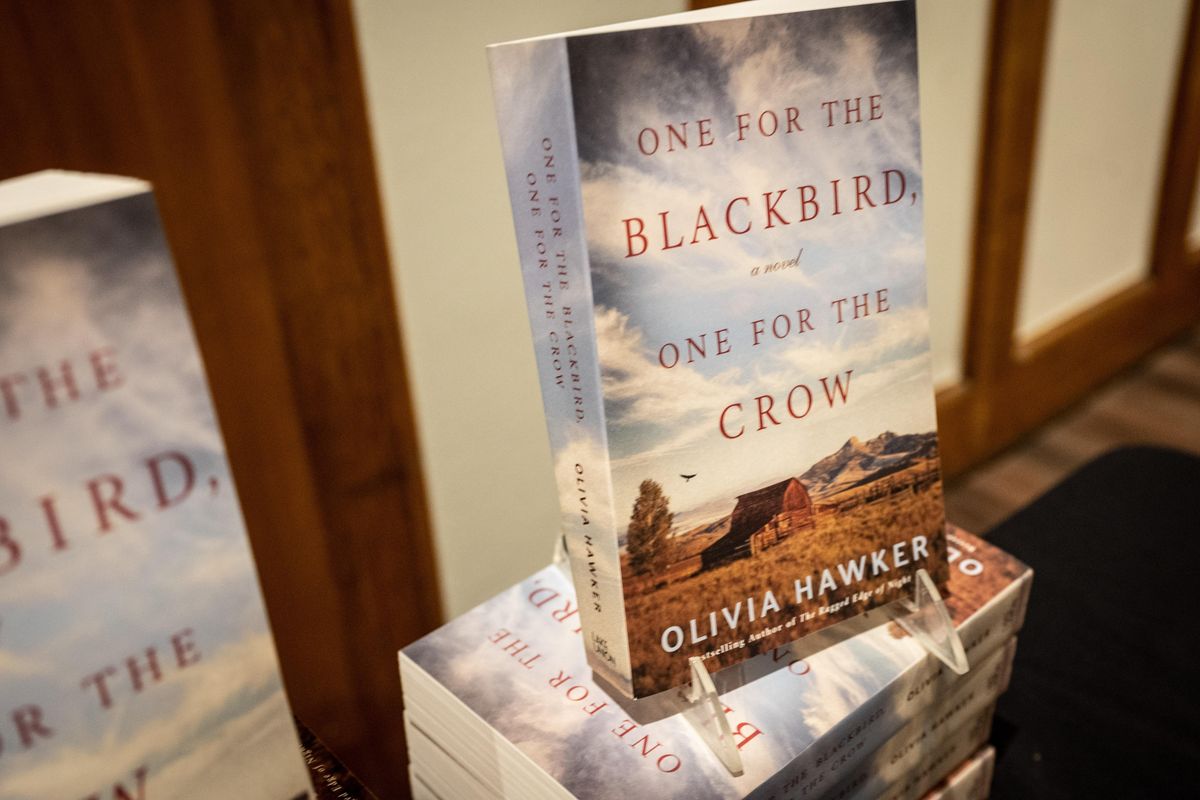 Author Libbie Grant, who writes under the pen names L.M. Ironside, Libbie Hawker and Olivia Hawker, has a new book "One for the Blackbird, One for the Crow." She had a conversation with Kristi Burns during the Northwest Passages Book Club held, Tues. Dec. 3, 2019, at The Montvale Event Center. (Colin Mulvany / The Spokesman-Review)
The novel is set in late 1800s rural Wyoming and tells a story based on her great-grandparents' love story. It starts with an affair that leads to murder, bringing the families of the men involved, plus two love birds, together to survive a harsh winter.
The main thing Grant said she wanted people to take away from the story was a new outlook on death.
"We avoid talking about it. We avoid thinking about it," Grant said. "Spoiler alert: We're all going to die some day."
Grant also told Tuesday's audience about how she found success as a self-published author.
Among those hoping for insight Tuesday was Dave Reynolds. He has self-published "Not Forgotten," a book about his uncle, a 1942 Lewis and Clark High School graduate who died 16 years before Reynolds was born.
"I'm trying to learn all I can about local self-published authors," said Reynolds, who has been researching his book since 1992. "I didn't set out to write my own book, but it was a story that needed to be told."
With examples set by her father and grandfather, who both supported their families as professional painters, Grant said she saw how art could be made into a business. From the time she was 8, she was determined to be a professional writer.
She named her publishing company, Running Rabbit Press, after the design on the dust-jacketless cover of "Watership Down," the book that inspired her to be a writer. Her first book series was inspired by the female pharaoh Hatshepsut, whom she studied in high school.
After high school, she found jobs training dogs and working as a zookeeper in Utah. Some of her best writing ideas came while picking up goat feces or in the free time between other jobs, she said.
"I was just so driven to get to the point where I could write full time," she said.
Then, in 2015, she moved out of Seattle to the San Juan Islands. Two agents couldn't sell her manuscripts to publishers, so she began self-publishing her series about ancient Egypt.
Lake Union Publishing later approached her about writing literary fiction for a mainstream market, which led to a new pen name. She said she has particular playlists she listens to before sitting down to work on books of a depending on the subject matter.
The audiences for Grant's pseudonyms overlap very little except for hardcore fans, she said. At one time, she thought about using initials as a veil for her gender. But Grant said the feminist in her decided she wanted to win a Pulitzer Prize in spite of persisting gender bias.
Grant said she hoped her advice about self-publishing could inspire other authors. She said her career path was aided by technology, like the Kindle, helping her reach readers without a book deal.
"There's a myth among people who love books that great books are always published," Grant said. "But that's just not the case."
Local journalism is essential.
Give directly to The Spokesman-Review's Northwest Passages community forums series -- which helps to offset the costs of several reporter and editor positions at the newspaper -- by using the easy options below. Gifts processed in this system are not tax deductible, but are predominately used to help meet the local financial requirements needed to receive national matching-grant funds.
Subscribe now to get breaking news alerts in your email inbox
Get breaking news delivered to your inbox as it happens.
---