Sports
A Grip on Sports: Sometimes how they do it is hard to stomach but this year's Seahawks nearly always find a way to win
Tue., Dec. 3, 2019 A GRIP ON SPORTS • Tums sales are up in the Northwest. We're sure of it. How could they not be? Even when the Seahawks win, they give their fan base nothing but heartburn.
•••••••
• Angst seems to play middle linebacker for Seattle these days. With torment at corner and anguish coming off the edge. It's hard to watch an entire Seahawk game, that's for sure. Though, to be fair, the last 30 seconds or so have been satisfying 10 of the 12 times they've taken the field.
So why should a Monday night in early December be any different?
It wasn't.
Somehow, someway, the Hawks found a way to win. And give Seahawk Nation indigestion at the same time.
Were you sure before the fourth-down play? Time running down, Hawks up four, Minnesota with the ball and Kyle Rudolph seemingly open on every play. How could anyone be sure?
Or even comfortable? Watching this year's edition of the Seahawks is like driving around Orlando with your great-grandmother. There's a good chance you will get to your destination, but it's going to take a while and you might have to stop twice to change your shorts. The permanent indent in the dash? That comes from your fingertips as you hold on with all your might.
To go all Pete Carroll on you, the bottom line is the Seahawks won – again – and gosh darn it, they did so many great things.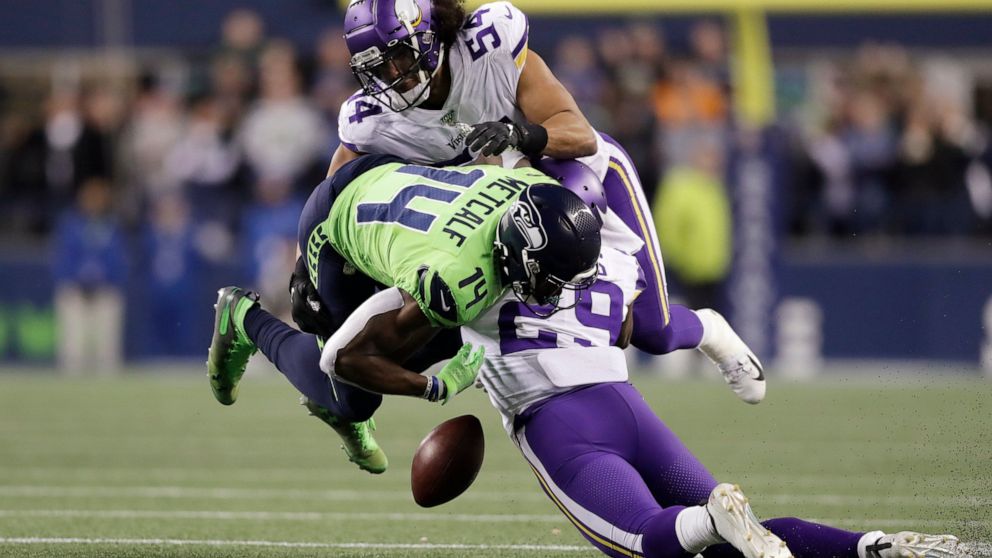 Russell Wilson was near perfect, even if his volleyball skills need some work. Chris Carson, Rashaad Penny and the offensive line combined for more than 200 yards against one of the NFL's best run defenses. The defense kept coming up with takeaways, sort of like those boomers of old. And the special teams were, well, spectacular.
(As an aside, why does Carroll eschew a fourth-and-1 opportunity at midfield early and then let his third-string running back take off on a fake punt late, deep in Seahawk territory? Seems so out of character.)
Hopefully, ascending to the top spot in the NFC West won't be a one-week thing. The up-and-down Rams await in Los Angeles on Sunday night and Seattle could have a full-game lead by kickoff (San Francisco is in New Orleans earlier in the day). If the Hawks relax, their  status as NFC West leaders could disappear as fast Minnesota's halftime lead did last night.
And even Pepto Bismol won't help with that.
• Burnout in big-time college football coaching shouldn't come as much of a surprise to anyone these days. It's a demanding job with high stress, long hours and much in the way of monetary reward.
Those last few words shouldn't be dismissed when it comes to comprehending why a coach like Chris Petersen can walk away.
Many jobs are stressful. They wear a person down so badly as to affect health and happiness. But most of us look at our bank account, sigh and head off every morning to eat more crud.
There is just no alternative.
But folks like Petersen or Urban Meyer or Bob Stoops have alternatives. They look at their life, realize what they are doing is killing them, check their mutual funds and realize they don't have to be up at 2 in the morning calling a recruit in Samoa. It's a great luxury, one they've worked all those hours to ensure.
So they walk away.
That's not to say they aren't going to miss the adrenaline rushes coaching football brings. That they're not going to miss the relationships the game builds. If they do, it's OK. Successful coaches always have a welcome mat outside their door. It doesn't have to be a forever sabbatical. If the itch returns, someone is going to offer you a chance to scratch – and include a lot of scratch if you want.
•••
WSU: Petersen's out-of-the-blue step back opened another door for Jimmy Lake, the North Central High and Eastern Washington University alum. Theo Lawson and Dave Nichols checked in with people who knew him at those spots for this story. … Gardner Minshew is back in the starting lineup. The Jacksonville Jaguars have seen enough of a gimpy Nick Foles. … Elsewhere in the Pac-12, the title game this week is mostly about whether Utah can win and earn a spot in the college football playoffs. But there are other aspects to it, including whether Oregon can get its offense going again. … The change at Washington surprised just about everyone from Bellingham to Olympia, from West Seattle to the East Side. Why not? Petersen seemed to be entrenched and happy. His former players will miss him. … USC's whole Clay Helton fiasco is starting to look bad for a lot of folks. … UCLA has lost two linebackers to the transfer portal. … Arizona State is headed to a bowl. But which bowl? … Physical play was Colorado's calling card this season. … Stanford may have to make changes. … In basketball news, some recruits Arizona attracts justify the hype. … Colorado has to get its offense in gear. … Oregon's flaws manifested themselves in the Bahamas. … Washington pulled away from South Dakota in the second half last night.
Gonzaga: It took a loss to move the Bulldogs in the men's poll. As Jim Meehan passes along, the Zags dropped a spot in the latest poll. … Jim and Larry Weir talked yesterday and their conversation headlines the latest Press Box pod. … The women moved up in their latest poll, though maybe not high enough. After all, their only loss came on the road, in overtime against the new No. 1 team. … Yoeli Child's first game back for BYU will be against Utah. … San Diego lost its second consecutive game in Florida.
Seahawks: Our John Blanchette was in Seattle last night for the game and he has this column. … Sure, the Hawks don't make it easy. But they do win almost every time. … Some areas received well-deserved high grades. … Minnesota had a chance to put some heat on Green Bay, but failed.
Mariners: Seattle made some roster moves yesterday, letting go of a couple players who played a prominent part in last offseason.
•••       
• We are formulating our opinion about the changeover in the Washington football program. We will have some thoughts on a day when the news level is a bit lighter. Today was not that day. Until later …
Local journalism is essential.
Give directly to The Spokesman-Review's Northwest Passages community forums series -- which helps to offset the costs of several reporter and editor positions at the newspaper -- by using the easy options below. Gifts processed in this system are not tax deductible, but are predominately used to help meet the local financial requirements needed to receive national matching-grant funds.
Subscribe to the sports newsletter
Get the day's top sports headlines and breaking news delivered to your inbox by subscribing here.
---