Sports
A Grip on Sports: A changeover at Washington, a season begins and other news highlights the day
Wed., Dec. 4, 2019 A GRIP ON SPORTS • Washington said goodbye to Chris Petersen and hello to Jimmy Lake yesterday. High school hoops began. There was more movement in college sports. It was, not surprisingly, an interesting Tuesday.
•••••••
• The eyes of most college football fans were on the playoff committee's penultimate announcement Tuesday. The group's ranking of teams set the bar for everyone playing in conference championships this weekend.
Most observers feel LSU and Ohio State are in, win or lose. Clemson is a prohibitive favorite in the ACC title game. That leaves one spot in the too-small-by-half four-team playoff bracket.
If Georgia upsets LSU in Atlanta, the Dogs will probably grab that last spot. But if LSU wins, it would seem to come down to Utah, if it tops Oregon on Friday night, or the winner of Oklahoma vs. Baylor in the Big 12 title game.
The Utes ascended into fifth place in this week's standings. That gives them an edge going into the weekend. But the Sooners, who happen to reside east of the Rockies, where most of America lives, have a higher-ranked opponent in Baylor.
Why is Oklahoma's location important? The playoff is a television show (and a cash cow). Ratings are important. More people will be interested in the Sooners than Utah. Higher ratings. The Utes better win in a dominating fashion Friday or watch out.
The more important press conference, however, happened in Seattle. If we are talking long-term relevance.
The passing of the whistle between Petersen and Lake changes direction at one of college football's latent powerhouses. The Huskies have everything needed to be among the nation's elite every year, which makes any change at the top an important event.
The outgoing coach was labeled a genius at a young age and performed like one at Boise State. He helped UW return to prominence, even if he couldn't get the Huskies to the top of the mountain and saw them backslide this season.
The new coach, a Spokane legacy, has also earned that label as a defensive mind. Now he gets to show whether he can perform the same magic as the head coach.
John Blanchette was there and has this column on Lake taking the reins and another on Petersen stepping aside.
• Gyms throughout the Inland Northwest were open last night as high school basketball games began at a lot of schools.
The first few weeks are always a bit odd, as some teams miss players who are either still wrapped up with fall sports or just finished them. Add in the usual get-to-know-each-other time and it takes a while for teams to gel.
But the games are on and that's fun.
• It looks as if Gonzaga is in the mix for another transfer. The chances are 50/50 (as in everything) the Zags will attract him.
And it looks as if Arkansas is interested, at least, in Mike Leach.
Is that something WSU fans should worry about?
At one point early in Leach's Washington State tenure, hiring him away from Pullman would have cost an athletic director some angst, due to his abrupt departure from Texas Tech. That's no longer the case. Now introducing Leach in Fayetteville would probably ignite a celebration, not a firestorm.
Heck, Texas' most well-respected newspaper just gave the move its blessing, if that means anything anymore.
So, ya. Maybe it is something Cougar fans should chew their nails over.
On the bright side, at least they know he won't be headed to Los Angeles.
•••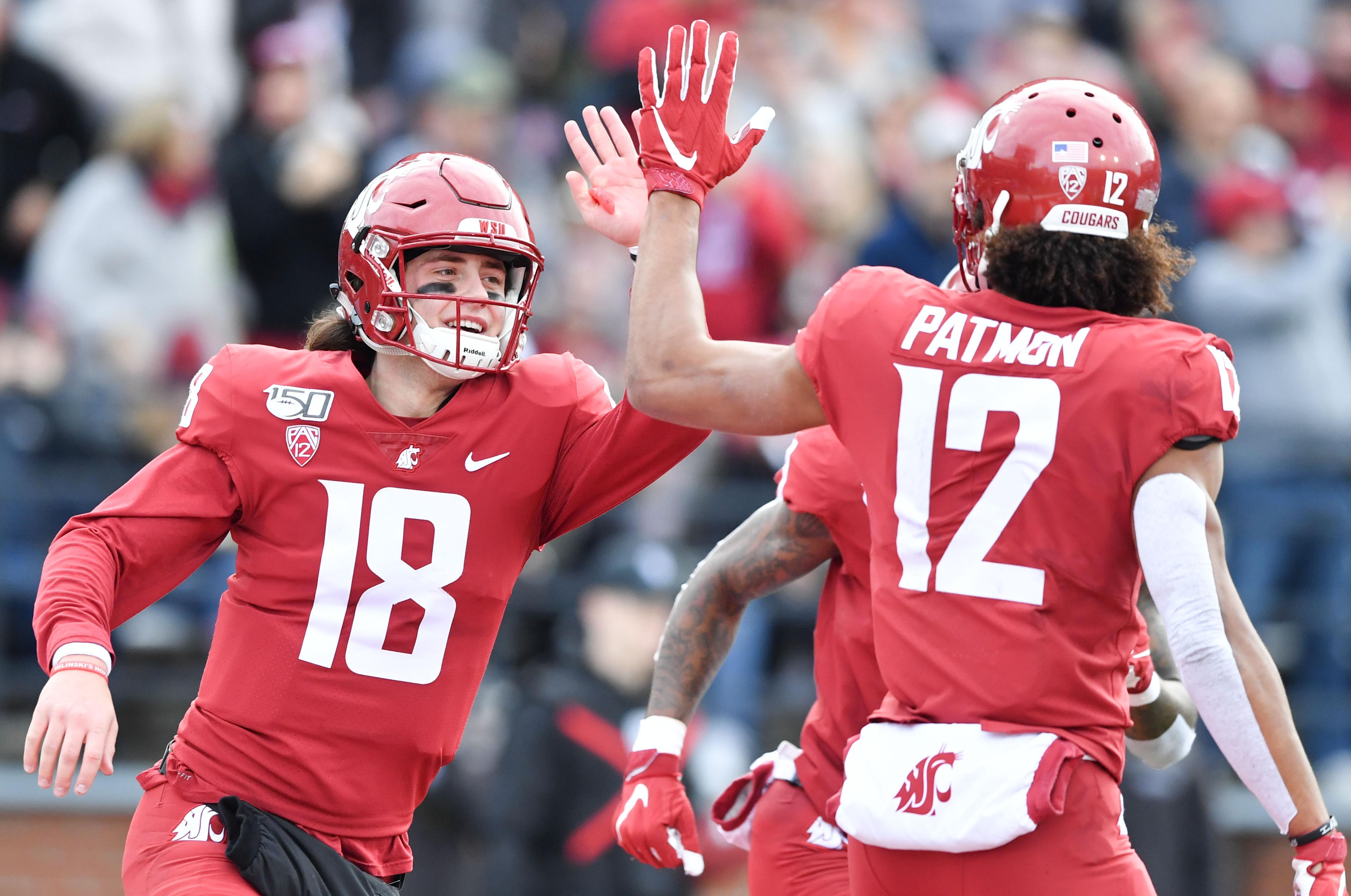 WSU: Anthony Gordon is following in Luke Falk and Gardner Minshew's footsteps. He's headed to the Senior Bowl. As Theo Lawson points out, is he also going to follow them and be selected during the NFL draft? … As we linked above, John has these pieces on Petersen and Lake. … The changeover was a big deal in Seattle, as you might guess. There are many stories on Petersen's goodbye (along with his future plans) and more on Lake's introduction. What impact will he have on the program? … Elsewhere in the Pac-12, Oregon State's best receiver is headed to the NFL after the Beavers' uplifting season. … The same is happening in Colorado. … Utah's march to relevance took an unusual path. … Oregon knows the title game will be decided up front. … Arizona State fired its offensive coordinator, Rob Likens. He's not being quiet about it. … The numbers show how far Arizona has fallen. … In basketball news, the young players are helping the conference rebound. … Arizona State won at USF.
Gonzaga: The Zags are back at the Kennel tonight, hosting Texas Southern. Jim Meehan has a preview of the 6 p.m. start (it's on KHQ) and a look at the key matchup. … Jim also has a story on a Georgetown guard who is transferring, and may be interested in the Zags. … Around the WCC, Yoeli Childs is back and eligible for BYU.
EWU: The Eagles face Washington tonight in Seattle, part of their tough nonconference slate. Ryan Collingwood touches on that in this preview of the contest.
Whitworth: Larry Weir spoke with the voice of the Pirates, our friend Bud Nameck, for the latest Press Box pod.
Preps: Yep, basketball began last night. Dave Nichols covered Central Valley's win over visiting Gonzaga Prep in GSL boys action. We also have a roundup of GSL girls, and action from around the area in girls and boys play.
Chiefs: Great goaltending makes life easier for any hockey team, as it did last night for Spokane. Kevin Dudley has the coverage of the Chiefs' 4-1 win over Seattle, keyed by Lukas Parik's play.
Seahawks: There may have been more, but Bob Condotta looks at 12 numbers that mattered Monday. … Ziggy Ansah is still dealing with a troublesome shoulder. … The Hawks have a punishing offense.
•••
• We will be back tonight with our TV Take from the GU game. The local guys will be on the broadcast. Just to whet your appetite even more for the Zags' matchup with Washington on Sunday, Bill Walton will be doing the color commentary for ESPN. Expect more rowing chatter than analysis of Gonzaga's offense. Until later …
Subscribe to the sports newsletter
Get the day's top sports headlines and breaking news delivered to your inbox by subscribing here.
You have been successfully subscribed!
There was a problem subscribing you to the newsletter. Double check your email and try again, or email
webteam@spokesman.com
---