News > Spokane
Longtime Christmas Bureau volunteer is back after cancer treatment
Dec. 6, 2019 Updated Fri., Dec. 6, 2019 at 5:36 p.m.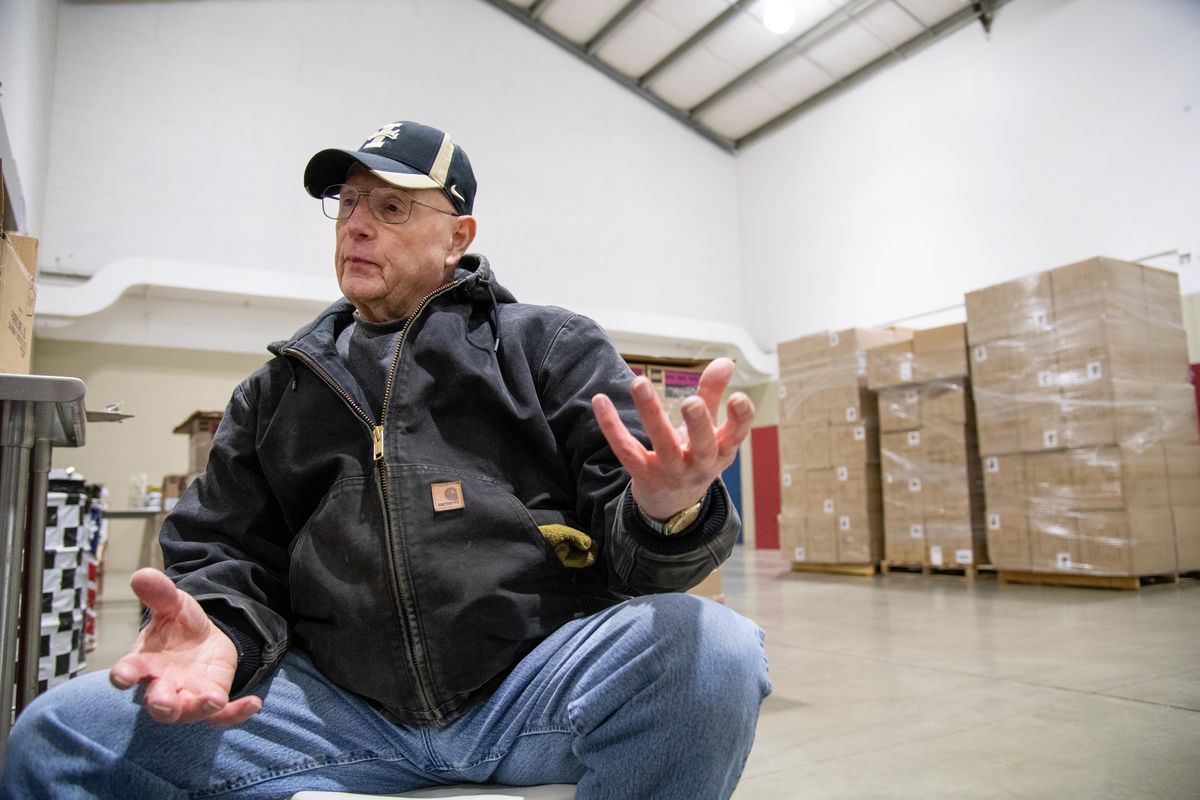 Longtime volunteer Ron Waybright takes a break to talk about his diagnosis of non-Hodgkins lymphoma this year and his decision to come back and volunteer after completing chemotherapy Wednesday to help set up the annual Christmas Bureau at the Spokane Fair and Expo Center. (SR)
For the past 12 years, Ron Waybright has devoted part of December handing out toys and books to children as part of the Christmas Bureau, which is a collaboration among Catholic Charities, the Volunteers of America and The Spokesman-Review.
He said his favorite part of his job as a toy stock supervisor is seeing the reaction of kids who get to pick out a new toy.
"You see those kids just light up," he said. "I can't imagine a better way to spend our time."
Waybright almost didn't make it back this year. He was diagnosed with non-Hodgkin's lymphoma in June and began chemotherapy.
"Chemo just destroys your immune system," he said. "I really wasn't sure if I was coming this year."
He finished his last treatment on Nov. 1 and got clearance from his doctors to return to the Christmas Bureau.
"I've got to be careful," he said. "The prognosis seems to be good. They think it's gone."
Waybright worked for Pepsi Co. in Spokane for 30 years, retiring as a product availability manager. He was often on call and didn't have time to volunteer, but he gave money to several local charities, including the Christmas Bureau.
"I heard about the Christmas Bureau when I moved to Spokane and that was 42 years ago," he said.
When he retired, he had plenty of time and not as much money, so Waybright started volunteering his time. A co-worker who retired a couple of years before he did was volunteering with the Christmas Bureau and often spoke about it, so Waybright signed up.
"It's really addictive," he said. "You come down here once, you see the people, you see the need."
Waybright said he's glad to be back and hopes to return for many years to come.
"I always look forward to it every year," he said. "I think the volunteers get more out of it than the recipients."
Donations
New donations of $3,650 have brought the fund closer to the goal of $535,000, pushing the year-to-date total to $118,352.59. There's less than three weeks to go until Christmas and every donation is important to help the Christmas Bureau reach its goal.
An anonymous donor contributed $800. Nickolas Abariotes, of Veradale, gave $500 in memory of Gust Abariotes. An anonymous Spokane donor sent $500, as did Harold and Sharon Cathcart, of Colbert. Emmett and Marylu Arndt, of Spokane, donated $200. "Christmas blessings to all volunteers and those who receive donations!" they wrote.
An anonymous Spokane donor gave $200, writing: "This donation is made in loving memory of Daphne Adams, for whom the Christmas season was her favorite time of the year. She donated to the Christmas Fund for many years, and it is an honor for me to continue the tradition."
Jan Eastman, of Spokane Valley, contributed $175. Ron Loomis, of Colbert, gave $100, as did Dennis Fredrickson, of Spokane. Melvin and Gloria McCuddin, of Spokane, donated $100, as did Dick and Ann Collins, of Spokane. Dean and Mary Duncan, of Spokane, sent $100.
Joan Casey, of Mead, donated $75. The Northwest Treasure Hunters Club of Post Falls gave $50. Randy and Victoria Bunke, of Deer Park, contributed $50, as did Phyllis Thayer, of Spokane.
An anonymous Spokane donor sent $50, writing: "We hope the enclosed will help. The SR is such a blessing to our community. We are loyal subscribers. Have a blessed Christmas."
Local journalism is essential.
Give directly to The Spokesman-Review's Northwest Passages community forums series -- which helps to offset the costs of several reporter and editor positions at the newspaper -- by using the easy options below. Gifts processed in this system are not tax deductible, but are predominately used to help meet the local financial requirements needed to receive national matching-grant funds.
Subscribe now to get breaking news alerts in your email inbox
Get breaking news delivered to your inbox as it happens.
---