Sports
A Grip on Sports: With Oregon's 37-15 Pac-12 title game win, the conference will miss out on a playoff berth once more
Sat., Dec. 7, 2019 A GRIP ON SPORTS • It was all there for the taking. Again. Utah, one win from a more-than-likely College Football Playoff berth, took the rain-covered grass in Santa Clara last night having just one job: beat Oregon and move on. It didn't happen. And once again the Pac-12 is outside, looking forlorn.
•••••••
• What is it about this darn conference? It's like some sort of modern-day Cronus, every year eating any chance it has of ascending into college football's royal court.
For Oregon, the denouement came in the desert, losing to Arizona State while in the conference driver's seat. The loss seemed to ruin the Pac-12's chances of having one of the four teams playing for the made-up national title.
But Utah hung on. Until last night. The Ducks ruined the conference's hopes once more with their 37-15 Pac-12 title game win.
Ironically, it was Oregon that had the best chance of giving the Pac-12 an early boost, facing Auburn in the most-important nonconference game of the season. That turned out, well, badly. And, in another ironic twist, just playing the game may have cost the Ducks a playoff berth.
Utah didn't play anyone of Auburn's level in the nonconference. And yet the Utes were in the playoff picture until last night.
What if Oregon, instead of traveling to Texas to face the Tigers, had stayed home and hosted, I don't know, Nevada or Utah State or Bowling Green? The Ducks would have won. And would have been 11-1 going into last night's game. Locked in a playoff berth? Nope. The argument would have been their schedule was too weak.
But add last night's dominating win over Utah to the mix and there is a good chance the Ducks are carrying the Pac-12 hopes into the final discussions. Now no one is.
Forget all that. If you are a WSU fan all you need to know is this: If Utah would have won last night, the Cougars were more than likely playing their bowl game in Las Vegas. Now they seem destined for Phoenix. A nice late-December consolation prize, sure, but not Las Vegas.
For the second time this year, the University of Oregon ruined a weekend for Cougar fans.
•••
WSU: The historic run is over, though not without a fight. The Cougars scored first, but North Carolina rallied back and took the College Cup semifinal 2-1, ending Washington State's historic women's soccer NCAA run. Theo Lawson was in San Jose for the semifinal match and has this game coverage. The Tar Heels will play Stanford for the title. … Meanwhile, the football team was back on the field – or is now a pitch? – in Pullman beginning preparations for a still-to-be-determined bowl game. Peter Harriman filled in for Theo and has this story on Mike Leach's post-practice comments. … The volleyball team lost in the NCAA Tournament's first round late Friday. … Elsewhere in the Pac-12, the conference football trophy resides in Eugene once again. Oregon is headed to the Rose Bowl. … Considering what was on the line, this was Utah's worst loss ever. … USC is trying not to lose Graham Harrell to another job. … Washington tight end Hunter Bryant is headed to the NFL draft. … In basketball, USC did a lot of things poorly down the stretch but still managed to get past TCU. … Colorado has another chance to do something memorable at Kansas. … Arizona State is finally back home. … Arizona is not as beat-up as previously thought heading into Baylor game.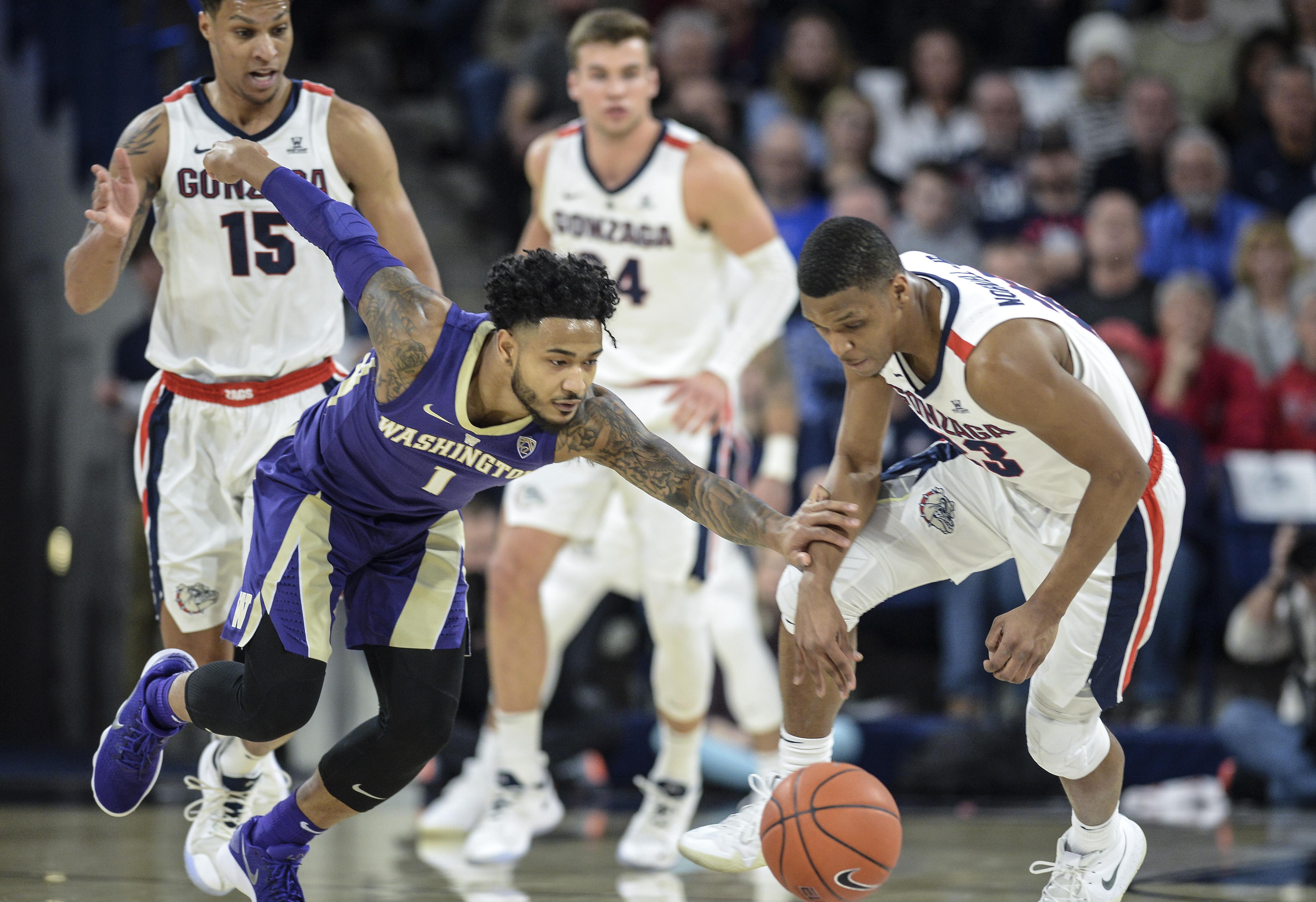 Gonzaga: The Zags head across the state tomorrow to face 22nd-ranked Washington. But before they do that, heck, before they did anything this season, they got together for a team-building retreat. Jim Meehan talked with the Bulldog players about it and has this story. … Larry Weir spoke with Washington radio play-by-play voice Tony Castricone for the latest Press Box pod. … Around the WCC, BYU knows it has a long way to go. … Pepperdine got past visiting Idaho State.
EWU: There were some Big Sky basketball games last night, with Montana holding off visiting North Dakota and Portland State winning at home.
CCS: The Sasquatch men won at their tournament.
Preps: The first really busy weekend of prep hoops includes The Fitz, which attracted Dave Nichols to Ferris High to cover Mt. Spokane's victory. That serves as the GSL boys roundup as well. We have a GSL girls roundup, an area girls roundup and an area boys roundup.
Chiefs: Spokane traveled to Vancouver and defeated the Giants. The Chiefs then raced home as they host Tri-City tonight for the annual Teddy Bear Toss.
Seahawks: How the Rams will play Sunday night is probably the most important question of the weekend. The Hawks have been pretty consistent, though the 2018 draft class has made some key contributions recently.
Mariners: Seattle expects to be "relatively quiet" at the winter meetings.
•••
• It's another Saturday without a Gonzaga basketball game or a Cougar football game. We sort of have gotten used to them already. There is, however, a WSU basketball game today in Spokane. If you want to get away from the Hallmark Channel movies that have been on since Thanksgiving, here's your chance. Until later …
Subscribe to the sports newsletter
Get the day's top sports headlines and breaking news delivered to your inbox by subscribing here.
---