News > Spokane
100 years ago in Spokane: Lecturer warns students against 'degeneracy' of jazz
Sun., Dec. 8, 2019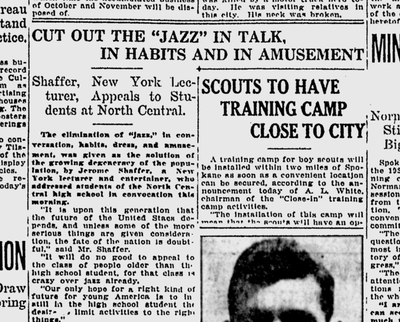 A lecturer urged North Central High School students to cut out everything to do with "jazz" – including the music, the slang and the dress.
This was the only solution to the "growing degeneracy" of youth and the population in general, said Jerome Shaffer, described as a New York lecturer and entertainer in the Spokane Daily Chronicle. He told the students that the generation before them was already a lost cause.
"It will do no good to appeal the class of people older than the high school student, for that class is crazy over jazz already," Shaffer told them during a convocation. "Our only hope for a right kind of future for young America is to instill in the high school student the desire to limit activities to the right things."
From the theater beat: The city's theater owners were trying to ward off a move by the city's ministers to close all places of entertainment on Sundays.
Spokane audiences had long flocked to Sunday matinees of plays and movies. However, a self-appointed "purity crusader" had recently uncovered old 1886 and 1891ordinances banning all entertainments on Sundays. They had not been enforced for decades, but neither had they been repealed.
City Commissioner J.H. Tilsley said he planned to introduce an ordinance to repeal them, which prompted the local ministerial association to urge renewed enforcement. The association said movies were a "counter attraction" to church services.
This, in turn, prompted the theater owners to present their case that Sunday shows were a well-loved source of amusement for working people.
The City Council had not yet ruled on this, but several members indicated that they were not on the side of the ministers.
Local journalism is essential.
Give directly to The Spokesman-Review's Northwest Passages community forums series -- which helps to offset the costs of several reporter and editor positions at the newspaper -- by using the easy options below. Gifts processed in this system are not tax deductible, but are predominately used to help meet the local financial requirements needed to receive national matching-grant funds.
Subscribe to the Coronavirus newsletter
Get the day's latest Coronavirus news delivered to your inbox by subscribing to our newsletter.
---