Sports
A Grip on Sports: The Seahwaks will dominate this Sunday's sports landscape but there is competition from the Zags and Dawgs
Sun., Dec. 8, 2019 A GRIP ON SPORTS • The Seahawks play in prime time and the college football playoffs are seemingly set. That would seem to be enough for this warm December Sunday. But there is more. Too much more.
•••••••
• We will start with an apology. This column may not be as long as usual today. We are struggling to read. No, our literacy level didn't magically fall. But our computer glasses did. And, thanks to a lenses that popped out, we are working with a backup pair until I can remember just where the heck I left the little tubular repair kit I've owned forever.
Everything is a little fuzzy. I imagine this is the way most Cougar and Gonzaga fans look at the world the day after a big win – and the ensuing celebration.
Will there be one of those tonight? After all, winning on the road against any ranked foe is a reason for Zag fans to reach for the chardonnay, but when it's the University of Washington, well, that has to be extra special.
Or is it? I don't know anymore. The tables are turned. It's GU that's atop the basketball world. And the ninth-ranked Bulldogs have been there for so long it seems as close to a birthright as anything in our area's sporting consciousness. It's the 22nd-ranked Huskies trying to claw back into the spotlight consistently.
Which makes this afternoon's game (4 p.m., ESPN2), that much more fun.
What detracts from it, however, is the game that will start sometime during the second half.
When the Seahawks take the field in Los Angeles, they'll either be playing to extend their NFC West lead on San Francisco or for a chance to take over the top seed in the conference. That will all depend on what happens in New Orleans, where the Saints host the 49ers.
No matter, though. The Hawks have more important worries. Like how to handle a L.A. team that has to win to even continue to see the playoffs through the late-fall fog. Seattle has been better on the road this season than Mad Max, but this is the only one that matters right now.
• Speaking of the only one that matters, only one decision has to be made by the college football playoff committee: how to justify Oregon's inclusion.
Just kidding. If Rob Mullens, Oregon's athletic director, led the committee in that direction, Paul Finebaum's head would explode. Not that the Ducks don't have an argument, but perception – the Pac-12 stinks so a two-loss champion, even if one of those losses came in the season's first week against an opponent that proved to be among the nation's best, has to be left on the outside looking in – is reality – Oklahoma ran the table after losing to Kansas State, so the powers that be will anoint the Sooners – in this case.
Actually, the only decision the committee has to make is which team is No. 1, thus ensuring the inclusion in the finals after they post 11 explosive plays against Alex Grinch's Oklahoma defense.
Will it be LSU or Ohio State at No. 1? That's been the national narrative for weeks, right? And the committee isn't about to upset that Cosmic Crisp cart.
But can I offer an alternative, one that actually would make Finebaum explode, if only verbally? How about moving the defending national champions, the school that has only lost once to someone not named Alabama in about 100 weeks, atop the rankings?
It's not as if the Clemson Tigers have taken a step back. And they've proved conclusively the ACC's lack of competition hasn't hurt them in the postseason. The king should get to wear the crown until someone knocks it off, right?
No chance this will happen, though. It's seems too, I don't know, simple. Or fair. And that has no place in the college football playoffs.
•••
WSU: The Cougars played a home game in the Spokane Arena yesterday. Beautiful venue, warm day (for this time of year), good foe (New Mexico State) and a good chance for a win. They got it. But only 1,222 folks were there to see it – the smallest crowd WSU's has attracted to the Arena ever. I admit I wasn't one of them, being on the other side of the state when it tipped. But you would think even after the down years, the biggest university on this side of the state, the school with the most alums in the county, would draw better than that – even if just to watch CJ Elleby do his thing. John Blanchette watched and wrote this column. So did Jason Shoot, filling in for Theo Lawson who was on soccer duty. Jason has the game story while Tyler Tjomsland has the photo report and, no, there isn't one photo for each fan in attendance. It just seems that way. … There are some who are not happy with our coverage of WSU's soccer team. … Elsewhere in the Pac-12, don't expect the CFP committee to give the conference a consolation prize. … Oregon had a right to celebrate Friday night. … A young player will transfer from Oregon State. … Colorado's season is over. … Utah's isn't. It just seems that way. … Arizona has to turn it around next season. … In basketball news, Washington is young but the Huskies do have one veteran. … Oregon handled Hawaii. … Colorado had its shot at Kansas, but couldn't make enough of them. … Utah had no trouble with Central Arkansas. … Arizona fell for the first time this season, losing at Baylor 63-58.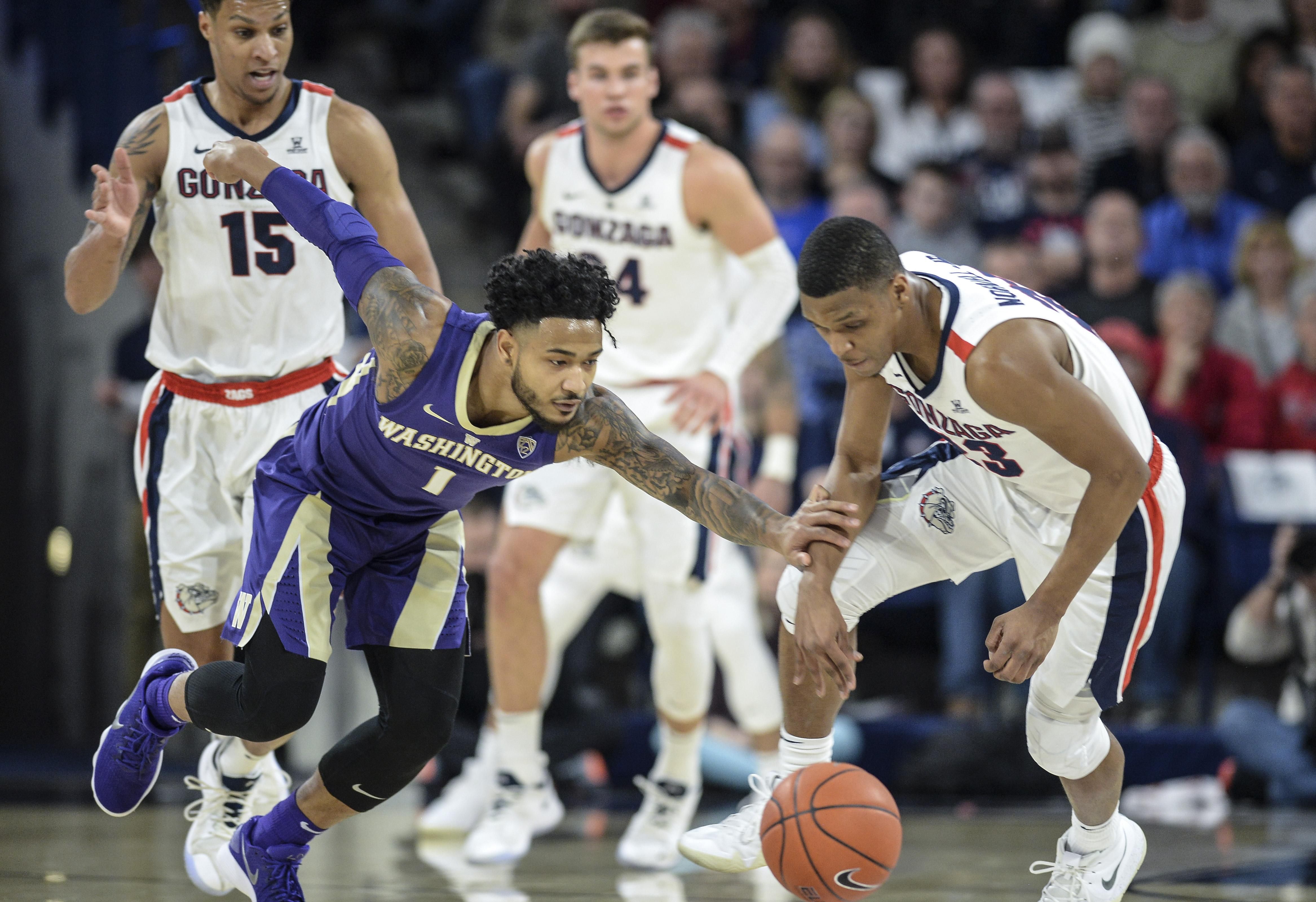 Gonzaga: As we mentioned above, today's game at Washington is big. And it starts a big run for the Zags. Jim Meehan has all that covered in this preview. He also has the key matchup. … The women travel down U.S. 195 to meet Washington State in another road nonconference game, about all the Bulldogs have played recently. … Around the WCC, Seattle University got past Portland. … BYU bounced back from a loss to rout UNLV. … Santa Clara had no trouble at home against California. … San Diego defeated Holy Cross.
EWU: The FCS playoffs continued yesterday, with Weber State winning by dominating Kennesaw State in the second half.  … Montana State did the same thing to Albany State to advance. … Montana didn't wait until the second half, dominating Southeastern Louisiana throughout. … Sacramento State was the only conference team to lose, failing behind by four touchdowns early to Austin Peay before falling 42-28. … Around the Big Sky in basketball, Weber State won in a rout. … Sacramento State won at Cal State Fullerton.
CCS: The Sasquatch men moved to the finals of their basketball tournament.
Preps: Odessa finished off a perfect football season with the State 1B title, defeating Naselle 80-26 in Tacoma. … As always, it was a busy Saturday in basketball. We can pass along roundups from the GSL girls and GSL boys as well as the area boys and girls. .. The North Central girls, running under a different name to satisfy WIAA rules, finished sixth in the Nike Cross Nationals Championship yesterday.
Chiefs: It's my favorite game of the regular season. The Teddy Bear toss. And, wow, were a lot of teddy bears tossed – 8,604 of them to be precise. Dan Pelle has pictures of that and the game, which the Chiefs' won, 4-3, before 10,422 in the Arena. Kevin Dudley has the game story.
Seahawks: If there is any difference in the matchup of these teams, it may just be in the mental makeup of the quarterbacks. Russell Wilson stays composed, Jared Goff doesn't.
•••       
• This morning I looked in the 17 places I might have squirrelled away my glasses repair kit and couldn't find it. This is what I get for going on a cleanup binge a couple months ago. It probably got tossed. Or I left it in my old computer bag. Wait, I didn't look there. I'll be back. Until then …
Local journalism is essential.
Give directly to The Spokesman-Review's Northwest Passages community forums series -- which helps to offset the costs of several reporter and editor positions at the newspaper -- by using the easy options below. Gifts processed in this system are not tax deductible, but are predominately used to help meet the local financial requirements needed to receive national matching-grant funds.
Subscribe to the sports newsletter
Get the day's top sports headlines and breaking news delivered to your inbox by subscribing here.
---