News > Spokane
100 years ago in Spokane: Brutal cold snap prompts concerns about coal shortage
Mon., Dec. 9, 2019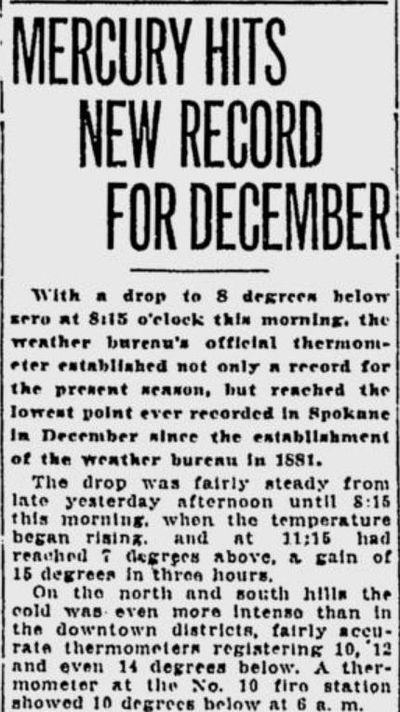 The thermometer hit eight degrees below zero in Spokane, the lowest temperature ever recorded in December at the time. Some higher altitude locations hit 14 below.
This caused renewed anxiety about an impending coal shortage, because in 1919 many houses were heated by coal. A national coal miners strike was restricting supplies.
However, the district fuel administrator in Spokane said the city had a large supply of coke (a form of coal) on hand. Also, if the coal shortage became too serious, Spokane's proximity to abundant forests would alleviate the problem. People could switch to burning wood.
However, there was some concern that profiteers were already driving up the cost of a cord of wood.
From the entertainment beat: The Spokane Ministerial Association wanted to close all theaters on Sundays, and the ministers vowed to take this fight to the state Legislature if they did not get satisfaction from the city council.
"The unclean movie must go and theaters must be closed on Sunday, even as the saloon was," said the Rev. George W. Knepper of the Central Christian Church.
Knepper noted that one of the movies currently playing in Spokane "is advertising its show through means of a nude woman." He was referring to the film "Back to God's Country," the Nell Shipman movie playing at the Clemmer Theater (today's Bing Crosby Theater). The ad featured a line drawing of a nude woman. This movie did, in fact, feature a brief nude swimming scene — which helped account for its popularity.
"Generally speaking, the plays and pictures offered are not clean," said Knepper. "They deal almost exclusively with adultery, infidelity, sex and criminal deeds."
Local journalism is essential.
Give directly to The Spokesman-Review's Northwest Passages community forums series -- which helps to offset the costs of several reporter and editor positions at the newspaper -- by using the easy options below. Gifts processed in this system are not tax deductible, but are predominately used to help meet the local financial requirements needed to receive national matching-grant funds.
Subscribe to the Coronavirus newsletter
Get the day's latest Coronavirus news delivered to your inbox by subscribing to our newsletter.
---