Sports
A Grip on Sports: As Seahawks try to hold on to a playoff spot, Russell Wilson has lost his grip on the MVP award
Tue., Dec. 10, 2019 A GRIP ON SPORTS • It's hard to find people in the Northwest that aren't fans of Russell Wilson. And rightfully so. But the past few weeks haven't been kind to the Seahawks quarterback, with Sunday's performance putting a stake in his MVP candidacy.
•••••••
• Even as the 12s rally around their quarterback, that doesn't mean they turn a blind eye to his shortcomings. C'mon, who hasn't sat in their living room on a Sunday afternoon and screamed at Russell to just throw the darn ball. Or is that just at my house?
Not really. We found out yesterday even Pete Carroll is screaming the same thing. It may be in his head and not out loud, but he admitted he feels Wilson has been holding on to the ball too long recently. That patience, if that's how you want to spin it, has resulted in 18 sacks in the last four games.
As much as Seahawk fans want to throw the offensive line under the team bus, not all of those are on them. Oh sure, the line has been built around run blockers over pass protectors. That's its strength. But for the most part it's done a decent job of giving Wilson time to find open receivers. There just hasn't been any. And Wilson won't throw the ball away.
We understand. He's made big plays many times in his career after everything has broken down. But recently the receiving corps, from tight ends to wideouts, has taken a hit.
Tyler Lockett hasn't seemed to have his explosiveness since his leg injury. Josh Gordon hasn't developed the needed rapport just yet. Will Dissly is gone. Luke Willson has been out as well. DK Metcalf is a rookie. Malik Turner hasn't shown great hands. It's been a something-you-don't-want-to-step-in show recently.
Wilson still can make chicken salad at times. But sometimes the ingredients spoil as he waiting for the kitchen to clear.
And those of us at home, hoping to celebrate, yell at the server.
• It is women around my age who first opened the door to what we have today, opportunity for all to enjoy what sports have to offer.
I can testify to how the doors were closed not that long ago. Heck, I still remember watching my wife practice basketball in college.
There was a head coach. No paid assistants. The women's team had to work around whenever the gym was not being used by the men. The basketballs were hand-me downs. The uniforms were dowdy, the travel budget non-existent. And this was a decade after Title IX was instituted.
Much has changed.
Which means time has marched on. And with it, those pioneers have grown older. Which means we are starting to see their passing.
One of our local pioneers, Jo Ann Washam, died last Friday at age 69. Chuck Stewart has written her obituary for today's paper. It's worth reading.
In the past 50 years much has changed in our world. Not all of it for the better. But thanks to women with Washam's grit and attitude, there is one thing we are sure is better. Girls and women with similar talents are no longer an aberration. They are the norm. And they have the opportunity to let those talents shine.
•••
WSU: It's not often Washington State can celebrate an academic All-American in football. The last, in 2010, was Chima Nwachukwu, who we wrote about nearly a year ago for the Athletic. Now the Cougars have another, Brandon Arconado. Theo Lawson writes about the receiver's accomplishment. … Speaking of accomplishments, and their opportunities, Theo also has a story on those of a couple WSU soccer players. … Elsewhere in the Pac-12, say goodbye Santa Clara, hello Las Vegas. … And we can say goodbye to seeing Larry Scott every week. … The best in the conference isn't all about quarterbacks this season. … Washington has to learn lessons from its loss to Gonzaga. This might not be the right one. … A California player was involved in a fracas. … An Oregon assistant coach might be headed to UNLV. … It looks as if Utah will welcome in a graduate transfer quarterback. … Arizona has had a lot of recruiting misses lately. … In basketball news, is the conference heading up? … Colorado faces Northern Iowa. … Utah's young team has to deal with finals for the first time.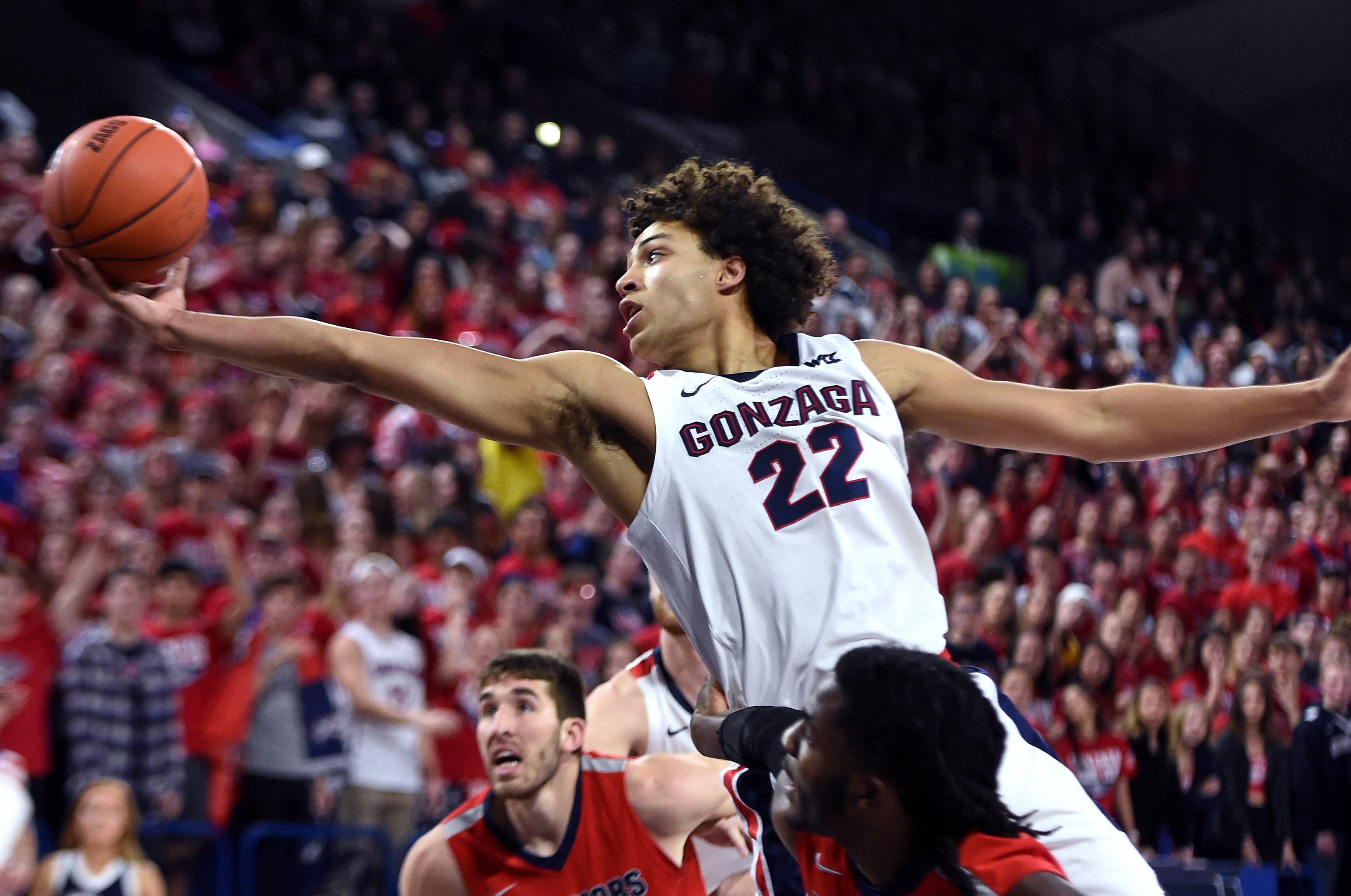 Gonzaga: A win on the road over the nation's 22nd-ranked team is worth of a rewind and Jim Meehan is happy to oblige. … The win at Washington helped the Zags jump up to sixth in the Associated Press poll. Jim has that story as well. … He also spoke with Larry Weir yesterday for the latest Press Box pod. … The women keep rising in their polls, reaching No. 17 this week. When you consider their only loss is on the road in overtime to the top-ranked team, maybe that's a bit low. Jim Allen has the particulars in this story. … Around the WCC, a surprising player is standing out for BYU.
EWU: It's looking more and more likely Beau Baldwin will be back in the Big Sky. But not in Cheney. In San Luis Obispo. … Montana and host Weber State meet Friday in the FCS playoffs. … Montana State hosts Austin Peay also on Friday.
Indians: Spokane has named its manager for the upcoming season. It's Sean Cashman, who is not all that much older than the players he will be managing.
Seahawks: Add Rashaad Penny's name to the out-for-the-season list. Penny was just starting to hit his stride when his knee was torn up last Sunday. … There are at least a dozen reasons why the Hawks didn't win. …
Mariners: Baseball's winter meetings have begun. As expected, the M's seem to be sitting there quietly, watching.
Sounders: With winning come spoils. Even for executives.
•••
• My sister is nine years older than me. She was a better athlete than I was as well. But when she graduated high school in 1965 and headed to UCLA, there was not much in the way of athletic opportunity. Other than, say, sitting next to Lew Alcindor in class. She's 5-foot-2. I would have liked to have seen that. Until later …
Subscribe to the sports newsletter
Get the day's top sports headlines and breaking news delivered to your inbox by subscribing here.
---