A&E
Spokane's Ricky Webster wins Hallmark Drama's 'Christmas Cookie Matchup'
Dec. 11, 2019 Updated Thu., Dec. 12, 2019 at 12:53 a.m.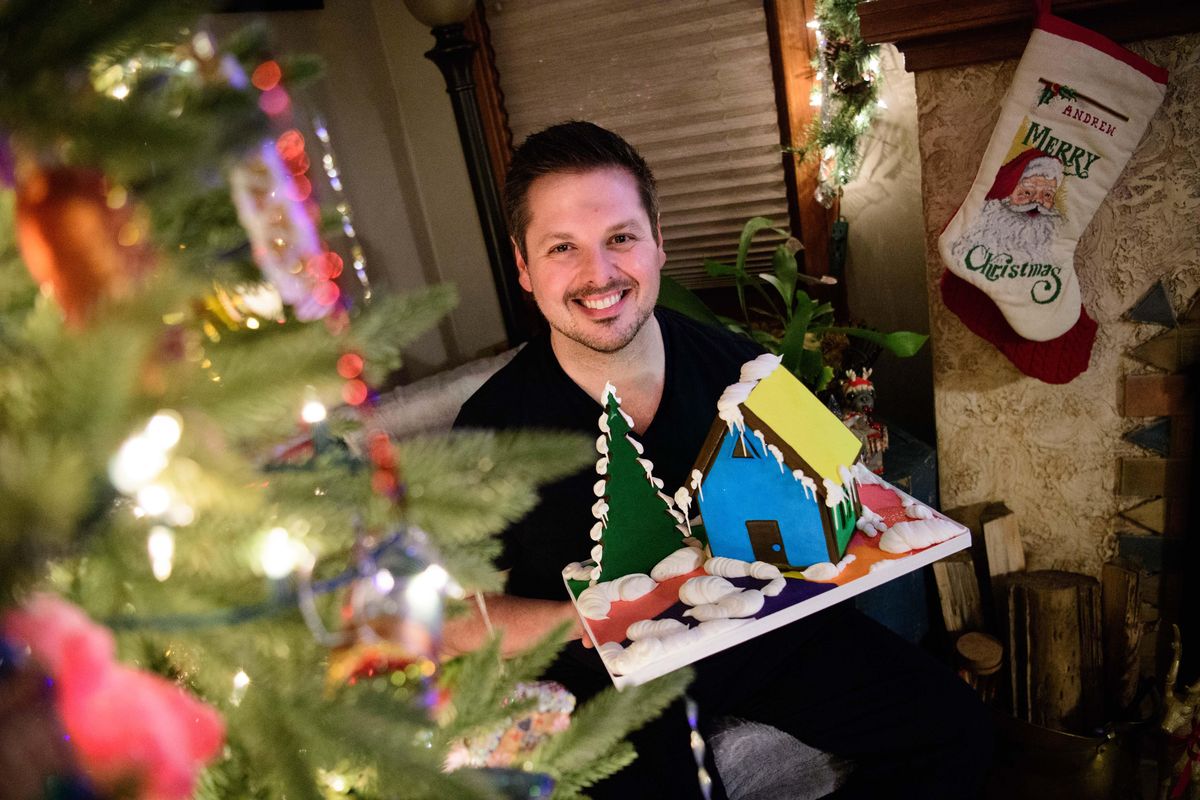 Spokane chef and baker Ricky Webster sits with one of his gingerbread houses on Dec. 3 at his home in Spokane. (Tyler Tjomsland / The Spokesman-Review)
Contestants crumbled competing alongside Ricky Webster on Hallmark Drama's "Christmas Cookie Matchup."
The Spokane chef and baker, who works at Sysco Spokane as a business resource manager, won the five-episode cable-TV baking competition on Wednesday night – and handily, as Webster was victorious in four of the five main challenges on the series' episodes.
"To hear my name called was heartwarming," Webster said of the win. "It was a cool culmination of what I've been doing for 20 years, and in 37 years of life, of wanting to create magic for people."
The only main challenge Webster didn't win was the gingerbread house contest.
In "Christmas Cookie Matchup," each competing chef was paired with a star of the popular Hallmark Drama series "When Calls the Heart," and Webster was selected by actress Pascale Hutton to compete as a duo for the grand prize of $25,000 for the chef.
Webster is no stranger to winning holiday baking competitions. Last holiday season, he won the Food Network's "Christmas Cookie Challenge: Modern Classics."
"Ricky won because he wants his food, whether sweet or savory, to bring people together and spread joy to all who have it," said Andrew Casso, Webster's boyfriend of five years in Spokane. "This also is what we all want from the holidays."
Casso, who shares a home with Webster and their two dogs, Ponzu the Pug and Gandalf the Lab Weimaraner, said Webster's cookies combine traditional flavors with modern enhancements.
"They invoke the memories of your past while also giving you a totally new and unique experience," he said.
Webster has shed about 50 pounds since competing on "Christmas Cookie Matchup," which was hosted by actor Jack Wagner of "General Hospital" fame. Webster celebrated with a finale viewing party at Embers by the Lake in Hauser on Wednesday night and talked about his latest sweet victory:
Congratulations, Ricky. This is the second consecutive holiday season that you have won a Christmas baking competition. How did you feel after your name was announced as the winner?
It was very surreal. We had no clue, and Jack Wagner said, "And the winner is …" with a dramatic pause … four times! Pascale's hand was on my shoulder squeezing me, then we heard, "It's Ricky Webster."
I freaked out. I jumped up in the air. I lifted Pascale. It was a testament of hard work and a full immersion of myself – telling my story and making certain that it was personal.
Was there any point in the competition that you thought to yourself, "I'm going to win this"?
In week 3, when Pascale and I won the Christmas cookie party, I also won the mini-challenge that day. I thought to myself, "Two challenges in one day?" I felt like a frontrunner, but the runner-up, Laura, is really talented and was very strong competition.
I felt like I was strong, I felt like a good competitor, and Pascale and I had a great relationship. Our communication got us to the end, but I knew at that point that I couldn't just rely on my experience and what I've built. I still needed to show up and bring my game and be present every day.
You won four of the five main challenges. What were the four?
The first week was an old-fashioned Christmas tree, which we decorated. The second week, the gingerbread challenge, which I did not win, was a bit of a gut punch. The third week was the Christmas cookie party, the fourth week was letters to Santa, and the finale was a cookie chandelier.
Was there a challenge that you were particularly proud of winning?
I loved the Christmas cookie party a lot, and I had a lot of fun with Pascale on that one. We were just able to get in there. There was a huge demand for five different cookies, and one recipe was for one that I had never seen or made before.
Seeing the hard work that Pascale and I built to work together and communicate, but also to let her go and trust that she was a part of this team, this partnership wasn't just one person, that's when I realized that this was cool and we knew what we were doing and we had something going on.
We really utilized our partnership in the fourth-week challenge, letters to Santa, as well, because Pascale has two young boys. We asked the question, "What would your two young boys ask Santa?" "How would they write their letters?" We took inspiration from that to create three different cookies.
So using her experience as a mom with two kids, as well as tapping into my youthful side and childhood, gave me a great sense of heartwarming and excitement. And the finale was just unbelievable and do as much as you can, so three challenges for three different reasons.
What was the most difficult aspect of competing?
I think taking some risks early on to lay down the relationship with Pascale – to embrace someone coming into my space, my kitchen, who could have totally thrown a wrench into it or help me, and she did the latter. It was challenging to build that relationship, but we also had a lot of fun.
Do you think that you were paired up with the best celebrity?
I think that I was paired up with the person who I could connect the most with in the competition.
You won, but is there anything that you would've done differently?
I think from the get-go, being in touch with my personal story, it took me a couple of challenges to get in the groove to being able to express myself rather than being filtered and trying to say the right thing and be perfect.
I think people are more likely and excited to root for you if your story is personal and has meaning. I wanted to share the inspiration that I've had from my mom and grandmother.
How did "Christmas Cookie Matchup" compare to the Food Network's "Christmas Cookie Challenge: Modern Classics" one year ago?
This experience was Christmasy and wonderful and heartwarming. They encouraged us to work with each other. If Laura was having a tough time, we would check in: "Do you need anything? Can I get you anything? I'm in a good spot right now."
It really was about a human connection. It's about cookies at the end of the day, a fun, happy medium, and we didn't want competition to get in the way of that human connection. That was the big takeaway, and I built life-long relationships with these people.
What are you going to do with the $25,000 prize money?
Pay off debt (laughs). There is a kitchen remodel that I would love to do.
And how about a three-peat next Christmas?
We'll see! I don't have anything forecast or in the books, but somehow, some way, if another show wants to bring me on, I would be happy to get back in there. Holiday shows have my heart.
Local journalism is essential.
Give directly to The Spokesman-Review's Northwest Passages community forums series -- which helps to offset the costs of several reporter and editor positions at the newspaper -- by using the easy options below. Gifts processed in this system are not tax deductible, but are predominately used to help meet the local financial requirements needed to receive national matching-grant funds.
Subscribe to the Spokane7 email newsletter
Get the day's top entertainment headlines delivered to your inbox every morning.
---