News > Home and garden
Gardening: If you can't grow 'em, you can at least read about 'em
Thu., Dec. 12, 2019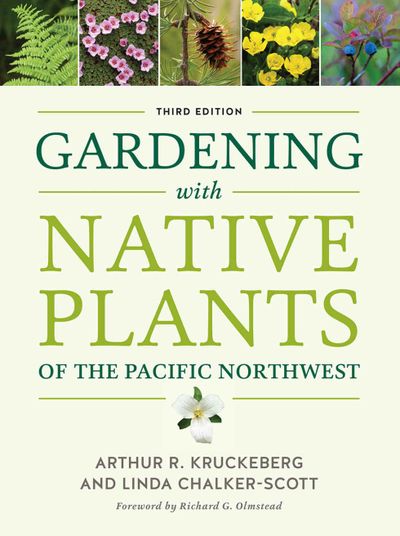 Native plants have become a big part of our gardening in the last decade and for good reason. Native plants provide habitat for insects, birds and other wildlife as well as reduce the amount of work and water needed to keep a garden looking good. However, information on how to identify them and then grow them well can be a little hard to find.
Some of the plants can also be a bit finicky to grow. Now that the garden is freezing up, winter is the perfect time to study up on them, so you are ready when the nurseries open again in the spring. Here are a few of my favorite books and field guides on native plants for your winter reading list.
"Gardening with Native Plants of the Pacific Northwest" by Arthur Kruckberg and Linda Chalker-Scott, originally published in 1982 and updated in 2019, was one of the first gardening books that focused on native plants and how to use them in the landscape. The latest edition has nearly 1,000 choices of trees, shrubs, perennials, annuals and grasses for diverse terrain and conditions, from Canada to California, and east to the Rockies. Each plant description has information on its growing conditions and uses in the landscape.
Another excellent book is the "Encyclopedia of Northwest Native Plants for Gardens and Landscapes" by Kathleen Robson et al (2008, Timer Press). A good part of this book is a detailed glossary of trees, shrubs, ferns, annuals and perennials including cultural information on how to manage them in a landscape. My favorite part of this book is the lists of plants for special situations and purposes including plants that will work in drought, wetlands, shade, hedgerows, wildflower meadows, insect and wildlife habitats and erosion control. There are lots of suggestions of plants that will do well in northeast Washington.
One of my favorite field guides for our region is "Plants of Southern Interior British Columbia and the Inland Northwest" by Parish, Coupe and Lloyd (1996, Lone Pine). As the title indicates, this book covers a lot of interior B.C. but also covers northeast Washington in great detail. This region gets more moisture and a completely different geology from the rest of our region; hence, a different set of flora. Their plant descriptions include information on plants that are edible and on Native American uses of the plants.
Two other excellent field guides are "Wildflowers of the Pacific Northwest" and "Trees and Shrubs of the Pacific Northwest" by Mark Turner et al (2006 and 2014 respectively, Timer Press). Turner's wildflower book is organized by flower color, which makes it easier to identify plants in the field for those with limited experience in plant identification. The tree and shrub guide is broken out by conifers and plants with simple, compound or no leaves, which again helps the beginner to identify the plants they encounter. Both books have maps that indicate where in the Northwest the plant has been documented. which further helps in identification.
Local journalism is essential.
Give directly to The Spokesman-Review's Northwest Passages community forums series -- which helps to offset the costs of several reporter and editor positions at the newspaper -- by using the easy options below. Gifts processed in this system are not tax deductible, but are predominately used to help meet the local financial requirements needed to receive national matching-grant funds.
Subscribe to the Coronavirus newsletter
Get the day's latest Coronavirus news delivered to your inbox by subscribing to our newsletter.
---