This column reflects the opinion of the writer. To learn about the differences between a news story and an opinion column, click here.
Opinion > Column
Huckleberries: Library caper slows amid the hubub
Thu., Dec. 12, 2019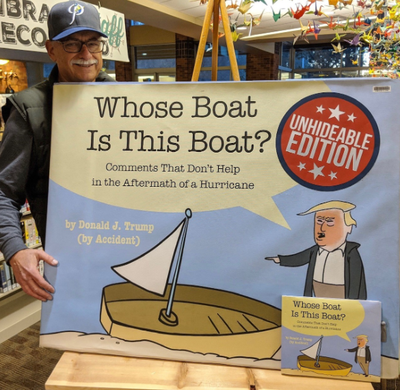 Bette Ammon, the head Book Worm at the Coeur d'Alene Library, tells Huckleberries that the outbreak of intentionally misplaced books has slowed.
For those who have been living in a cave this fall, Bette and her library "shelvers" have been looking for a self-appointed censor who has been hiding books critical of President Trump or supporting liberal politicians and ideas.
The antics of the vigilante have gained worldwide attention.
The New York Times ran a story. Author Rick Reilly visited. Talk-show host Stephen Colbert sent the library an oversized version of the children's book, "Whose Boat Is This Boat: Comments That Don't Help in the Aftermath of a Hurricane."
Patrons and other visitors have lined up daily to take photos with the giant book that can't be hidden.
Ammon tells Huckleberries that there has been one misplaced book since the backlash began, a tome about the attempted impeachment of Trump. She hasn't been able to find it.
Ninety-five percent of the reaction to the caper has been positive, she said. But there are some conspiracy theorists who believe that the library conjured the Case of the Missing Books to raise its profile. And one female patron was incensed that the library would highlight "Whose Boat Is This Boat," denigrating a great president like Trump.
The hubbub at the Coeur d'Alene Library brings to mind this quote by author Neil Gaiman: "Libraries are the thin red line between civilization and barbarism."
So tired of waitin'
Ray and Lisa Oliveria, of Coeur d'Alene, were prepared for that wreck on Lookout Pass last Thursday.
They had a blanket, water, bananas and granola bars in the car. And taffy, from St. Regis, Montana. If they hadn't stopped for the taffy, of course, they might have been the last to clear the crash scene on westbound Interstate 90 at Mullan. Instead, they were first in line for a 14-hour wait that would stretch to 5:30 Friday morning.
Ray, my youngest brother, has seen his share of wrecks and blocked highways during his 33 years as a truck driver. The one Thursday evening was a doozy. A Canadian trucker lost a 60-ton load at milepost 63. For a while, flaggers let traffic go around the wreckage via an open lane.
The Oliverias and a 200,000-pound crane arrived at the same time, about 5:30 p.m. The Oliverias were stopped. Then, they waited. And waited. Occasionally, Ray started his car for heat. But he had to stop that near midnight when the gauge showed only one-eighth of a tank left.
That's when Ray used an offramp that circled onto the eastbound lanes. He headed back to St. Regis and rented a Super 8 room for the night. Others weren't as lucky. Many slept in their cars without food, water, blankets or toilet paper.
P'haps we should listen to those public safety officials who nag us about being prepared for winter driving emergencies.
Huckleberries
Poet's Corner: Décor designed to be relaxing/ but nonetheless the place is taxing – Tom Wobker, The Bard of Sherman Avenue ("Dentist office") … Imagine the surprise of Ed and Donna Aycock when they emerged from a celebration of their 52nd anniversary to find a homemade sign that read, "Just Married" taped to the back of their car. And cans on strings attached to their bumper. Surprisingly, good friend Bob Kesson, of Coeur d'Alene, had an ironclad alibi … Yesteryear: In the Coeur d'Alene School District 50 years ago, news that the trustees had approved a nickel raise for school lunches, from 25 cents to 30 cents, was so startling that it made the front page of the Press … Do you know what the gendarmes of Kellogg, Idaho, call a "hat trick"? That's when they stop a vehicle, like the one recently at Oregon Street and West Cameron Avenue, that has no plates, no insurance, and the driver has no valid license.
Parting shot
Speaking of the Kellogg PD, Sgt. Paul Twidt reports on an incident that Huckleberries hasn't encountered in 50 years of newspapering. On the 600 block of Bunker Avenue, an unhappy man on a second-floor balcony, took matters, and a poopy diaper, in his own hands when partiers in the hot tub below wouldn't quiet down. The Party Pooper got the celebrants attention by throwing the soiled diaper at them. The Hot Tubbers were en route to return the diaper when the cops showed up and restored the peace. Sgt. Twidt summed up his report by offering words to live by: "Be happy. Be safe. Don't throw poop diapers. It's not nice."
You can contact D.F. "Dave" Oliveria at dfo.northidaho@gmail.com.
---
---