News > Spokane
Parents, grandparents search for the perfect gift at the Christmas Bureau; daily donations see big drop
Fri., Dec. 13, 2019 The crowds came again Thursday to the Spokane County Fair and Expo Center for the second day of the Christmas Bureau, as people lined up to get food vouchers for their family and a toy and a book for each child in their home.
Sisters-in-law Sarahi Castillo and Oxidia Leon both came with their months-old sons. Castillo picked out a small tricycle with training wheels for her son, 2-month-old Caleb Suarez.
"I just thought I could teach him," she said. "He's not ready yet, but he will be."
It was Castillo's first visit to the Bureau as a recipient.
"When I was in high school, I volunteered to take care of the babies," she said.
Leon was looking for gifts for her three children, including her 3-month-old son Isaac Suarez. She picked out a karaoke machine for her 8-year-old daughter. "She loves singing," she said.
Castillo said she appreciated having somewhere to go to get a Christmas present for her son.
"It's something amazing, something we don't have in our country," she said. "We're both from Cuba."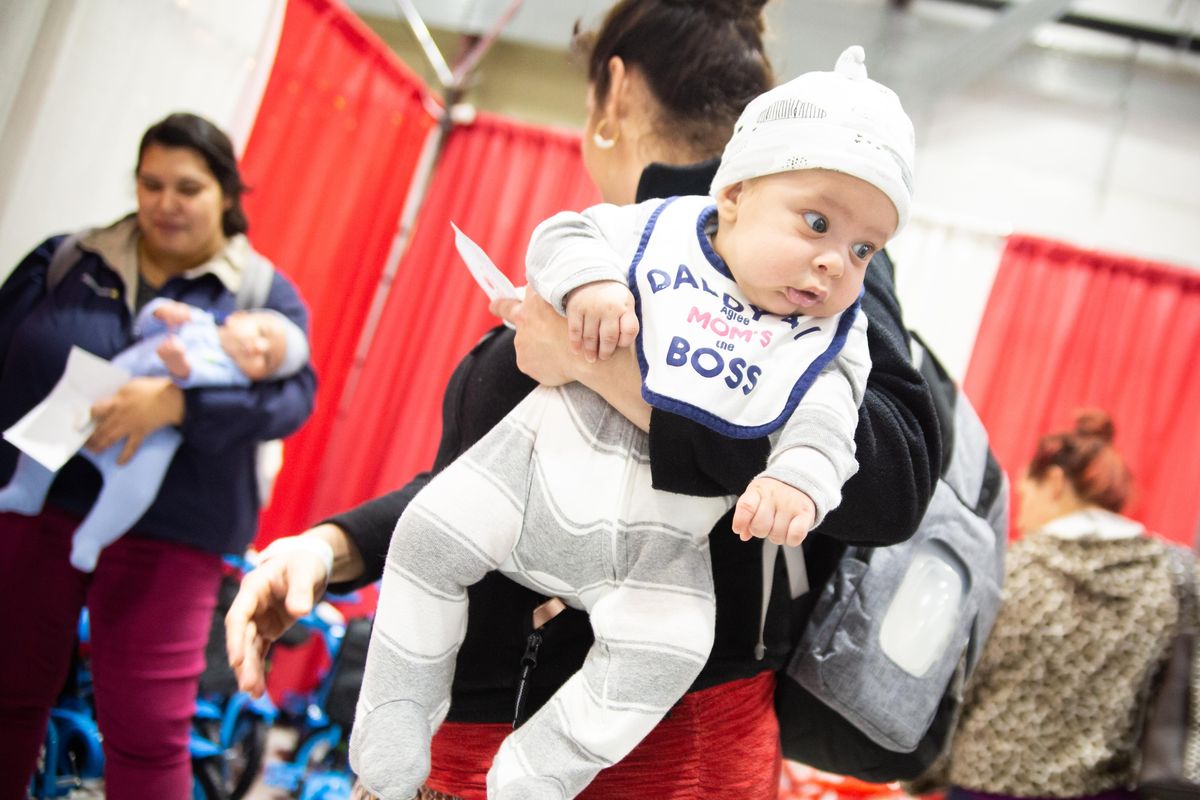 Three-month-old Isaac Suerez looks around curiously as his mom, Oxidia Leon, speaks to her sister-in-law Sarahi Castillo, holding her own two-month-old Caleb Suerez, during day two of the 2019 Christmas Bureau on Thursday, Dec. 12 in at the Spokane County Fair and Expo Center. The Christmas Bureau is open from 10 to 2:30 p.m. daily except Sunday through Dec. 20, and does not require proof of income, though adults need to bring proof of address and identity, and kids 17 and younger need to have correlating documents. (Libby Kamrowski / The Spokesman-Review)
Cory and Shaye Hubbard had their nearly 2-year-old daughter, Runa, with them as they shopped for gifts for her and their two other children.
"I love walking around and taking my time when I come here," Shaye Hubbard said. "I come every year."
She works and her husband goes to school and Shaye Hubbard said the Christmas Bureau is key to helping their Christmas be bright.
"It means everything," she said. "This place has always been here."
She said it was her mother who first told her about the Christmas Bureau.
"I guess she used to come here all the time for me, but I didn't know it," she said.
Laura Thomas retired this summer and almost immediately received custody of her two grandchildren, ages 8 and 9. It's their first Christmas together, and Thomas is on a fixed income. She heard about the Christmas Bureau on Facebook.
She wandered around the toy room looking for just the right thing for each of her grandchildren.
"I'm trying to figure out these toys," Thomas said. "All these choices. I keep going back and forth."
She said she had a good experience.
"Everybody here is so terrific," she said. "The lines may be long, but everyone is happy and nice."
Donations
The daily donations have dropped alarmingly, with only $4,970 coming in to bring the year to date total to $204,022.59. Christmas is getting much closer, but the fundraising goal of $535,000 is still far away.
Roger and Kathleen Chase, of Spokane, gave $1,000. Rick and Diana Wilhite, of Spokane Valley, donated $700. "Once again we wish to help make Christmas a little brighter for those less fortunate and to honor our parents, Claud and Reta Wilhite and Bob and Jean Peterson, as they taught us to share our good fortune with others," they wrote. "Thanks also to all the people who help keep the Christmas Bureau tradition alive."
Robert Weigand, of Spokane, donated $500. Diane Weber, of Spokane, donated $200, as did Bruce Rogers, of Spokane. Denise Mutschler, of Cheney, sent $200. Scott and Nancy Stowell, of Spokane, contributed $200. Kelly and Janet Watson, of Spokane, donated $200 in honor of Bill Watson.
Jerry and Dawn Goertz, of Medical Lake, gave $200. "As long-time donors of The Spokesman-Review Christmas Fund it is our pleasure to be able to donate $200 again in the memories of our departed parents; Jim Soderman, Herb and Florence Goertz. Thank you and Merry Christmas." Rita Vancleve, of Spokane, gave $200.
Jack Worden, of Spokane, sent $150. The Spokesman-Review Craft Show donated $100. Bob and Dorothy Yohe, of Spirit Lake, Idaho, gave $100. Robert and LeeAnn Hanke, of Spokane Valley, contributed $100. An anonymous Spokane donor gave $100. Vicki Borer, of Spokane, donated $100.
Dan and Scooter Mahoney, of Spokane, sent $100. "We are happy to make this $100 contribution to the Christmas Bureau, in honor of the women in Harry's Book Club on Sky View Drive," they wrote. "And we give a special 'Thank you!' to all of the wonderful volunteers who give so much of their time and energy to make the Christmas Bureau happen."
John and Catherine Caskey, of Spokane, donated $100. An anonymous donor gave $100.
Robert Rosman, of Spokane, donated $100. "May God continue to bless all who help with this great way of giving," he wrote. Mary Elaine and Donald Roddy, of Spokane, contributed $100. "May your holiday be filled with warmth and happiness as you and the Spokesman staff and others are giving to many in Spokane every year," they wrote.
Barbara Van Leuven, of Spokane, gave $50. An anonymous Spokane donor sent $50. Tom and Pam Ruckhaber, of Spokane, donated $50. An anonymous donor gave $50 "in memory of long-time and much missed Christmas Bureau toy buyer, Judy Thies."
Mary Fryback gave $20.
Local journalism is essential.
Give directly to The Spokesman-Review's Northwest Passages community forums series -- which helps to offset the costs of several reporter and editor positions at the newspaper -- by using the easy options below. Gifts processed in this system are not tax deductible, but are predominately used to help meet the local financial requirements needed to receive national matching-grant funds.
Subscribe now to get breaking news alerts in your email inbox
Get breaking news delivered to your inbox as it happens.
---