News > Spokane
Rep. Cathy McMorris Rodgers only has one 2020 Democrat challenger – but that may change
Fri., Dec. 13, 2019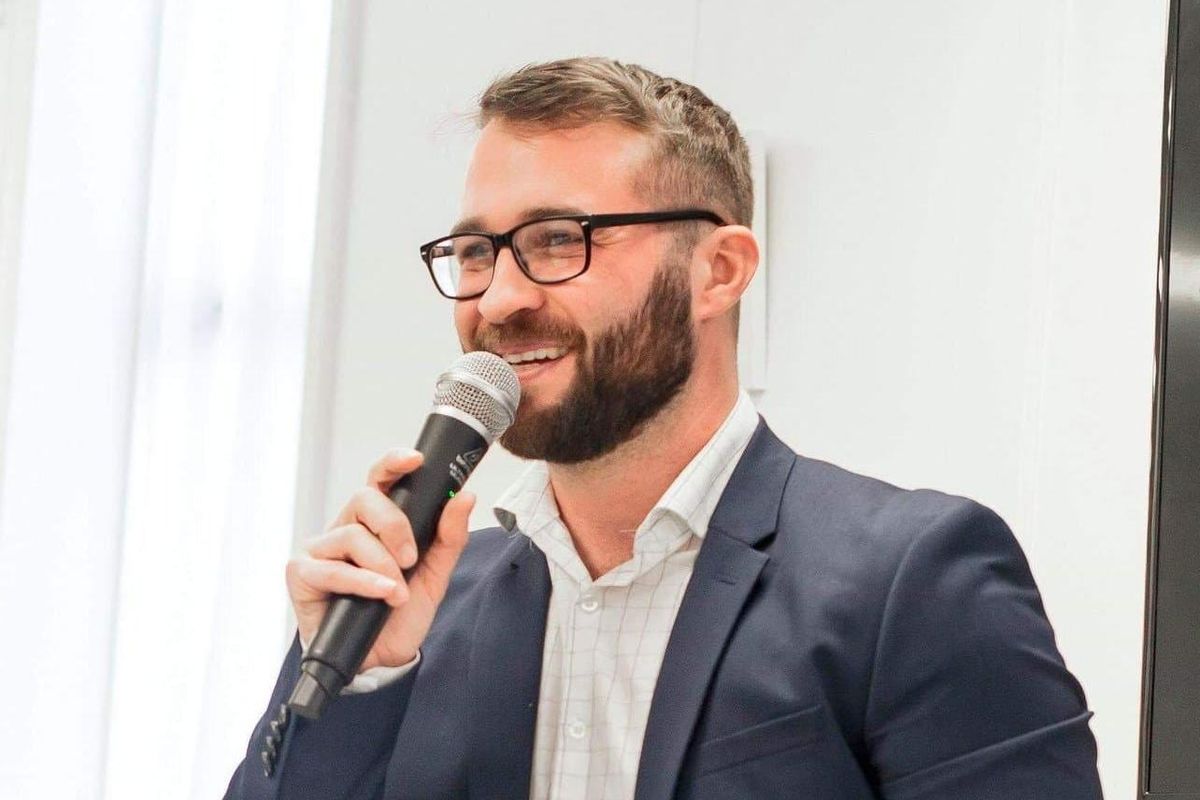 Chris Armitage, seen here in an undated photograph from his Congressional campaign, is the only Democratic challenger so far to file against Rep. Cathy McMorris Rodgers. Candidates have until May 15 to declare their intent to run for the seat with the Washington Secretary of State's Office. (Chris Armitage for Congress campaign / Courtesy)
A 27-year-old U.S. Air Force veteran is the latest in a long line of left-leaning politicians looking to end Rep. Cathy McMorris Rodgers' tenure in Congress.
Chris Armitage, a former base defense operations controller with two enlistments at Fairchild Air Force Base, is the only Democrat who's filed to run against the congresswoman, who emphatically defended her seat in a 2018 campaign against Lisa Brown.
But when asked on Thursday, Brown did not immediately rule out another run against McMorris Rodgers.
"I'm not in a position to talk about that," Brown said.
The deadline for candidates to file is still six months away, but there has been little talk of another Democratic candidate joining the 2020 contest, now several months further along in the election cycle than Brown's late summer announcement two years ago. The former state Senate majority leader later mounted the closest competition in campaign cash and votes that McMorris Rodgers has faced in her 15-year Congressional career.
Ed Wood, chairman of the Spokane County Democrats, said he has been in contact with Brown off and on about the potential for her to run for the seat.
"It's not news to me," Wood said of her open-endedness about running again.
Wood said he has not heard from many Democratic candidates interested in pursuing the seat, besides Armitage. Armitage has asked for the county party's endorsement, and Wood said the county Democrats plan to discuss giving it to him.
Armitage, who moved to Spokane in 2011, is making his first run for office and believes that distance from the political establishment will resonate with voters in Eastern Washington.
"People want a changing of the guard. They want outsiders," Armitage said. "That's what I want."
Armitage said he was talking with a friend about the need for someone to run against McMorris Rodgers. And his friend said, why not you?
"I said, 'Well, I'm too young, and I'm not rich, and I haven't held office before,' " Armitage said. "He said, 'Who do you want to vote for?' And I said, 'Someone who's young, and working class, and hasn't held office before.' "
McMorris Rodgers, who was 35 when she won the seat in 2004 but had held public office before, left GOP party leadership after the 2018 election. She has since served as the ranking subcommittee member on a House panel concerned with consumer protection and e-commerce. She said in an interview this week her focus is on that legislative work as she seeks a ninth term on Capitol Hill.
"I'm focused on getting around the district and listening," McMorris Rodgers said. "I've been to every county, and held town halls beyond that. I'm going to every high school, and I've really enjoyed talking to the young people."
As the highest-ranking Republican on that subcommittee, McMorris Rodgers said she's bringing in representatives from Eastern Washington to address federal lawmakers while working on issues that include the next generation of wireless technology, data privacy and autonomous vehicles.
Outgoing Spokane Mayor David Condon worked from 2005-11 as a district director and deputy chief of staff for McMorris Rodgers.
"Cathy McMorris Rodgers wins because her personal story is uniquely Eastern Washington and her legislative accomplishments fit the district, focusing on things like dam licensing, special education and veterans," Condon said in a statement. "She also is very personable and available in the district."
Condon said McMorris Rodgers and her team also know how to run a campaign, which isn't a skill many candidates have unless they've run for office and won multiple times.
The congresswoman said she didn't put much stock into the size of the Democratic field for the seat with less than a year to go before Election Day.
"We'll see. It's still early," McMorris Rodgers said.
Brown, who was named head of the Washington Commerce Department in March, has maintained a confrontational social media presence to McMorris Rodgers after her defeat. On her personal Twitter account in the past several days, Brown has criticized the congresswoman's new role as honorary co-chairwoman of President Donald Trump's campaign effort in Washington and her lack of support for a drug-pricing bill pushed by Democrats in the House.
McMorris Rodgers said in a floor speech Wednesday she opposed the bill because it gave the federal government price control over prescription drugs, "and it will stop innovation."
McMorris Rodgers reports $1 million in campaign cash on hand heading into the 2020 election. Armitage filed his first report with the Federal Election Commission on Nov. 13, which means the campaign will not release fundraising figures until the end of this month, at the earliest.
Armitage volunteered for Brown's campaign and said the election results provided good information for how to mount a more successful campaign against the incumbent, who has never earned less than 54% of the popular vote in a race for Congress. Armitage said his keys to victory were increasing support in the rural areas of the district and boosting voter turnout within the urban centers of Spokane and Walla Walla.
"She ran the establishment playbook as well as she could," Armitage said of Brown. "But I just don't understand why someone would run a safe race in what was, at the time, a plus-20 red district."
The candidate has already appeared at multiple gatherings of progressive protesters in recent months, including two urging political action on climate change. Armitage said he's also been invited to speak at an impeachment rally in the coming weeks.
Targeting the rural parts of the district may be the one way a Democratic candidate could make the populist argument for election, said Cornell Clayton, director of the Thomas S. Foley Institute of Public Policy and Public Service at Washington State University. That may be one of few paths for a candidate who'll be running after the 2018 returns, in which big money, endorsements and name recognition weren't enough to flip the district, he said.
"One of the problems Democrats have had in the past, is that they've written off the rural areas," Clayton said. "They've focused only on Spokane. You've got to be out there knocking on doors and going to the small parades. You've got to run a campaign that appeals to the farmers and to people who live out in these rural areas."
Despite finishing the closest to McMorris Rodgers of any Democrat dating back to 2004, Brown only carried one of the district's 10 counties – Whitman, home of WSU. Brown won the vote in the city of Spokane, but lost Spokane County by more than 11,000 votes.
It's that historic party split, evident in Eastern Washington since the late Tom Foley was defeated in 1994, that puts any Democrat running for the seat at a disadvantage, said previous Democratic candidates.
"That's a tough district. Lisa did all she could, and still those final numbers weren't happy," said Ben Stuckart, who in between bids for mayor ran a short congressional campaign under the Democratic banner.
"I think Lisa ran the campaign she needed to, to win," said Dave Wilson, who ran for the seat as an independent in 2014 and 2016 before switching to state politics and running as a Democrat to represent the state's 6th legislative district in the House of Representatives last year.
Both Wilson and Stuckart said they were uninterested in a congressional bid in 2020.
Wilson said any Democrat who ran for the seat in 2020 would have to compete for attention with the presidential race, which will feature a polarizing figure in Trump. Though she's serving an honorary role in his re-election campaign, McMorris Rodgers has also publicly criticized some of his statements about women and opposed some of the president's trade policies.
McMorris Rodgers opposes the impeachment proceedings taking place in Congress. Armitage said he supported the inquiry.
"People talk about the partisan politics of it, but the fact is, there are credible accusations, first-hand accounts," Armitage said. "This needs to be investigated, and people need to be held accountable."
Clayton said the uncertainty at the top of both political parties, with the Democratic presidential primary as well as the outcome of the impeachment proceedings in question, may be giving pause to some candidates who would come forward to challenge McMorris Rodgers.
"I think that's part of it," Clayton said. "Also, in 2018, Brown got early support from the Democratic Party statewide, but also" from the national political organization pushing for election of Democrats to Congress.
That interest, in this election cycle, is instead going to Carolyn Long, who's looking once again to unseat Rep. Jaime Herrera Beutler in Washington's 3rd Congressional district, Clayton said. Long, a professor at WSU Vancouver, lost to Herrera Beutler in 2018 by 5 percentage points but already has raised nearly $600,000 this year for the contest, compared to Herrera Beutler's $1 million.
Candidates for the congressional seat must file with the Washington Secretary of State's Office by May 15. The top-two primary will be held Aug. 4.
Local journalism is essential.
Give directly to The Spokesman-Review's Northwest Passages community forums series -- which helps to offset the costs of several reporter and editor positions at the newspaper -- by using the easy options below. Gifts processed in this system are not tax deductible, but are predominately used to help meet the local financial requirements needed to receive national matching-grant funds.
Subscribe now to get breaking news alerts in your email inbox
Get breaking news delivered to your inbox as it happens.
---