Sports
A Grip on Sports: The basketball weekend is off to a great start, highlighted by a monster dunk in Cheney
Sat., Dec. 14, 2019 A GRIP ON SPORTS • It's not hard to understand why Gonzaga and Arizona are playing tonight. The two best West Coast (sort of) schools meeting in Tucson is a big deal in college basketball circles. But there was also a big deal out in Cheney last night even if the schools aren't usually on the radar nationally.
•••••••
• No, Eastern Washington and Multnomah facing off in a nonconference game isn't usually going to draw the attention of SportsCenter. But it did last night thanks to one play by Spokane's own, Tanner Groves.
The 6-foot-9 post from Shadle Park High threw down a follow dunk in transition that raised the roof later that evening on the self-proclaimed World-Wide Leader.
As it should have.
Groves dunk, and ensuing old school celebration, had already gone viral on Twitter – the video has been viewed almost 700,000 times. So it's no surprise the late SportsCenter on ESPN, with Seattle native Kenny Mayne in the anchor chair, picked it as No. 1 in its nightly Top Ten plays list.
It was that good.
So good, in fact, it overpowered everything else from the game, including Eastern's 146-89 win? Nationally, an afterthought. Mason Peatling's Big Sky record 54 points – in 24 minutes? Same thing. Former Lewis and Clark High guard Justin Martin's 34 points and Multnomah's 21 made 3-pointers? Not even that.
This one was about Groves' high-flying, vicious dunk.
• Tonight's game in Tucson may feature a few dunks itself, though probably nothing as emphatic as Groves'.
Maybe though, and it may be to Gonzaga's favor. After all, the Zags' inside game is where they should have an edge against the home team.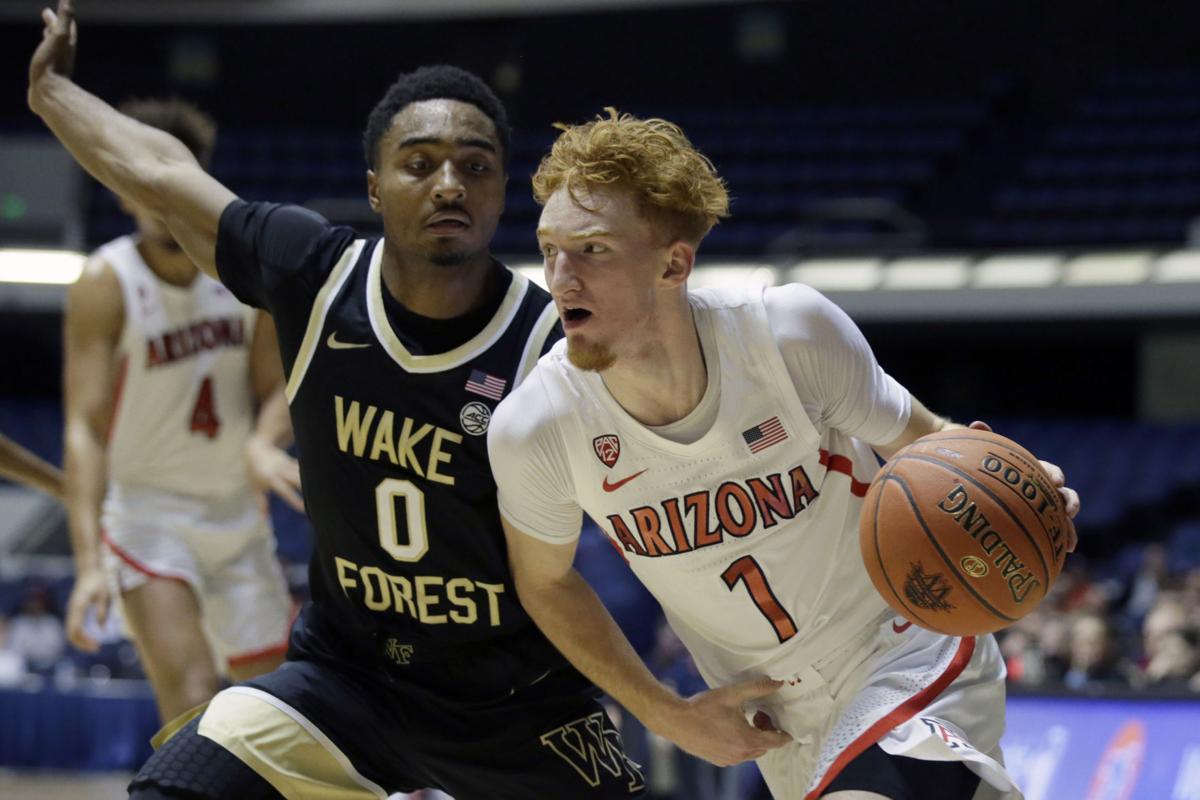 The Wildcats' strength?
Arizona features one of the nation's most electric freshmen guards, one-and-done point Nico Mannion.
The Zags recruited Mannion, from Phoenix, though the 6-3 guard's final decision reportedly came down to Arizona and Marquette. He has already established himself as one of the top point guards on the West Coast (sort of) in just 11 games.
One caveat, however. In Arizona's two most-recent games against Power 6 competition (a win over Wake Forest and a loss at Baylor), Mannion was just a combined 6-of-25 shooting and was 1-of-8 beyond the arc.
• If you are wondering why I have already twice written "West Coast (sort of)," it's simple. I like to nit-pick.
I know Arizona plays in the Pac-12 Conference, which is considered a West Coast conference (as opposed to Gonzaga's West Coast Conference, with its second capital C). But is Arizona really a West Coast school?
Consider this. Tucson is 407 driving miles from San Diego, basically the closest U.S. city on the Pacific Ocean. That's a haul. In fact, it's farther from Tucson to San Diego than it is from Youngstown, Ohio, to the Atlantic Ocean. And no one in their right mind would ever consider Ohio an East Coast state.
If you are wondering, it is 365 air miles from Tucson to San Diego, which puts it roughly the same distance from the ocean as St. Regis, Montana. I don't think anyone in St. Regis believes they live on the West Coast.
•••
WSU: The Cougars are getting ready for their bowl game in Phoenix, named after a not-so-nutritious snack food. But their practices are anything but junk. In fact, Mike Leach is using the time to see what returning quarterbacks Gunner Cruz and Cammon Cooper can do. Theo Lawson has more in this story. … Theo, along with prep writer Dave Nichols, spoke with Larry Weir yesterday for the Press Box pod. … Former WSU defensive coordinator Tracy Claeys has a new job. Theo tells us he has signed on at Virginia Tech. … Elsewhere in the Pac-12, Washington will be ready for the Las Vegas Bowl. … Oregon will have its offensive coordinator in the Rose Bowl. The Ducks won't have one of their running backs, though. … Utah may be without another defensive back as well in the Alamo Bowl. … USC hopes to pack in the recruits late. … Former EWU assistant coach Zac Hill looks to be headed to Arizona State as offensive coordinator. … In basketball news, Oregon State's Tres Tinkle is shooting well from distance. … Colorado survived at Colorado State. … USC is officially under investigation by the NCAA. … UCLA heads to Notre Dame in what's always been a great rivalry. … Arizona State faces Georgia and the Bulldogs' star, Anthony Edwards.
Gonzaga: Yes, there is a game tonight in Tucson. And yes, Jim Meehan has a preview as well as a look at the key matchup between Mannion and Ryan Woolridge. But there is also a game in the Kennel, with the women hosting Texas Southern. Jim Allen has that preview. … By the way, tonight's game in Tucson might decide where a Georgetown transfer decides to play next year. … Around the WCC, BYU has a tough matchup with Utah State.
EWU: Ryan Collingwood was at Reese Court yesterday to witness Eastern's offensive fireworks. They are all contained in this story. … Elsewhere in the Big Sky, there are two Big Sky schools left in the FCS semifinals. Weber State, which lost earlier this season in Missoula, turned the tables in Ogden, winning 17-10 over Montana. The Wildcats will travel to James Madison in one semifinal. … Montana State controlled Austin Peay's potent offense and won 24-10 in Bozeman. The Bobcats will more than likely be traveling to North Dakota State next weekend.
Preps: Friday nights are always busy in the prep ranks and last night was no exception. We have roundups from GSL boys and GSL girls as well as from the area girls and boys games. … Mt. Spokane's Tia Allen was named the state's top volleyball player in the 3A ranks. Dave has that story.
Chiefs: Spokane is headed on the road for a pre-Christmas four-game trip. Dan Thompson has a preview of the Chiefs' travels, coming, as they do, on the heels of a five-game winning streak.
Seahawks: The margin of error is just about gone. … And guess what? Jadeveon Clowney and Mychal Kendricks won't play against Carolina.
Mariners: Is a Kyle Seager trade possible?
•••       
• By the way, full disclosure here, I know Tanner Groves and his family well. He played in our Eastern Washington Elite summer program as did his younger brother Jake, a freshman at EWU. But my relationship with the Groves family dates back many years before that. Until later …
Local journalism is essential.
Give directly to The Spokesman-Review's Northwest Passages community forums series -- which helps to offset the costs of several reporter and editor positions at the newspaper -- by using the easy options below. Gifts processed in this system are not tax deductible, but are predominately used to help meet the local financial requirements needed to receive national matching-grant funds.
Subscribe to the sports newsletter
Get the day's top sports headlines and breaking news delivered to your inbox by subscribing here.
---