A&E
'The Illusionists' star Adam Trent brings 'Holiday Magic' to Bing
Sat., Dec. 14, 2019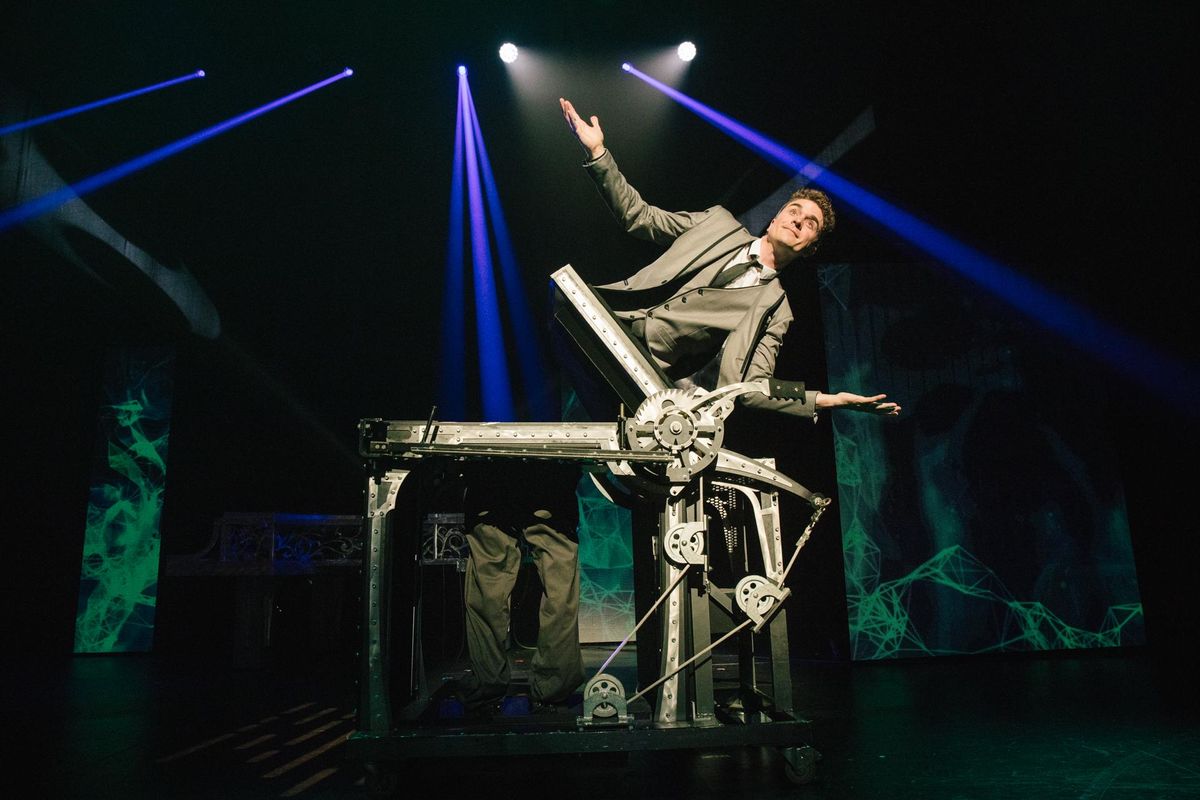 "The Illusionists" magician Adam Trent performs two shows at the Bing Crosby Theater on Dec. 22.
Magician Adam Trent can be seen online wowing the likes of Tyra Banks, Ryan Seacrest and Ellen DeGeneres, but it's not the same as seeing him work in person.
"Of all the art forms, magic is really meant to be seen live," Trent said in an interview with The Spokesman Review on Monday. "There is something about being in a room where you are witnessing these things with your own eyes."
Trent, one of the stars of the breakout Broadway and nationally touring show "The Illusionists," brings his solo production, "Adam Trent's Holiday Magic," to the Bing Crosby Theater on Sunday, Dec. 22.
Known for incorporating close-up magic, technology-based tricks, dance, comedy, large-scale illusions and crowd interaction, Trent said a live audience brings a sense of unpredictability to every performance.
"When you bring people onstage, the reactions every night are unique," Trent said. "I've had every conceivable reaction, especially when you put someone's phone in a blender."
Trent performed his blender trick on "The Ellen DeGeneres Show," where an iPhone is seemingly destroyed in a blender before inexplicably reappearing unharmed inside … well, somewhere else.
Other illusions in his arsenal include teleporting between two giant video screens, pulling real-life objects out of digital interfaces and finding playing cards in many, many impossible places.
"It's a mixture of everything – it's very important that the show is entertaining first and tricky second," Trent said.
His life as a magician began as a kid growing up in Boulder, Colorado.
"I got a book on magic, and eventually I started doing little kids' birthday parties," Trent said. "You just slowly climb the ladder, but I certainly never expected it to go to Broadway."
After performing throughout high school, college and eventually as a cruise ship entertainer, Trent landed with "The Illusionists" on Broadway and became one of the faces of the production.
"It was the first time magic had been on Broadway in like 25 years," he said. "We were competing against the likes of 'Wicked' and 'Hamilton,' and it was this huge hit."
"The Illusionists" eventually toured the country, and Trent made several TV appearances, including "Ellen," "America's Got Talent" and "Today." Trent also starred on his own 10-episode series, "The Road Trick," for Red Bull TV and Netflix.
Trent said the key to success for a great magician is learning how to be comfortable with deceit even when nobody is paying attention to a "trick."
"Starting out, I would walk around all day with this coin in my hands, and people never knew a trick was being performed," Trent said. "I had to get comfortable with being one step ahead just from a cognitive state."
The audience comes in expecting a magician to fool them, he said.
"I'm coming out onstage where 500 people know I'm going to lie, cheat and steal, and they all want me to do that," Trent said. "In every other part of life, lying, cheating and stealing is bad, but, in a magic show, we love it happening."
Adding even more variety to "Holiday Magic" is guest Evie Clair. The 16-year-old singer/songwriter reached the finals of Season 12 of "America's Got Talent." The show also chronicled her father's tragic battle with cancer.
Clair's first "America's Got Talent" audition video on YouTube had the third-highest view count in the world for 2018, and her albums, "Okay Day" and "Valentine," reached No. 6 on the iTunes charts.
"She's unbelievably great and big enough to tour on her own," Trent said. "One of the things about this show is putting something in for everyone – comedy, magic, music. It's really hard to find a show the entire family can come together and everyone truly enjoys it in their own unique way."
Local journalism is essential.
Give directly to The Spokesman-Review's Northwest Passages community forums series -- which helps to offset the costs of several reporter and editor positions at the newspaper -- by using the easy options below. Gifts processed in this system are not tax deductible, but are predominately used to help meet the local financial requirements needed to receive national matching-grant funds.
Subscribe to the Spokane7 email newsletter
Get the day's top entertainment headlines delivered to your inbox every morning.
---