Sports > Gonzaga basketball
Recap and highlights: Corey Kispert helps No. 6 Gonzaga earn rare road victory at No. 15 Arizona
Dec. 14, 2019 Updated Sat., Dec. 14, 2019 at 11:22 p.m.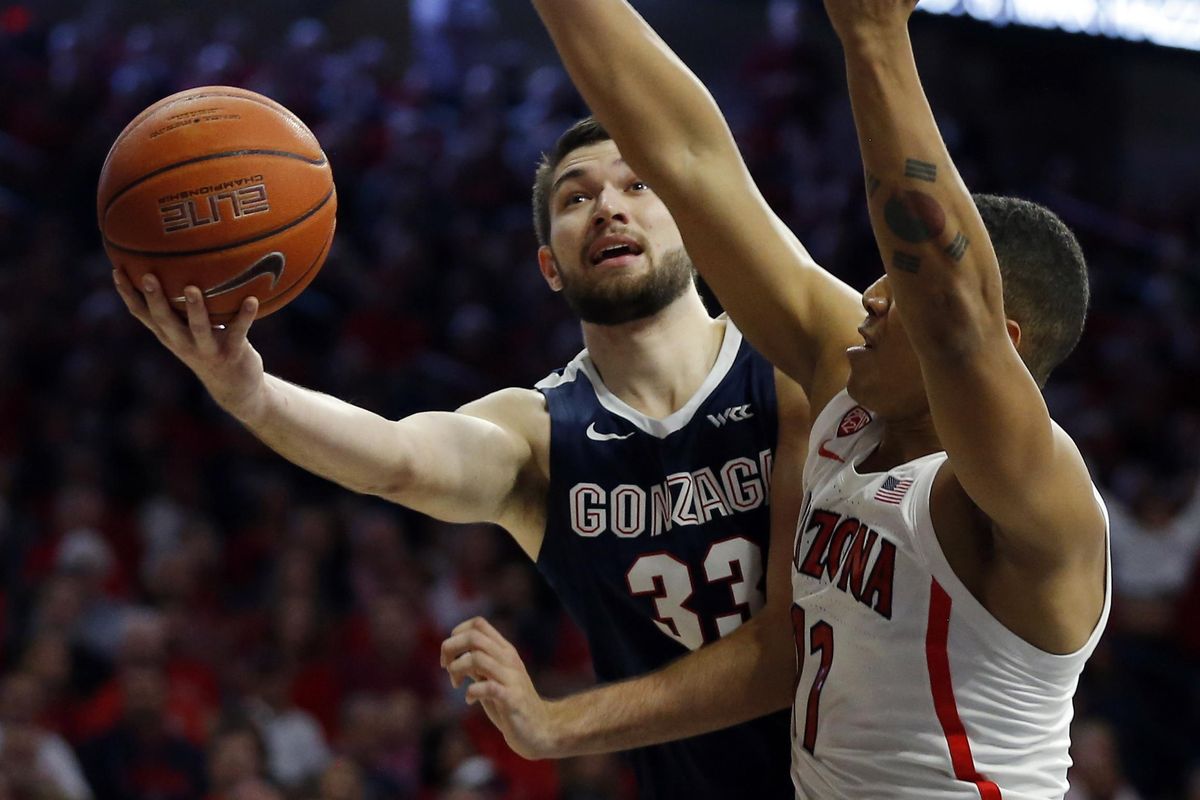 Gonzaga forward Killian Tillie (33) drives past Arizona forward Ira Lee in the first half of an NCAA college basketball game, Saturday, Dec. 14, 2019, in Tucson, Ariz. (Rick Scuteri / AP)
NEXT GAME: Wednesday, Dec. 18: North Carolina Tar Heels at Gonzaga Bulldogs, 6 p.m. PST TV: ESPN2
TUCSON, Ariz. – Corey Kispert scored 18 points to lead four Bulldogs in double-figures, and No. 6 Gonzaga held off No. 15 Arizona at the McKale Center on Saturday night.
Gonzaga looked primed to celebrate a big victory over a Pac-12 foe when it held a 16-point lead with 1 minute, 30 seconds remaining. However, Arizona fired off a 15-1 run over the next 1:20 to cut the GU lead to 2. Gonzaga guard Ryan Woolridge hit two free throws with 1 second left to finish the game off.
Filip Petrusev scored 16 points and grabbed seven rebounds for the Zags. Joel Ayayi added 15 and Admon Gilder came off the bench to add 13 points on 4-of-4 shooting from 3-point range.
Josh Green led Arizona with 17 points but took 15 shots to get there. Foward Zeke Nnaji powered UA from the inside with 16 points and 17 rebounds.
Nnaji gave the Zags' big men fits as he muscled his way to eight offensive rebounds. Arizona grabbed 17 offensive rebounds but only out-rebounded the Zags by one, 44-43.
Arizona, behind Nnaji's play inside, jumped on the Bulldogs early. UA led by nine with 11 minutes left in the first-half before the Zags started to claw back.
Kipert gave GU its first lead when he connected on a transition 3 with 1:20 left in the first half.
The Zags had two big runs in the second half to build their big lead. A 12-0 run pushed the lead to nine early in the half and an 8-0 run later pushed the edge to 16 before Arizona's rally.
Gonzaga shot 47.5% from the field and 39.1% from 3-point range. Arizona shot 38.5% and made 8 of 30 from 3.
Each team scored 38 points in the paint, but Gonzaga found an edge in transition. The Zags outscored the Wildcats 23-9 in fast-break points.
Woolridge finished with eight points and four assists in 38 minutes for Gonzaga.
Chase Jeter and Dylan Smith each scored 10 for Arizona. Wildcats freshman point guard Nico Mannion was held to seven points on 3-of-20 shooting.
Pac-12 Networks / YouTube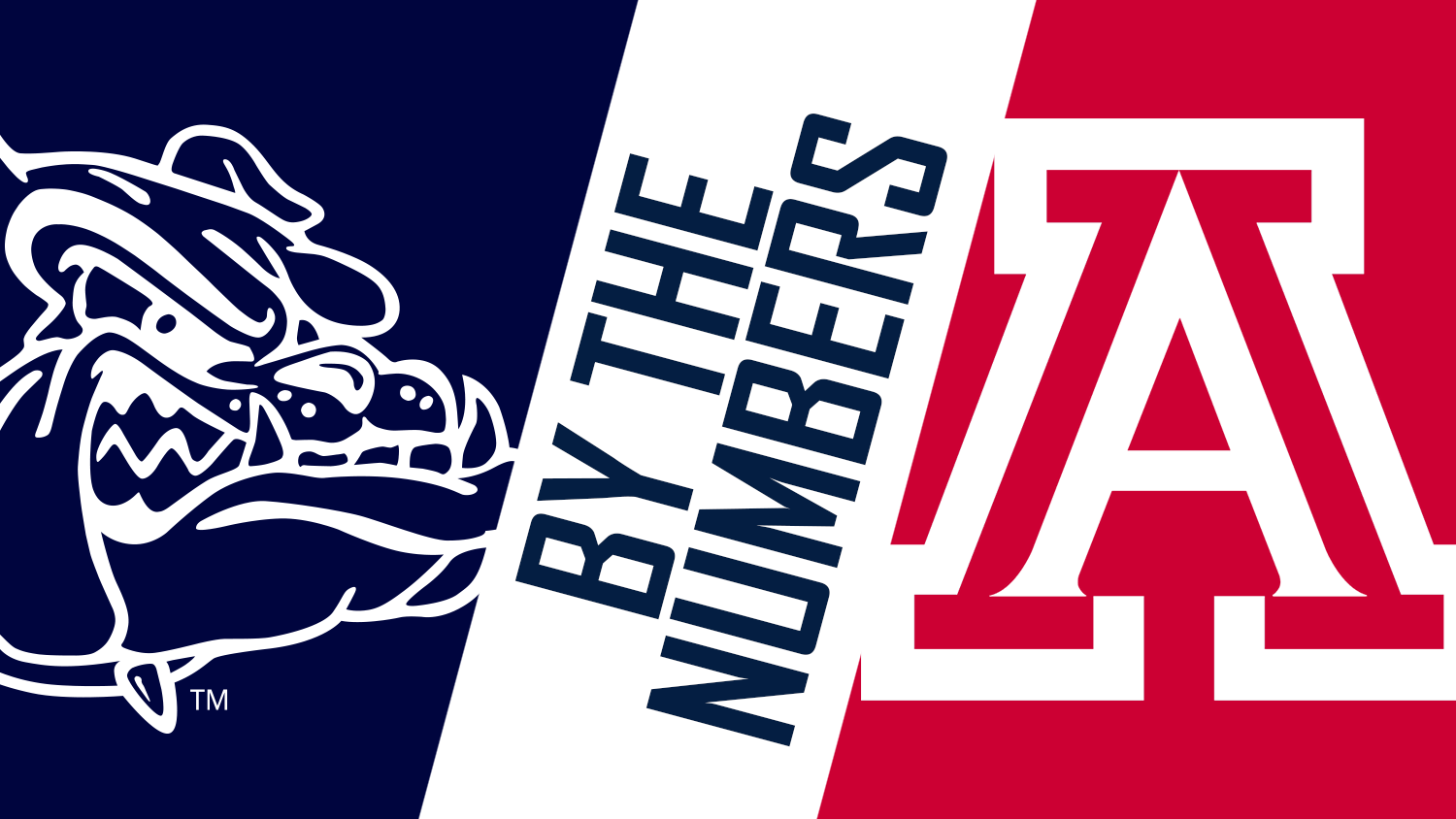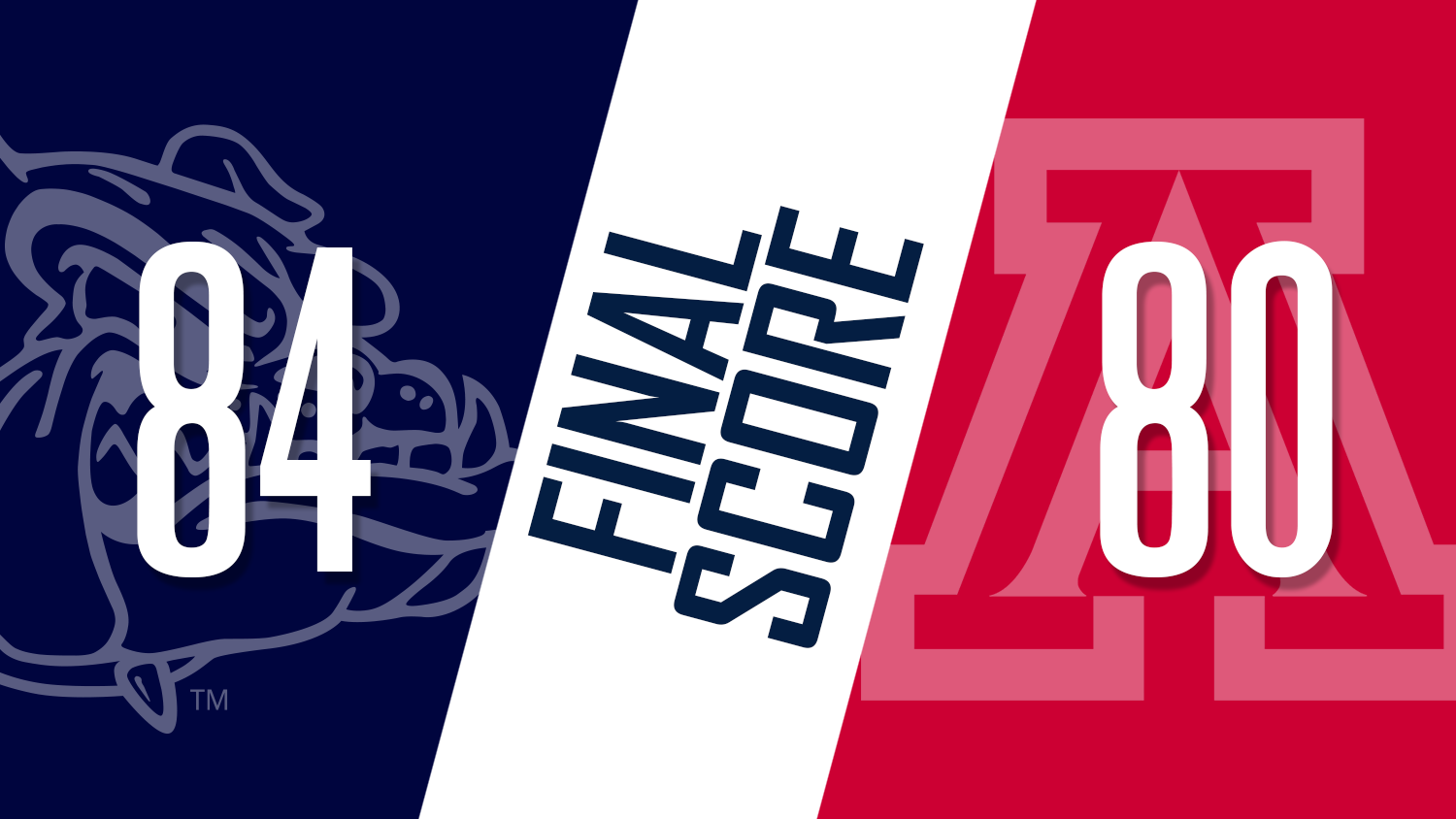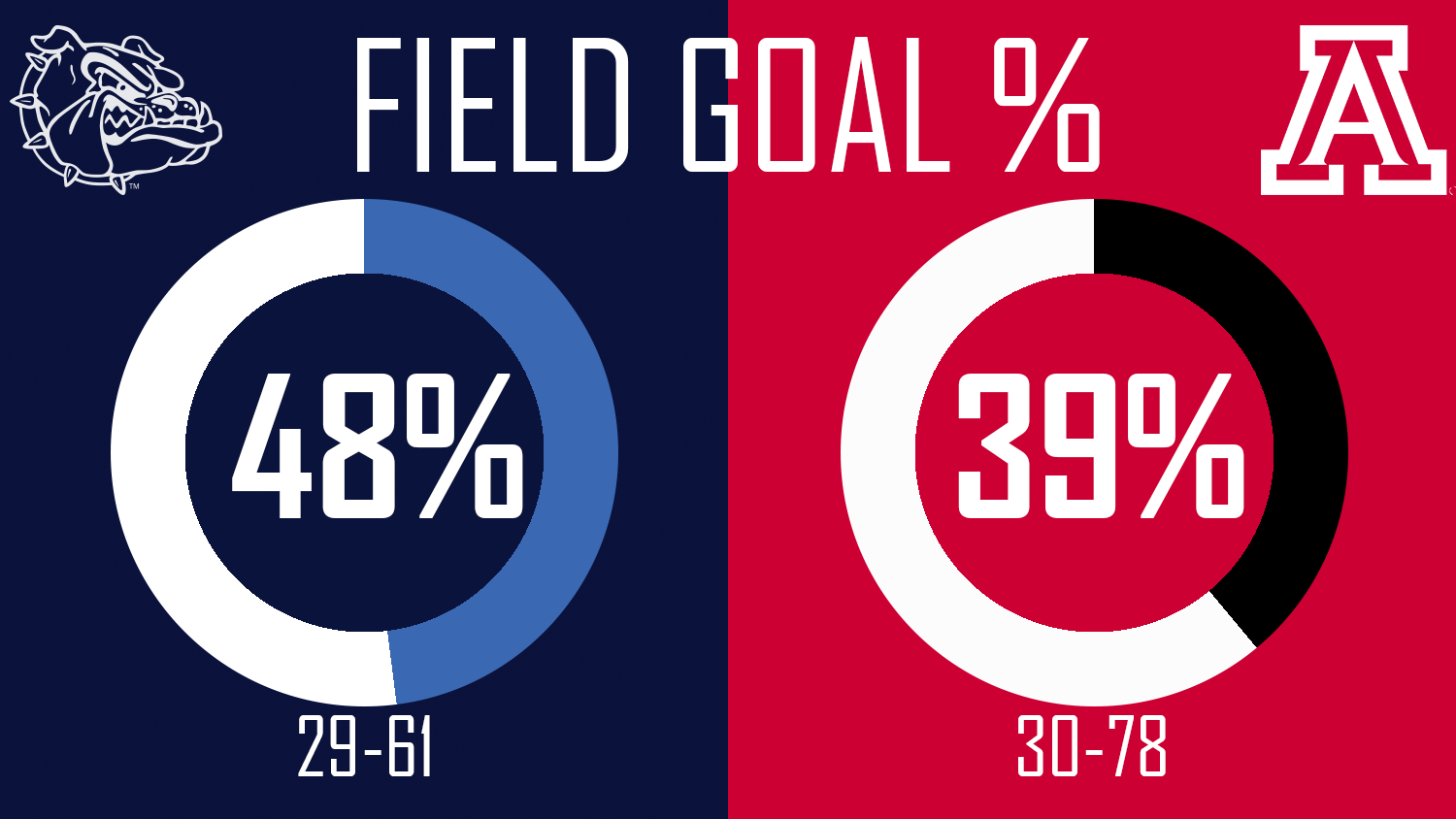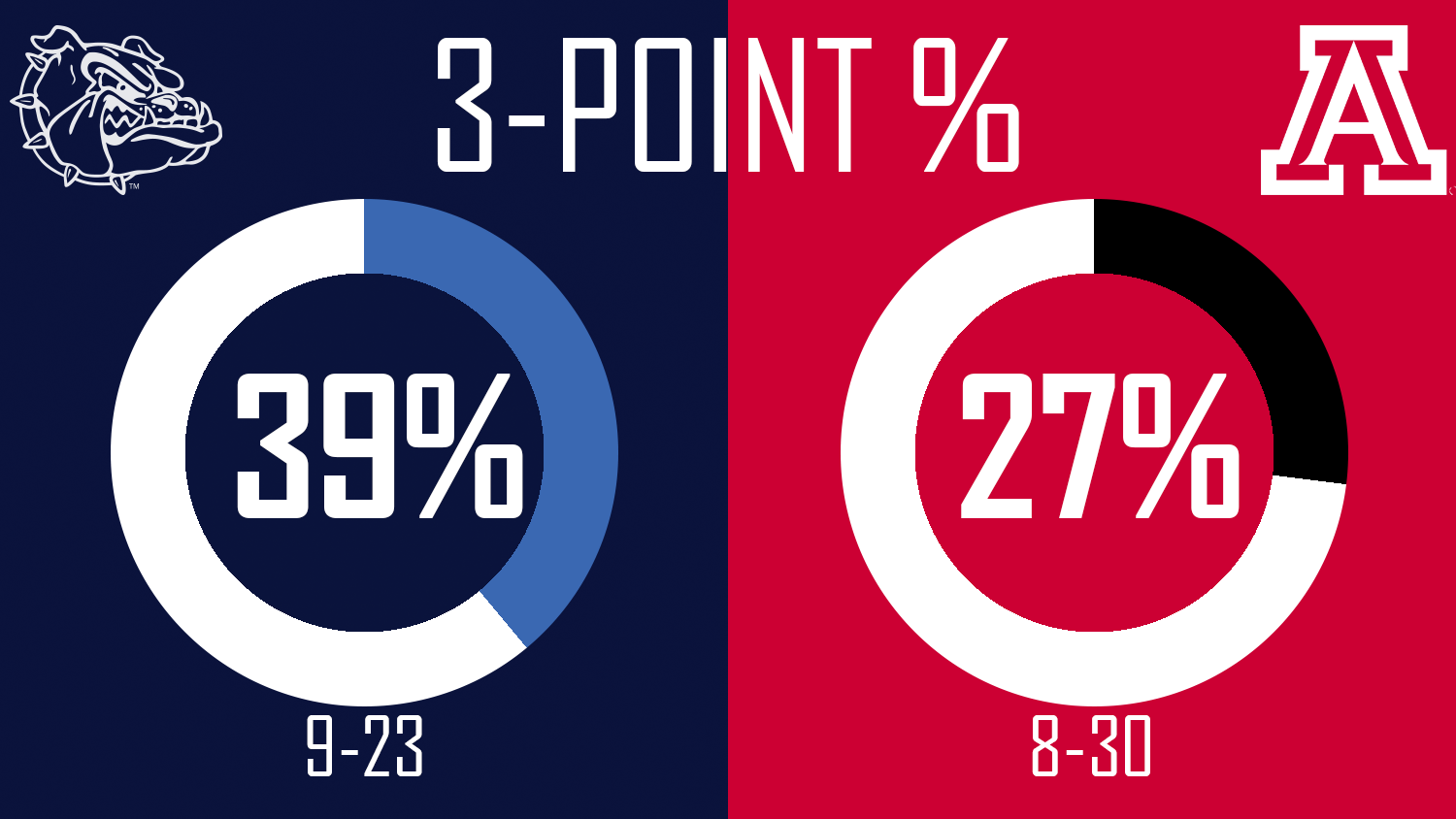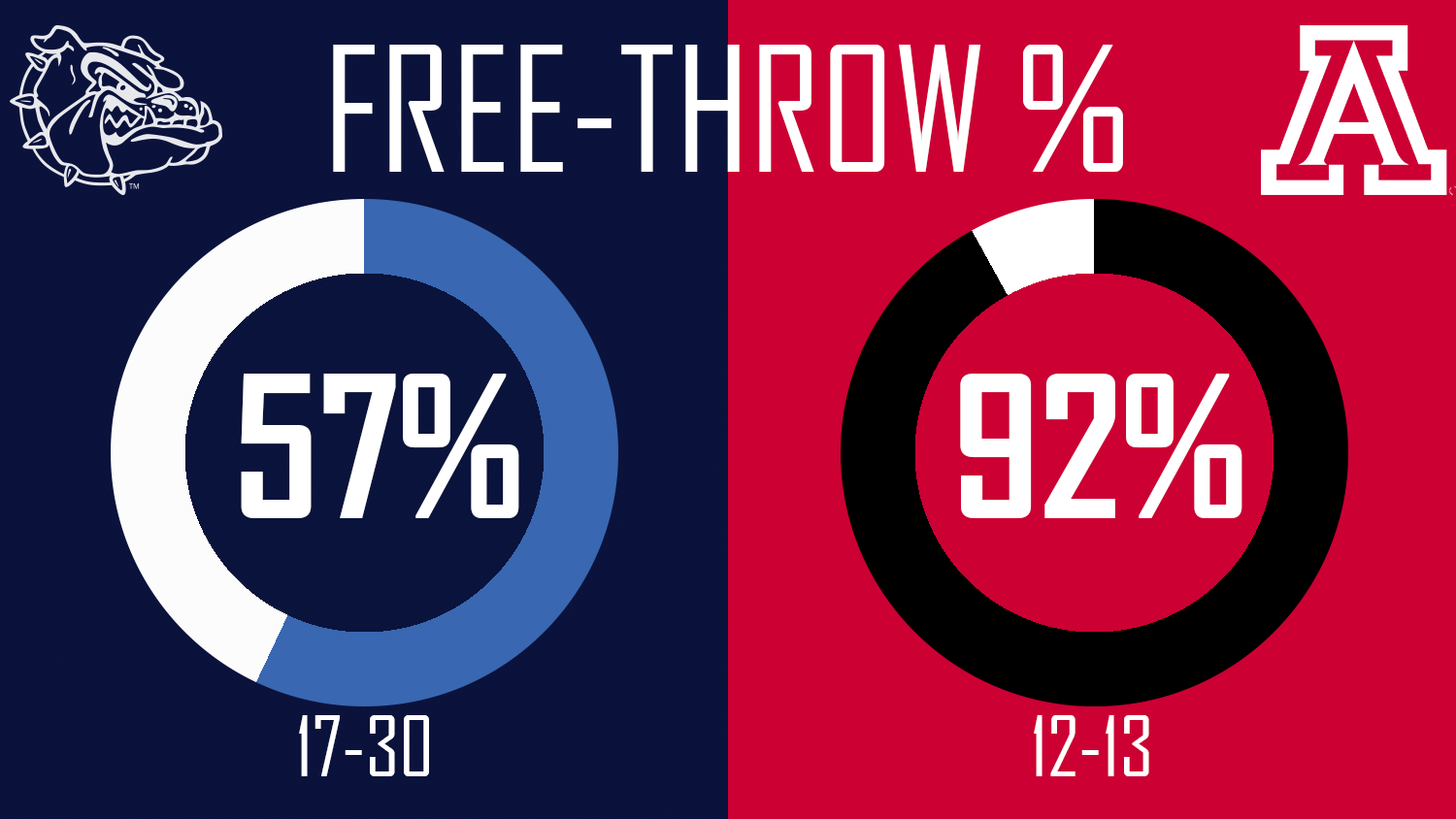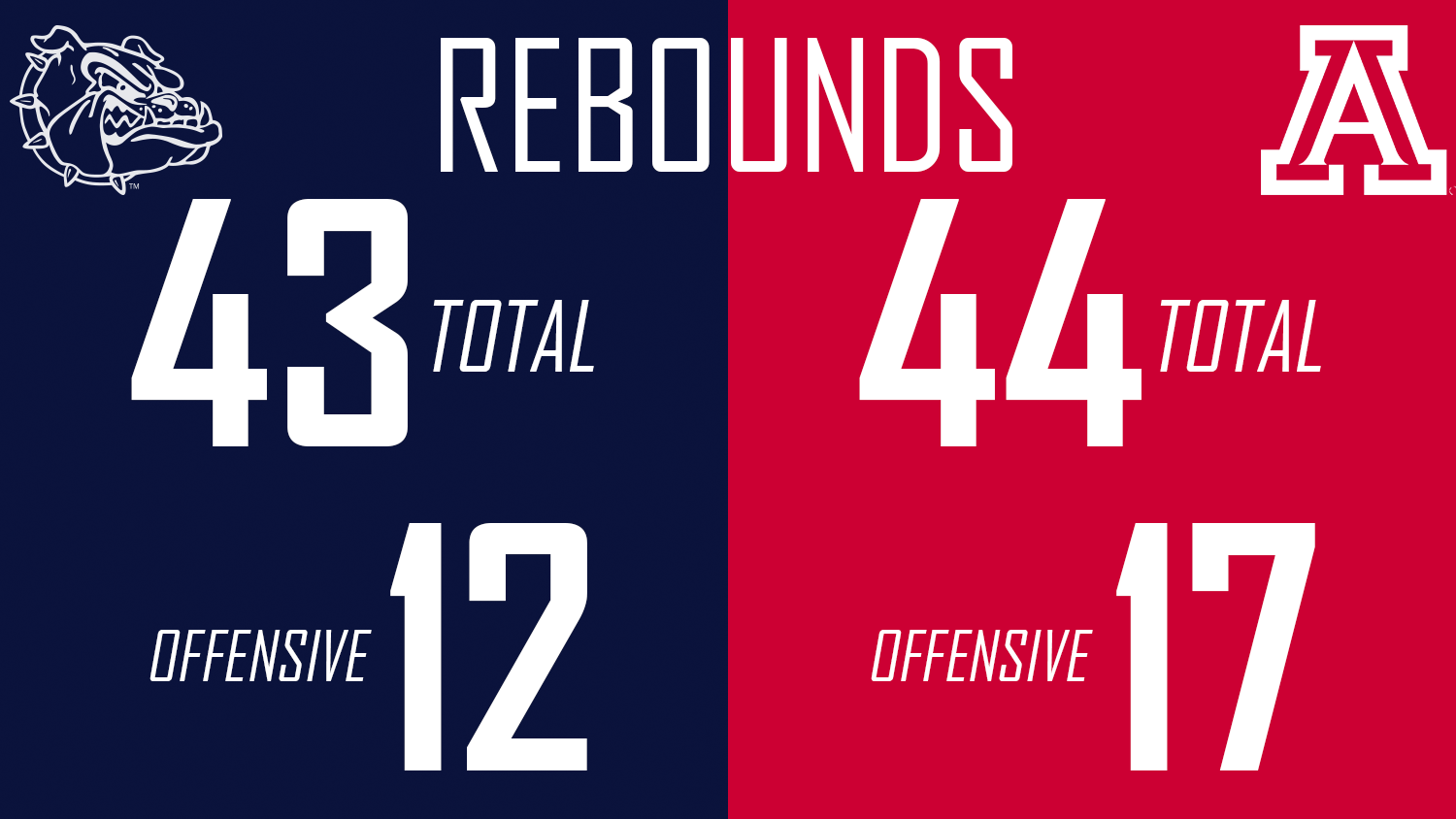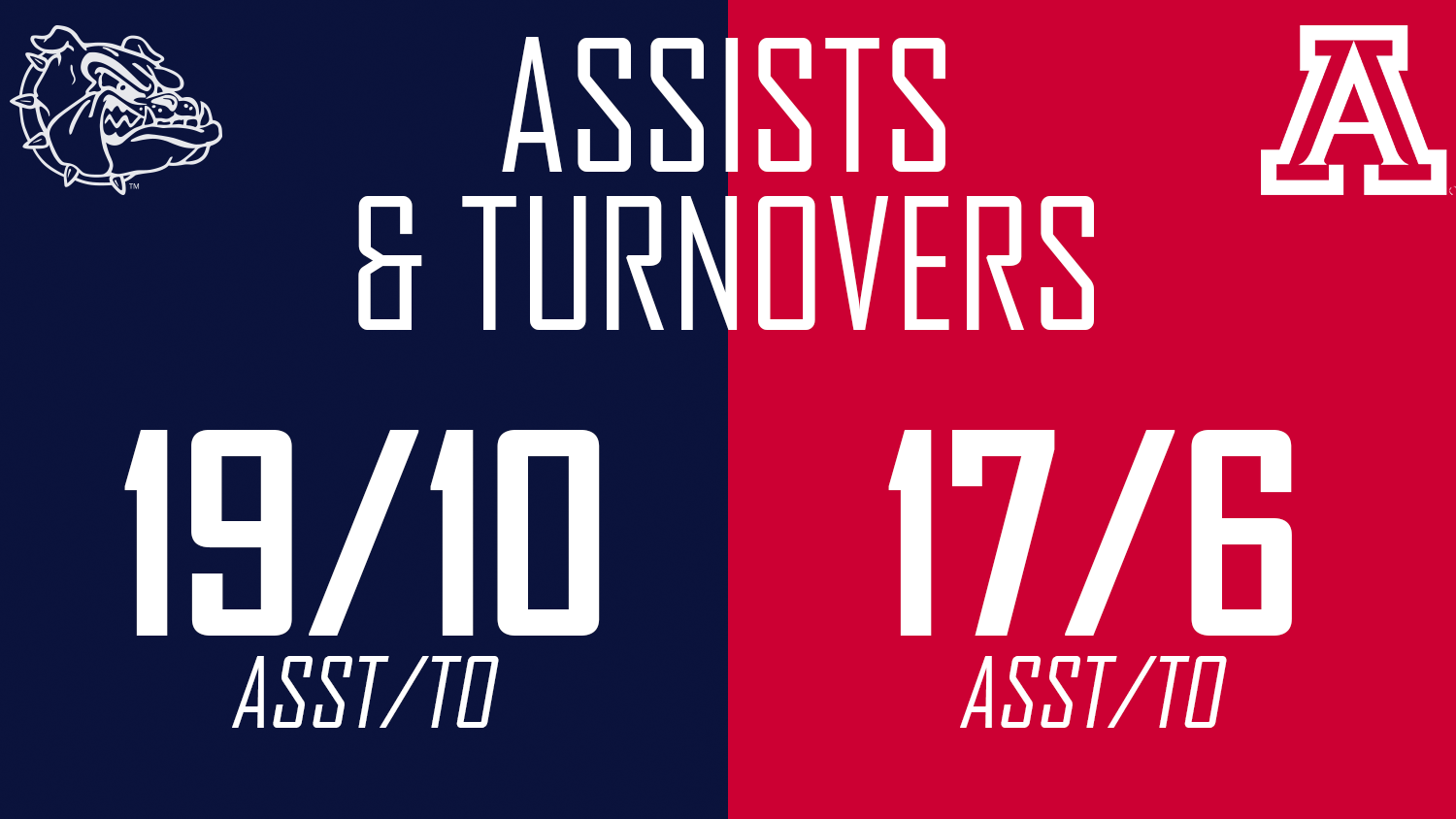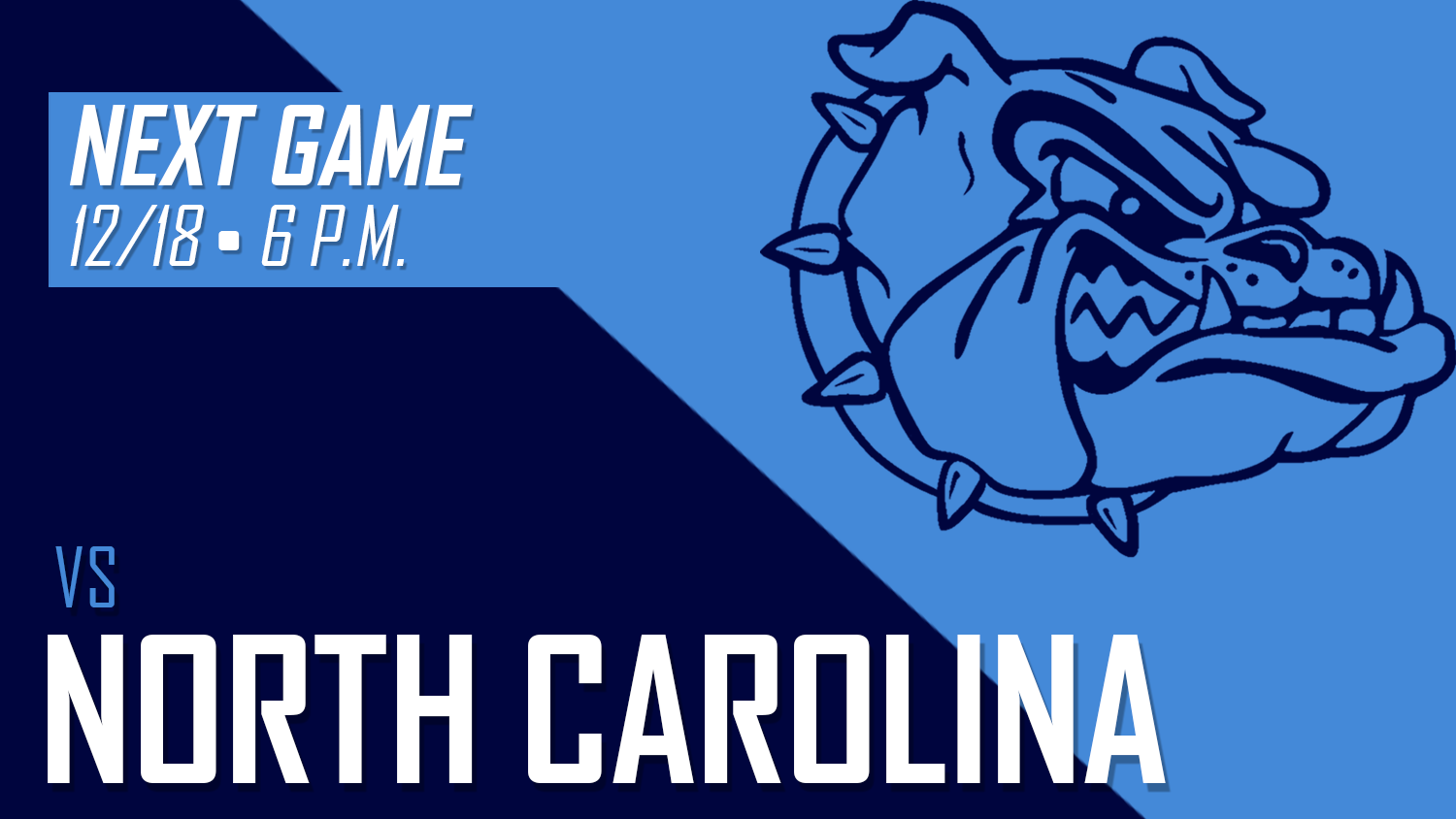 First half
15:42 – Arizona 10, Gonzaga 4: Wildcats forward Zeke Nnaji has four points and two rebounds as Arizona has out-muscled the Bulldogs inside early.
Nnaji, who has only been credited with one offensive rebound, has corralled two Arizona misses in the key and forced two Zags bigs into fouls.
Arizona is outrebounding Gonzaga 8-4.
Killian Tillie and Ryan Woolridge each have two points for Gonzaga. Tillie and substitute forward Drew Timme have been charged with GU's fouls.
11:55 – Arizona 16, Gonzaga 10: Zeke Nnaji is up to eight points in five minutes as Arizona continues to find success in the paint.
Nnaji is 2 of 2 from the floor and 4 of 5 from the line. The forward also has two rebounds.
Guards Joel Ayayi and Ryan Woolridge each have three points for Gonzaga.
Gonzaga is shooting 33.3% from the field.
7:58 – Arizona 19, Gonzaga 17: A 7-0 run over the last 2-minutes, 33-seconds for the Bulldogs has Gonzaga within two.
The Bulldogs got two baskets from Drew Timme sandwiched around a 3-pointer from Admon Gilder.
Arizona hasn't scored in 3:08 and is 1 of their last 13 shooting.
Timme leads the Zags with six points.
Zeke Nnaji has eight points for Arizona.
3:34 – Arizona 30, Gonzaga 28: The Wildcats lead by 2 at the under-4 timeout behind 10 points and six rebounds from Zeke Nnaji.
Nnaji has five offensive rebounds and is 3-of-4 shooting.
Gonzaga is led by guard Joel Ayayi's eight points. Drew Timme has six points and Filip Petrusev has four.
Gonzaga has shot 44.4% from the field. Arizona is at 32.4% and is just 1 of 13 from 3-point range.
Josh Green has nine points for Arizona.
Half – Gonzaga 35, Arizona 34: Corey Kispert connects on a 3-pointer with 1:20 left in the half and Gonzaga takes its first lead.
A driving layup by Nico Mannion pulled Arizona back even before Joel Ayayi hit a free throw to get to the halftime score of 35-34.
Halftime
Half – Gonzaga 35, Arizona 34: Joel Ayayi has eight points, Corey Kispert has seven and balanced Gonzaga leads Arizona by 1 at halftime.
Seven Bulldogs have scored, with Drew Timme chipping in six points and Filip Petrusev adding five.
Arizona has found its most success inside. Josh Green leads the Wildcats with 11 points, but forward Zeke Nnaji has powered UA. Nnaji has 10 points and nine rebounds. He has pulled down five offensive rebounds, while the Wildcats as a team have 12. Arizona leads the rebounding battle 26-22.
Gonzaga took its first lead with 1:20 left in the half on a transition 3 by Kispert. The Zags have 10 fast-break points, UA has 0.
Second half
15:37 – Gonzaga 47, Arizona 45: Joel Ayayi has four points in the first four minutes of the second half and the Zags lead by 2.
Ayayi continues to lead the Zags with 12 points on 4-of-6 shooting.
Zeke Nnaji leads Arizona with 12 points and 10 rebounds.
Gonzaga is facing foul trouble for the first time this season. Starting forward Killian Tillie has three fouls, Filip Petrusev and Corey Kispert each have two. Substitute forward Drew Timme also has two fouls and Anton Watson has not returned to the game after leaving with an apparent shoulder injury in the first half.
12:24 – Gonzaga 54, Arizona 45: The Zags have pushed the lead to 9 behind a 12-0 run over the last 4 minutes.
Arizona is 0 for its last 6 shooting and hasn't scored in 4:27. The Wildcats have three turnovers in that span.
Arizona is shooting 30.8% from the field and has hit just 2 of 20 3-point attempts. Gonzaga is shooting 47.6% from the field and 42.9% from 3.
Joel Ayayi still leads the Zags with 12 points.
7:10 – Gonzaga 69, Arizona 55: The Bulldogs rip off an 8-0 run for their largest lead of the game.
Corey Kispert got hot during the 1-minute, 40-second run and now leads the Zags with 14 points. Admon Gilder is up to 12 points on 4-of-4 shooting from 3-point range.
Zeke Nnaji leads Arizona with 14 points and 14 rebounds.
3:36 – Gonzaga 73, Arizona 65: The Wildcats chip away at Gonzaga's lead with a 10-4 run fueled by Josh Green.
Green had six points during the run and is up to a team-high 17 in the game.
Gonzaga has four players with double-digit scoring, led by Corey Kispert's 16 points. Filip Petrusev has 13, and Admon Gilder and Joel Ayayi each have 12.
Final – Gonzaga 84, Arizona 80: Corey Kispert scored 18 points to lead four Bulldogs in double-figures and No. 6 Gonzaga held off No. 15 Arizona at the McKale Center in Tucson, Arizona.
Starting 5
Pregame
More on the Zags
Local journalism is essential.
Give directly to The Spokesman-Review's Northwest Passages community forums series -- which helps to offset the costs of several reporter and editor positions at the newspaper -- by using the easy options below. Gifts processed in this system are not tax deductible, but are predominately used to help meet the local financial requirements needed to receive national matching-grant funds.
Follow along with the Zags
Subscribe to our Gonzaga Basketball newsletter to stay up with the latest news.
---