Christmas Bureau volunteers provide advice on books and toys to those in need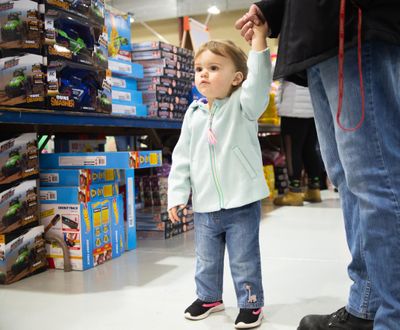 The piles of toys at the Christmas Bureau are shrinking as people in need of help line up to receive a food voucher, a toy and a book for each child in the home. Even the mountain of 8,604 stuffed animals collected at the Spokane Chiefs Teddy Bear toss has been reduced to a mound.
The Bureau served 14,818 people in 3,992 households in the first four days it was open last week and 8,448 of those were children. Those numbers will grow substantially before the Bureau closes its doors Friday.
One of the people standing in line early Monday morning was Katrina Vansant. She has six children under the age of 10, and last year she adopted a family member who is now 15. This is her third time visiting the Bureau for help. "It seems like we always get a downfall this time of year," she said. "Last year, my fiance got sick."
Her fiance has a good job, but an old debt resurfaced and his paycheck is being garnished. He took a second job on the weekend in an attempt to fill the gap and is now working seven days a week, Vansant said. "It's still not happening," she said.
She stays home to take care of the children, the youngest of whom is 1. She said she appreciates being able to come to the Bureau for help.
"It's a huge blessing for our family, to know that they'll wake up Christmas morning with something under the tree," she said.
Parents also get a book for each child. Most parents have an idea of what their child likes, but the book table is staffed by retired teachers and librarians and book lovers who are always ready to make suggestions if needed.
Retired Volunteers of America director Marilee Roloff has been giving books for 35 years. Though she retired in 2016, she still helps buy the books for children younger than 5 and is at the Bureau almost every day to make book recommendations for parents.
"I look for color with the board books," she said on deciding what books to buy. "I look for simple. I look for diversity. I try to do some girlie, then I have some trucks and tractors. I try to have something for everyone."
Roloff took a poll of her fellow book volunteers to see what's popular this year. In the ages 0-3 category, "Hop on Pop" by Dr. Seuss is a big one. "It's a classic," Roloff said.
Princesses and super heroes have been popular for ages 4-5. "Any super hero, any princess, it doesn't matter," Roloff said.
Barbie and Pete the Cat books top the list for ages 6-7. Lego books, Goosebumps and books based on the movie "The Descendants" have been moving off the tables for ages 8-10. Star Talk books featuring astrophysicist Neal deGrasse Tyson have been popular with ages 11-14, as have gaming books.
"They're flying off the shelves," Roloff said of the gaming books.
Donations
Both Christmas and the Christmas Bureau goal of raising $535,000 to pay for food vouchers, books and toys are approaching, but of the two, Christmas is approaching faster. New donations of $15,031 have brought the year to date total to $253,001.59.
Lanzce G. Douglass Inc. gave $5,000. William and Mary Murphy, of Spokane, donated $1,500. Jack and Pat Russell, of Spokane, gave $1,000. "We donate this in memory of our parents, Rob and Rose Russell and Marie and Joe Sullivan, who were always generous in their gifting," they wrote. "We hope all the families served by the fund will have a joy filled holiday with their families."
BPS Supply Company donated $1,000. "BPS Supply Company is very blessed to have the support of our fabricator and customer base," the BPS team wrote in a letter. "We would like to donate $1,000 for the less fortunate of Spokane because we want everyone to have a very, Merry Christmas. A big 'Thank you' to The Spokesman-Review and all the volunteers."
Mark and Valerie Sonderen, of Spokane, gave $1,000. "We are thankful for the opportunity to help members of our community during this holy and blessed season of Christmas," they wrote. "May all find hope and support in the New Year."
Gary and Susan Bloom, of Spokane, sent $500. Jerry Bart, of Spokane, gave $500 via PayPal. An anonymous Spokane donor gave $500, writing "This donation is in memory of Don Kelly, who loved working at the Christmas Bureau. He worked from the set up until the very last toy was put away."
An anonymous Spokane donor gave $350, writing "We are so grateful to the Review for sponsoring this event. We happily contribute money, and this year we are working every day. The volunteers who assemble and run this are amazing. Merry Christmas everyone."
William and Nancy Henry, of Spokane, gave $300 in memory of their parents, Bo and Mary Henry and Robert and Marian Heglar. "Thank you for all you do for our community," they wrote.
Karen and Steve Heaps, of Greenacres, contributed $300. "Again, thank you to all the volunteers who help make Christmas a little brighter this year," they wrote. Karen Roen, of Spokane, sent $300 "in memory of Larry Campbell. Merry Christmas to all."
Christine Carroll, of Spokane, sent $300. "As we bid adieu to 2019, we say bienvenue to 2020 and a new decade," she wrote. "This is truly a wondrous time of year! Thank you Spokane for being a generous and caring city. I live in the best city in the country."
An anonymous Valleyford donor sent $225, writing "Please accept this donation in memory of my parents, Don and Lois Johnson, and my niece, Devin Johnson. Also in honor of Pinki Culbertson, a longtime volunteer with the Christmas Bureau. You go girl!"
An anonymous Spokane donor gave $200, as did an anonymous Spokane Valley donor. An anonymous Saltese donor sent $200. Redlin Valley Properties, of Spokane Valley, gave $200. Edward Fisk gave $150 via PayPal.
Mart Mace gave $101 via PayPal. Mary Ann Drewniak, of Spokane, contributed $100. Bruce and Sharon Anthony, of Spokane, sent $100, as did Dave Broom, of Spokane. The Pop family of Nine Mile Falls gave $100. Patricia Korn, of Spokane Valley, donated $100. John Steiner, of Spokane, sent $100. Gary Mundel, of Spokane, and Mary Nagel each donated $100 via PayPal.
An anonymous donor contributed $75 via PayPal.
Emil and Leslie Wunderle, of Spokane, contributed $50. An anonymous donor gave $50. Elinor Iverson, of Spokane, gave $50. "I hope this small donation will help those in need," she wrote. "I have been very blessed in my life." An anonymous Spokane donor gave $50 in memory of Cathy Gheri. Gary Fiscus, of Liberty Lake, donated $50 via PayPal.
Jay and Debbie Humphrey, of Spokane, sent $45. Linnea Carlson and Conrad Sykes, of Spokane, donated $25. Shari Moscatelli, of Spokane, gave $10 via PayPal. "If possible, I would like this to go toward buying books," she wrote.
---