A&E
Gonzaga memories of China Dragon, Kim's Korean Restaurant in Spokane linger
Dec. 17, 2019 Updated Tue., Dec. 17, 2019 at 4:04 p.m.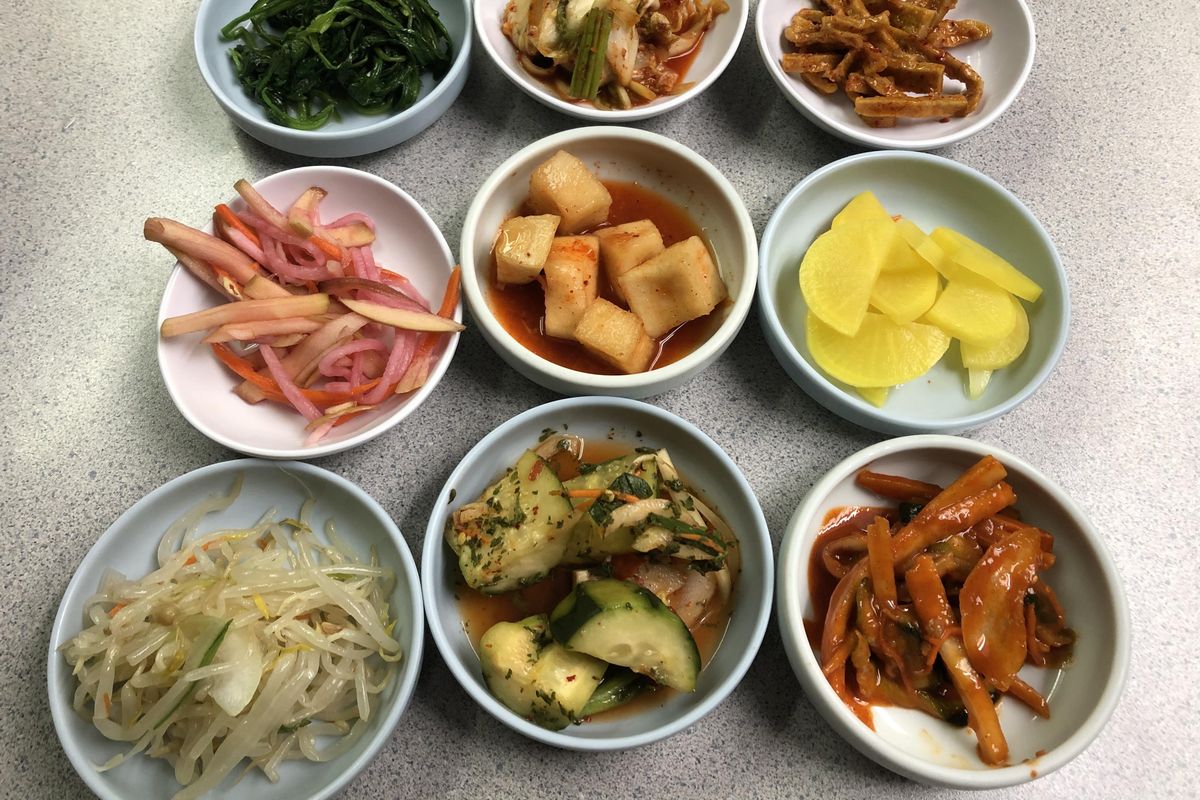 An array of complimentary Korean side dishes, or banchan, at Kim's Korean Restaurant on North Division near Gonzaga. (Don Chareunsy / The Spokesman-Review)
The Spokesman-Review's photo editor, Liz Kishimoto, and I have a number of important things in common. She and I are the only minority managers at this 136-year-old newspaper and carry the diversity flag proudly. We both live in this city that isn't known for its ethnic cuisine, but I have been pleasantly surprised since returning to the Lilac City in April.
In the short amount of time that I've gotten to know Liz, she and I, as well as other Spokane friends, have made a concerted effort to dine at quite a few Asian restaurants in Spokane, and they've been overall good. The list includes Chinese, Japanese, Korean, Thai, Vietnamese and Indian, not bad for a city "not known for its ethnic cuisine."
Liz and I also are both alumni of Gonzaga, she in the class one year ahead of me. Despite both of us holding degrees in journalism, our paths never crossed on campus. I was involved in the college newspaper, the Gonzaga Bulletin, all four years and was the editor the first semester of my senior year. Liz wasn't involved because, as she says, "I hung out with my Hawaii friends."
So it was a surprising response from her when I recently suggested that we go to dinner at China Dragon. "You mean the Chinese restaurant across the street from NorthTown Mall? We went there all the time in college," Liz said.
"So did we! How did our paths never cross in college, if not on campus, then in restaurants?" I replied. During dinner at China Dragon, which one year was a fun and very filling Christmas Eve dinner for my family, Liz and I discovered that we also dined at the same Korean restaurant near campus (and a buffet on North Division, but this is the only mention it's getting here).
Let's commence our trip down memory lane.
China Dragon
China Dragon (27 E. Queen Ave.; 509-483-5209; chinadragonspokane.com) is your quintessential Chinese restaurant. The restaurant, open since 1987 per its website, offers familiar Chinese dishes that are served in ginormous portions – leftovers for at least two days – and at reasonable prices.
Combination plates are the way to go because you get the best-of menu items, including egg flower soup; egg foo young; sweet and sour in the form of chicken, spare ribs and pork; chicken also in the form of almond, basil, sesame, curry and spicy and crispy; and much more. The American addition of gravy is ever-present, which Liz and I are not mad about at all.
My college BFF Linda Smith, whose late father was white and mother is Vietnamese and was raised in Boise – who would've guessed it with her name? – and I had many a comfort food occasion at China Dragon.
It was nice to take a trip down memory lane to China Dragon with Liz, and it's nice to know that China Dragon is still there – at Christmas Eve and all year long.
Kim's Korean Restaurant
This is what happens when you get older. Memories fade, and the occasional and harmless revisionist history occasionally occurs. Liz and I remember fondly a Korean restaurant near campus during our college days. We thought that it was Kim's Korean Restaurant (1314 N. Division St., 509-326-3187; no website).
But I don't think that this is the same Korean restaurant from our GU days. A Google search says that Kim's opened in 2002. Maybe the restaurant has new owners, or maybe it's a new name. It doesn't matter, though, because the family-run Kim's serves excellent Korean food in a casual, low-key and cozy location.
It's the food that matters here, and Kim's doesn't disappoint. We devoured bibimbap (rice, beef, mushrooms, kimchi), japchae (stir-fried glass noodles), Kim's Special Noodles (thicker, stir-fried udon-like noodles) and bulgogi (grilled meat, it literally means "fire meat") alongside an array of complimentary Korean side dishes, aka banchan, which is the norm at Korean eateries.
I could fill up on banchan alone in all its variety of flavors and textures, many of them pickled, fermented and spicy: cabbage, daikon and cucumber kimchi (a Korean cuisine staple); sweet and thinly sliced fish cakes; spinach; bean sprouts; and much more.
While I absolutely love Asian cuisine – readers of the S-R's Food section on Wednesdays and this new Running Tab column know that I've recently written about pho and Spokane's lack of a true dim sum restaurant – I enjoy all types of cuisine. Period.
Alongside China Dragon and Korean, my friends in college and I also dined fairly frequently at Frankie Doodles when it was open until the wee hours of the morning (nowadays it closes at 8 or 9 p.m.); the Olive Garden, the downtown location now long gone; and Tomato Bros., which is now Tomato Street, on North Division. We dined at Tomato Bros. before Spring Formal at the Davenport our senior year.
Hmmm … Asian and Italian. It's not a new concept – the Italian-Japanese restaurant Trattoria Nakamura-Ya is a little gem in Las Vegas' Chinatown – but why not here in the Lilac City. Kanpai and salute!
Local journalism is essential.
Give directly to The Spokesman-Review's Northwest Passages community forums series -- which helps to offset the costs of several reporter and editor positions at the newspaper -- by using the easy options below. Gifts processed in this system are not tax deductible, but are predominately used to help meet the local financial requirements needed to receive national matching-grant funds.
Subscribe to the Spokane7 email newsletter
Get the day's top entertainment headlines delivered to your inbox every morning.
---