News > Spokane
'We are patriots': Protesters rally for impeachment in Spokane
Dec. 17, 2019 Updated Tue., Dec. 17, 2019 at 8:43 p.m. Two people in the same car heading east on Interstate 90 Tuesday afternoon had opposite reactions to protesters gathered on the pedestrian bridge at South Ray Street with signs in support of impeaching President Donald Trump.
One occupant directed their middle finger toward the bridge, while the other person waved amicably – a symbol, some protesters said, of America's divided feelings toward the man in the White House. Numerous others honked, waved and gave either thumbs-ups or thumbs-downs to the protesters.
The House Judiciary Committee approved articles of impeachment against Trump last week, and the House is expected to vote on them Wednesday.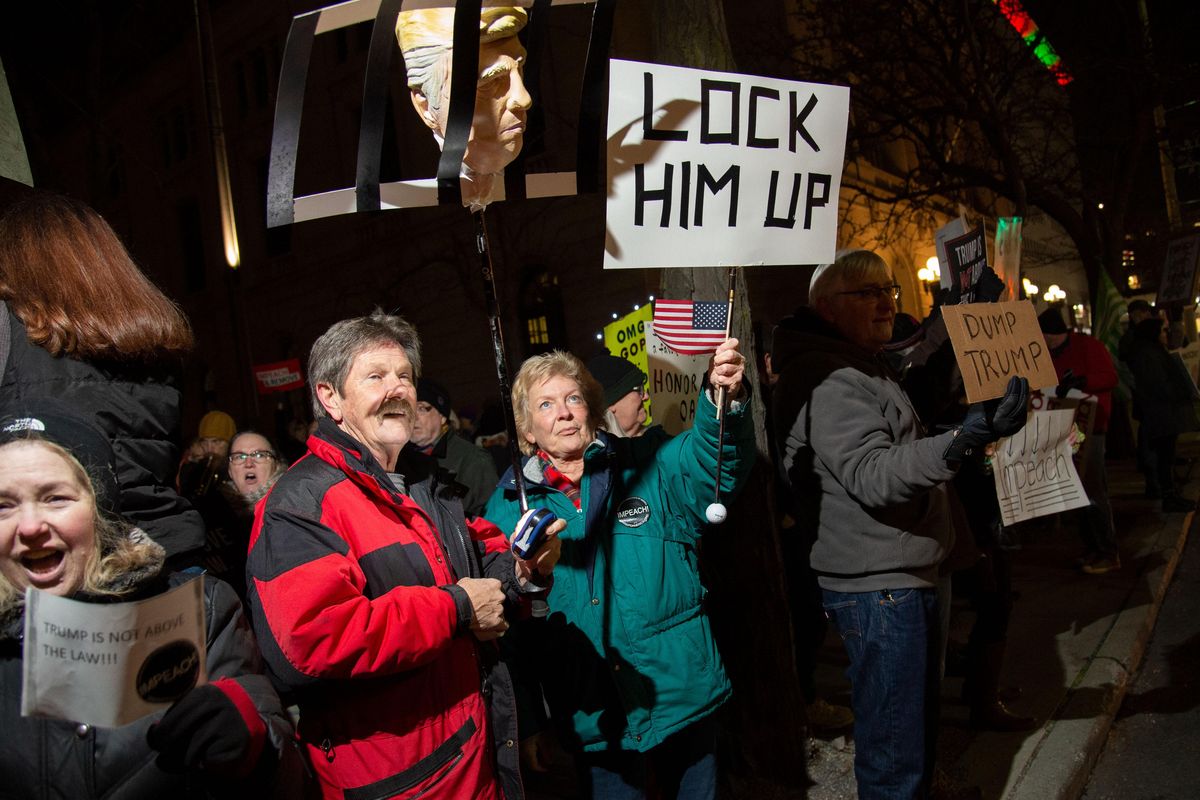 Hundreds of protesters showed their support for Impeaching President Donald Trump during an impeachment rally Tuesday night in the courtyard of the Thomas S. Foley Federal Courthouse. (Colin Mulvany / The Spokesman-Review)
The articles charge Trump with abuse of power for pressing the Ukrainian government to investigate the son of political rival Joe Biden and with obstructing Congress by blocking the inquiry into his actions.
At least 600 pro-impeachment protests were planned around the nation Tuesday, according to national organizers, and upward of 30 people made their way to the I-90 pedestrian bridge around 2 p.m. for more than an hour of sign waving.
More than 200 people later gathered outside the Thomas S. Foley U.S. Courthouse for a pro-impeachment rally at 5:30 p.m. The Spokane Police Department closed West Riverside Avenue between North Monroe and South Lincoln streets just before 6 p.m. Some protesters flooded the street, while others went to each end of the block to be seen by passing traffic.
Protesters chanted, "Lock him up," a play on a slogan Trump and his supporters repeated often during his 2016 campaign to call for criminal prosecution of Hillary Clinton for her handling of her emails.
A person in an inflatable baby Trump costume danced to drum music, and protesters read the articles of impeachment over a loudspeaker.
Joseff Pentico, a 21-year-old Spokane Falls Community College student, said the large showing at the rally showed that the country may not be as divided as people think.
"It shows a lot to everyone else that we really care about this and everyone else should," said Sofia Ramos, a 19-year-old SFCC student who was with Pentico.
Several pro-Trump counterprotesters carrying signs and flags were embroiled in disagreements with pro-impeachment protesters throughout the rally, which mostly was dispersed by about 6:30 p.m., when police began to reopen Riverside.
The impeachment inquiry coming so soon after the Mueller report "was almost like a worst nightmare," said 23-year-old Cameron Goodman, who found out about the rally on social media. "I legitimately worry for our democracy."
"We need to look at the Constitution," said Claire Rudolf Murphy, who was protesting with her husband and friend. "We want the Senate to do their job."
Toward the end of the rally, first-time Congressional candidateChris Armitage, a 27-year-old U.S. Air Force veteran, who plans to run against Rep. Cathy McMorris Rodgers, spoke about the need to impeach Trump.
"We're ready to demand a change," Armitage said over a speaker from the middle of Riverside.
He also stood with protesters on the I-90 pedestrian bridge earlier in the day and collected signatures to put his name on the 2020 ballot.
Armitage, a former base defense operations controller and law enforcement officer, said Trump requesting foreign governments to investigate a political adversary is alarming from a national security standpoint. He also said McMorris Rodgers' opposition to the impeachment inquiry, which she told KHQ was a sham, is concerning to him.
"I'm grateful for people who take time out of their day to use their First Amendment right," Armitage.
Evan Briggs, an Eastern Washington University senior and former Young Democrats club president, said he coordinated with MoveOn.org, a national civic action organization, to organize the pedestrian bridge protest.
The goal was "to raise awareness about impeachment and why it's critical that people across the country stand up to this president, who is wholly corrupt," Briggs said. "History will remember who stood with this president and who stood against him."
A handful of counterprotesters gathered on the bridge nearby with signs in support of Trump and one who said "commies" aren't people.
Briggs said he was glad they also were demonstrating their First Amendment rights. Pro-impeachment protesters said they tried to ignore the other group for the nearly 30 minutes they were on the bridge. One man flashed a hand symbol associated with white supremacy as he left.
Pro-impeachment protester Jax Clay said he knew he couldn't change the minds of the counterprotesters, as well as people like them, and instead wanted to direct his energy toward people who would prioritize democratic ideals over party affiliation.
"We're here to defend democracy and our Constitution," Clay said. "We are patriots."
University of Washington freshman Claire Bennett, who was on holiday break and one of a few young people at the bridge protest, said she doesn't think Trump is a responsible enough "person to be running this country."
Bennett said her mother, who arrived with her, was the one to tell her about the protest and thinks young people who weren't able to vote in the last election have become disengaged from national politics.
"I think a lot of young people are really discouraged," Bennett said. "I'm just tired of President Trump."
Some protesters on the bridge remembered and were motivated to protest by other troubled periods in American history, such as the Vietnam War, the Nixon administration and the Civil Rights movement in the 1960s.
"I'm here to protect and preserve our Constitution and our country," said Joni Goodwin, 65, who was protesting with her sister.
Goodwin said she's talked to her son and grandson about the importance of impeaching Trump.
"I hope that people are cognizant of the fact that people are coming out in droves" to protest, said 74-year-old Barbara Tish. "I think he's (Trump) a threat to this country."
"I think if you don't stand up, you lose those rights," added Tish's friend Vicki Mangum, 65.
Local journalism is essential.
Give directly to The Spokesman-Review's Northwest Passages community forums series -- which helps to offset the costs of several reporter and editor positions at the newspaper -- by using the easy options below. Gifts processed in this system are not tax deductible, but are predominately used to help meet the local financial requirements needed to receive national matching-grant funds.
Subscribe now to get breaking news alerts in your email inbox
Get breaking news delivered to your inbox as it happens.
---