News > Spokane
Lime scooter riders logged 643,000 miles in 2019
Thu., Dec. 26, 2019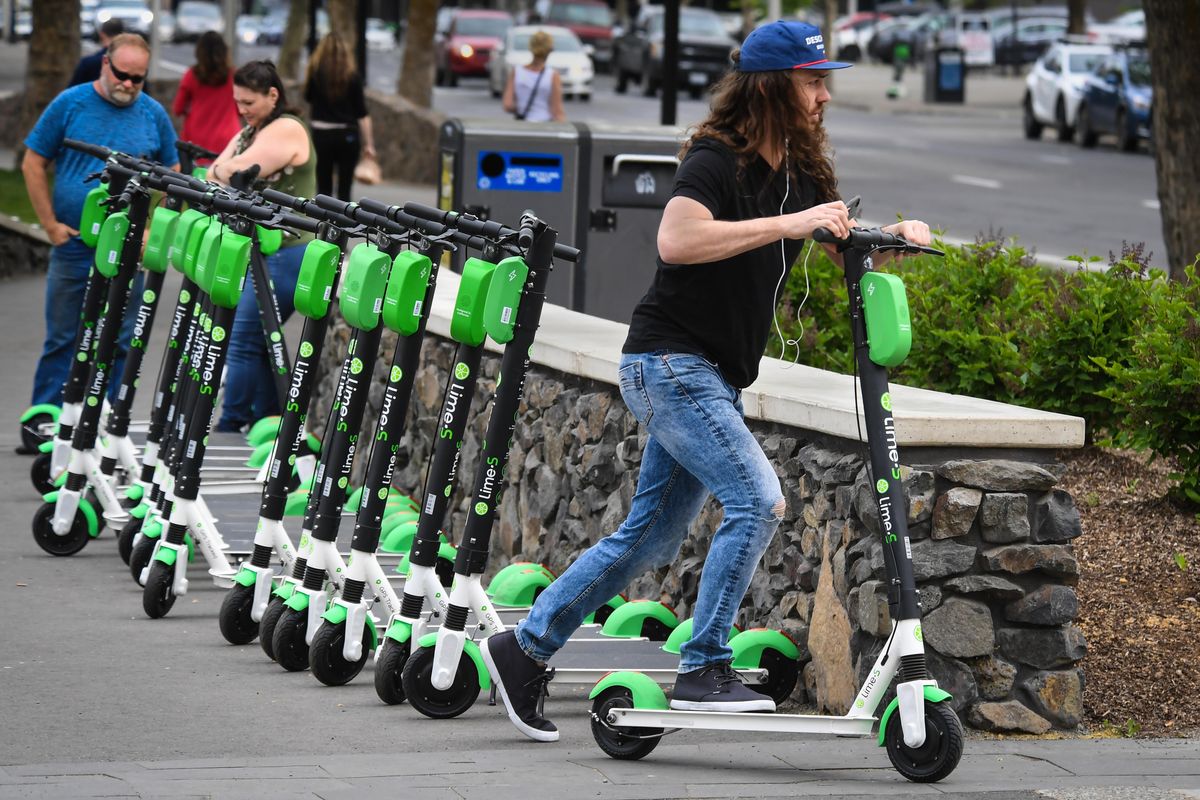 Jake Schreiber, of Spokane, checks out one of 35 Lime scooters available for use, Monday, May 13, 2019, in Riverfront Park. (Dan Pelle / The Spokesman-Review)Buy a print of this photo
When Lime left town last year, minds were blown. The people of Spokane had ridden the electric scooters and bikes 128,000 miles, or about five laps around the Earth.
They hadn't seen nothin'.
This year, the little green machines were ridden 643,000 miles. That would get you to the moon and back again. And then almost all the way back to the lunar surface.
While no single scooter rider pulled a Buzz Aldrin, moving as a mass, the Spokanites on Lime made many small steps into a giant leap.
"It shows there is a demand for another way to take these short trips," said Colin Quinn-Hurst, the city's pedestrian and bicycle planner. "People need another way to get from destination to destination, shrinking the distance between pedestrian locations."
He's right. A survey done in July of Lime users found that nearly 24% of people used Lime in place of a motor vehicle. If this share of users held true for the entire year, Lime vehicles replaced about 160,000 miles of car driving.
As an example, Quinn-Hurst pointed to a popular route taken this year connecting downtown Spokane to the Garland district – a distance of 3 miles. People probably weren't walking that distance in the first place, so any trip on a scooter may have replaced a car.
The survey's findings dismantle a couple of stereotypes of Lime users:
Scooter users are just young people. Wrong. The average age of a Lime rider is 36, with 1 in 4 riders older than 45.

They're a toy for tourists. Nope. About 90% of the survey respondents live, work or go to school in Spokane.
Jonathan Hopkins, Lime's director of strategic development in the northwestern U.S., said the company has been popular here because of the partnerships it has forged, not to mention the topography and weather.
"We are proud of the partnerships and collaboration we've had with the city and other organizations," Hopkins said, adding that Lime is still looking to partner with more local organizations. "It's a fantastic market to work in. There is a beauty about being in a city that's mostly flat and mostly warm for most of the year."
Hopkins, whose ideas of flat and warm are informed by his Seattle residence, said Spokane has not only been easy to work with but has also been key in finding other collaborators. One example of a successful venture is Scoot Spokane, the collaboration between Lime and Visit Spokane that's intended to help people "make accidental discoveries."
The two organizations created itineraries for four shopping and eating districts within Spokane that may be a little too far to walk to, like Garland. Each itinerary has a map, and "scoot facts" like distance, time and the cost to get there. They also provide what to see and do when scooter users arrive.
"What can we do to make the city better?" Hopkins said, describing the driving idea behind the collaborations. "That's proven in the number of things where Spokane was first, or almost first."
Lime Patrol has people in Lime gear, including a helmet, scooting around, trying to get people to ride, and do it safely. Spokane was almost first in instituting such a program.
"We had it in Paris before Spokane," Hopkins said.
Quinn-Hurst said Lime has done a lot to help make its vehicles work safely and as part of the city's transportation system.
He said the company distributed 4,000 helmets, and spent "tens of thousands of dollars" in Spokane on Lime Access, an equity program that gives discounted fares to qualified, low-income people.
Quinn-Hurst said the most fulfilling part of Lime's work in the city was its First Ride Academies, which teaches people how to safely use the scooters. Every class he went to, he met two or three people living with disabilities who couldn't drive a car. They wanted to use the scooters to get to the nearest bus stop.
"I think that was the highlight of the year for me," Quinn-Hurst said, noting the missing "last mile" for transit riders between bus route and home is often the most difficult for some people.
The city collected $90,000 in fees from Lime users over the course of the year, and that money will be used to build on-street infrastructure for scooter users and bicyclists as well as enforce existing laws about not riding on the sidewalk, riding two or more people per scooter and underage riding.
The first infrastructure will be "bike corrals," which turn a parking stall into bike parking. Five downtown locations have been chosen, but a final decision has yet to be made on placement.
Local journalism is essential.
Give directly to The Spokesman-Review's Northwest Passages community forums series -- which helps to offset the costs of several reporter and editor positions at the newspaper -- by using the easy options below. Gifts processed in this system are not tax deductible, but are predominately used to help meet the local financial requirements needed to receive national matching-grant funds.
Subscribe now to get breaking news alerts in your email inbox
Get breaking news delivered to your inbox as it happens.
---