News > Spokane
As he leaves office, Spokane Mayor David Condon remains a pragmatist
Sun., Dec. 29, 2019 It wasn't sexy.
But with David Condon, it was never about being sexy.
Still, scores of people gathered on a sunny October day to celebrate one of his administration's signature accomplishments.
"Who would have ever thought the sewer tanks would have, you know, three- or four-hundred people at the ribbon cutting?" Condon asked.
From sewer tanks to utility rates, outgoing Mayor David Condon spent two terms in office unrelentingly tackling the meat-and-potatoes matters of city government.
At his highest points, Condon amassed a broad coalition to back investments that will have long-lasting impact. Look no further than the city's plans for several new library branches or a newly renovated U.S. Pavilion in Riverfront Park. And, yes, even the more than 20 overflow structures installed throughout the city to prevent raw sewage from flowing into the Spokane River.
But Condon also held a laser focus on efficiency, on occasion losing a fight for popular support. His bid for a downtown sports stadium went down in flames, and he picked the losing side on a vote to hire dozens of police officers and firefighters.
"It was very, very popular eight years ago to talk about performance-driven government, I still believe in it. So even as the popularity waned, we stuck with it," Condon said.
Condon always promised to be a shrewd administrator.
He shocked the city when he upset incumbent Mayor Mary Verner to win the mayorship in 2011, despite trailing her by nearly 30 points following the primary election.
When he entered office, Condon felt the three most significant issues facing the city were the cost of government, crime and trust in the police force. And while he feels he's made progress in each area, he acknowledged there's work to be done.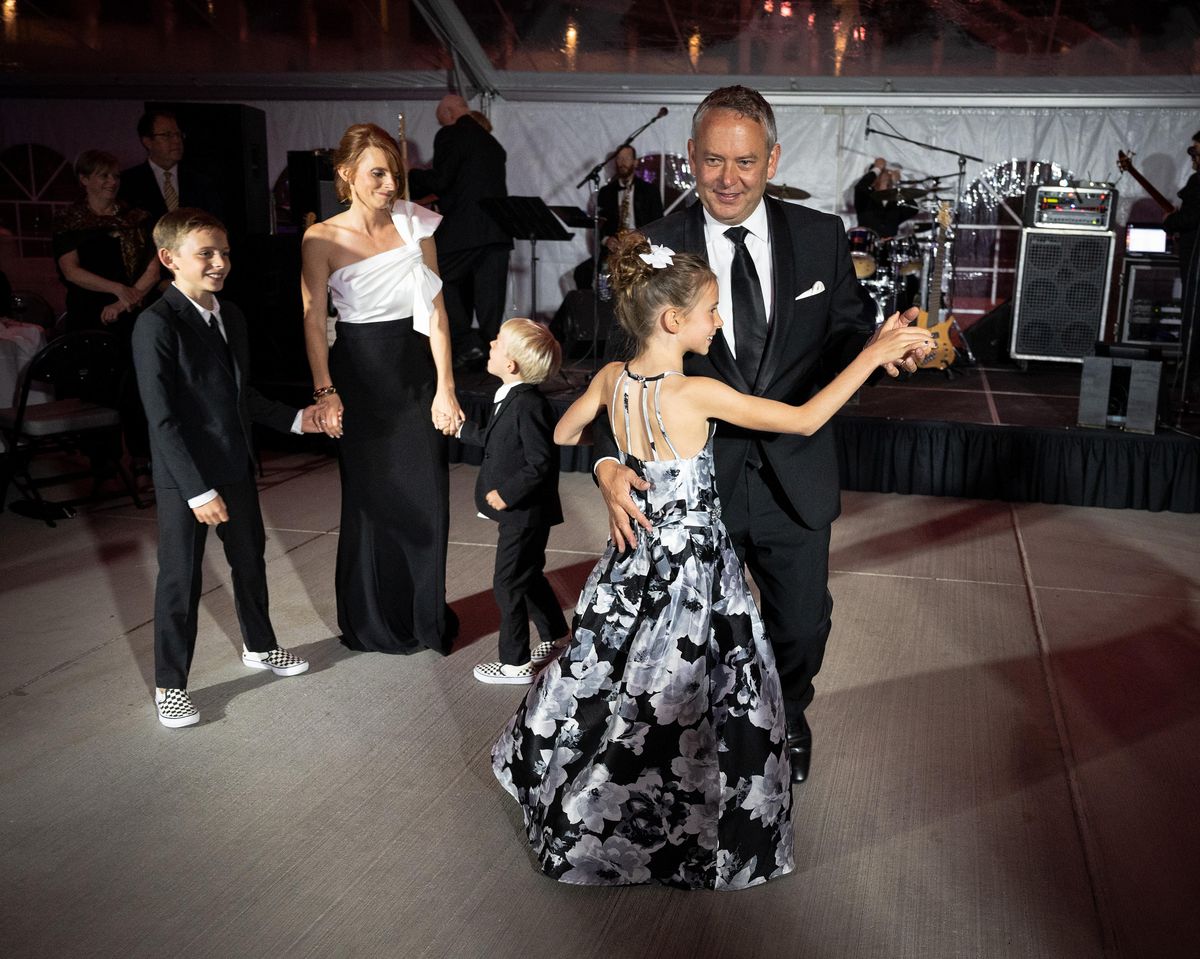 Mayor David Condon and his wife Kristin share the first dance of the Our Town Gala with their children left to right, Creighton, 10, Beck, 5, and Hattie,.9, Friday night in the U.S. Pavilion in Riverfront Park. The annual gala, hosted by Condons, has raised a million dollars for local charities over the eight years of his administration. (Colin Mulvany / The Spokesman-Review)
Condon points proudly to his ability to limit utility rate increases to less than 3% a year, while simultaneously investing in infrastructure, like the sewer overflow tanks, that resulted in a cleaner Spokane River. But as he leaves office, Condon's administration is still fighting for a variance from tightening federal limits on the level of pollutants allowed to enter the river. He warned that, should it not be granted a variance, utility rates could be driven higher.
"(We're) literally like the national model for balancing environmental stewardship and, at the same time, the cost of government," Condon said.
Condon also had perhaps the toughest budget battle of his tenure this year, lambasting the City Council for redirecting dollars toward expanding the staffing level of its own office and other social priorities.
"I didn't think I would have to spend the last few months of my administration really being quite vocal on issues of the growth of government and the cost of government. Even though we've had a 37% increase in our median household income, we also have to worry about the cost of government eating up any of that growth," Condon said.
Incomes are up and property values are up in Spokane, which is great for homeowners. But Condon wonders about the consequences.
"The flip side of that is what is the cost to live in our city? We don't want to have hyper growth to where that causes the quality of life and the cost of living in our city (to be) problematic," Condon said.
Early in his administration, Condon eliminated the city's department of weights and measures, arguing it was unnecessary and redundant in a city like Spokane. That meant real people would lose their jobs, and he would have to meet with them face-to-face.
"These are tough, tough decisions and they are not fun. But it's much more difficult to knock on a person's door and tell them we're wasting their money when they can't figure out how to get health care or their kids can't find daycare," Condon said.
Under Condon's watch, the city became an early adopter of body cameras for its officers. But Condon said the body camera policy hasn't been the panacea that some had hoped it would be.
"I think that's the balance … transparency, independence and accountability. The body cameras are definitely a component of transparency. And then how do you have independence and hold people accountable because of that transparency? It's an active debate today and needs to continue," Condon said.
The city is becoming safer, and the crime statistics bear that out. While it's difficult to compare the numbers in Condon's early years to present-day figures due to evolving methodology, both violent and property crime are down about 15% in 2019 compared to 2018.
But Condon is still concerned about residents' general sense of insecurity.
"You see people liken their sense of safety to their sense of security, and they're closely intertwined. What do I mean? Their healthcare security, their housing insecurity, their food insecurity. So they have this sense of being unsafe, when you drill down to it."
Ever the pragmatist, Condon wants to see results when the city invests in public safety. He opposed the public safety levy voters approved earlier this year to fund the hiring of 20 new police officers and retention of 30 firefighters who were previously funded by a grant.
"Do you think the addition of the firefighters has made us safer? Functionally, it's challenging right now to see that. Many of our performance measures, as a unit of output, (are) not seeing that," Condon said.
Condon suggested the money would have been better spent on the Community Assistance Response team, the fire department's initiative to connect people they encounter with beneficial social services.
"It was a political levy, it was not an outcome levy," Condon said. "And that's a difficult discussion to have with folks."
Condon has done more to expand the city's services for the homeless than any of his predecessors. And yet he continues to question the city's approach, warning against having government involve itself in services directly.
"With the inordinate amount of funding that comes from government, in some ways, we've de facto created some of that, and we have to be careful. And it's a balance that that I think is tipped too far," Condon said.
When Condon points to his successes, he points to the product of collaboration.
In coordination with the Spokane City Council, Condon spearheaded the OneSpokane strategic plan, laying out the priorities for Spokane and charting the city's path for growth in the years to come.
The city built three public development authorities to spur economic growth during his administration, again in close partnership with the City Council. Riverfront Park was overhauled and renovated, while millions of dollars were poured into school renovations.
"Our accomplishments over the last eight years were always done with huge broad coalitions," Condon said.
Local journalism is essential.
Give directly to The Spokesman-Review's Northwest Passages community forums series -- which helps to offset the costs of several reporter and editor positions at the newspaper -- by using the easy options below. Gifts processed in this system are not tax deductible, but are predominately used to help meet the local financial requirements needed to receive national matching-grant funds.
Subscribe now to get breaking news alerts in your email inbox
Get breaking news delivered to your inbox as it happens.
---