NEXT GAME: Thursday, Jan. 2: Gonzaga Bulldogs at Portland Pilots, 7 p.m. PST TV: KHQ/ROOT Sports
Filip Petrusev scored 22 points, Ryan Woolridge poured in 21 and the No. 1 Gonzaga Bulldogs breezed past the Detroit Mercy Titans 93-72 on Monday night at McCarthey Athletic Center.
The Zags raced out to a 10-point lead in the first 7 minutes, took a 16-point advantage into the half, then quickly ballooned the lead to 25 in the first 4 minutes of the second half.
Woolridge was behind it all.
The transfer point guard made his first four 3-point attempts and finished the game at 7-of-9 shooting. He had a game-high eight assists with just one turnover.
Petrusev provided the strength inside with frontcourt mate Killian Tillie sitting this one out. The forward from Serbia made 8 of 11 shots and grabbed six rebounds.
Freshman Drew Timme started in Tillie's spot and scored 13 points on 5-of-5 shooting. He also pulled down a team-high seven rebounds.
Antoine Davis scored a game-high 31 points for Detroit Mercy. The son of coach Mike Davis, Antoine was 11-of-23 shooting and 5 of 11 from 3 in 38 minutes.
Chris Brandon grabbed 12 rebounds for the Titans.
Gonzaga shot 50.8% from the field and was 10 of 23 from 3. UDM finished at 42.2% and was 9 of 28 from distance. The Zags made 17-of-24 free throws. The Titans shot just 12 and made 9.
Freshman Anton Watson came off the bench to score 11 points for GU.
Gonzaga Bulldogs / YouTube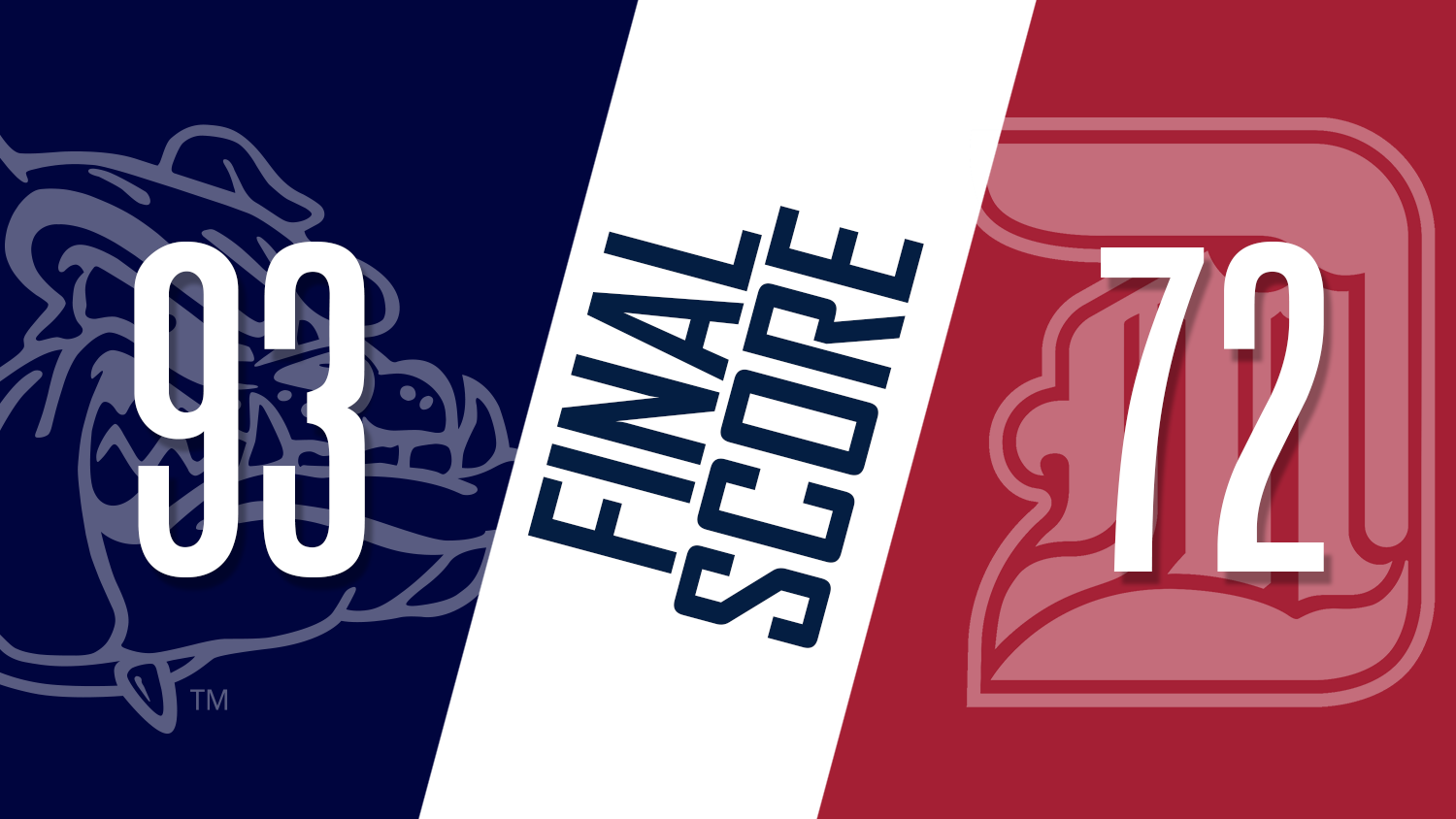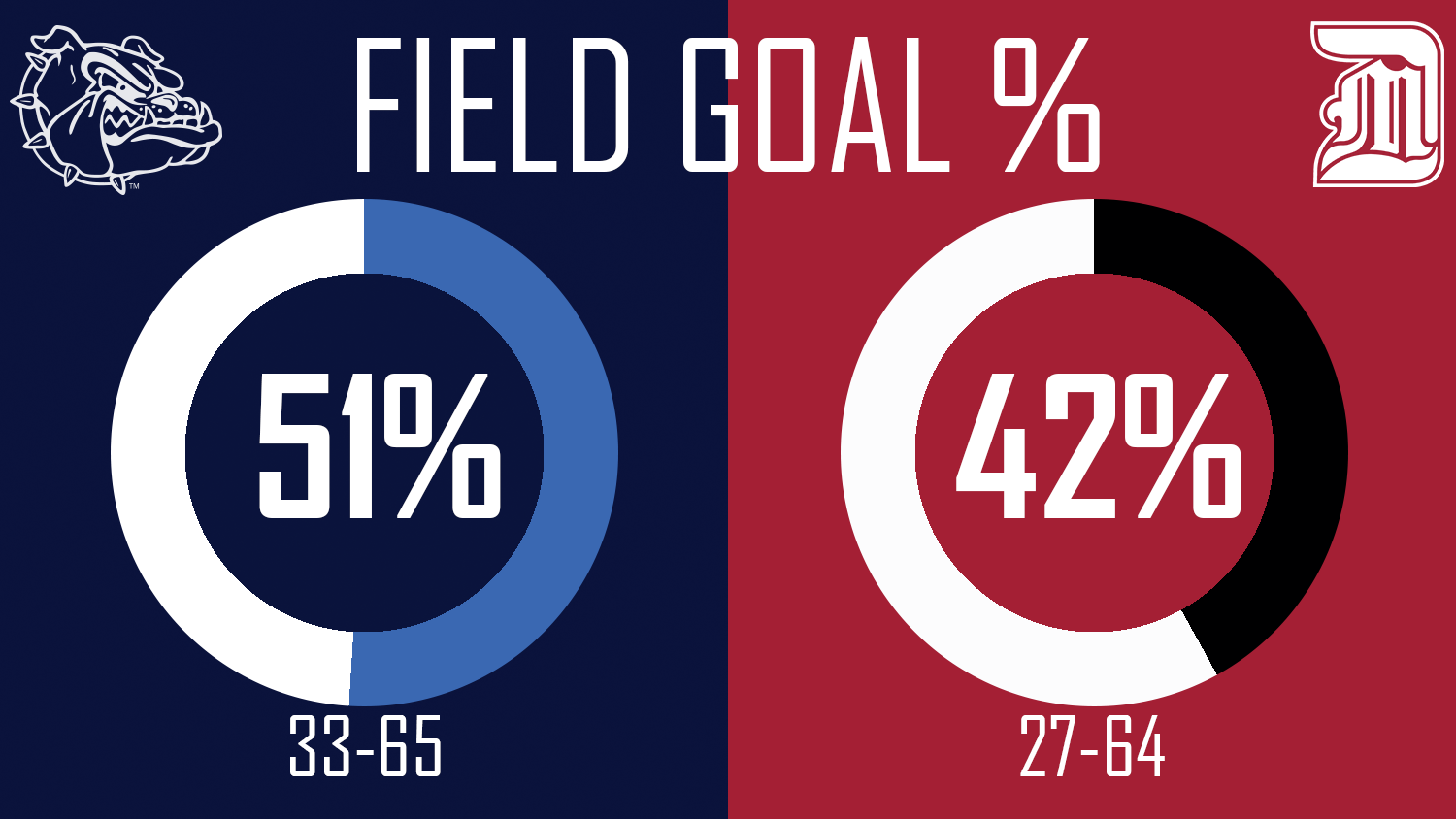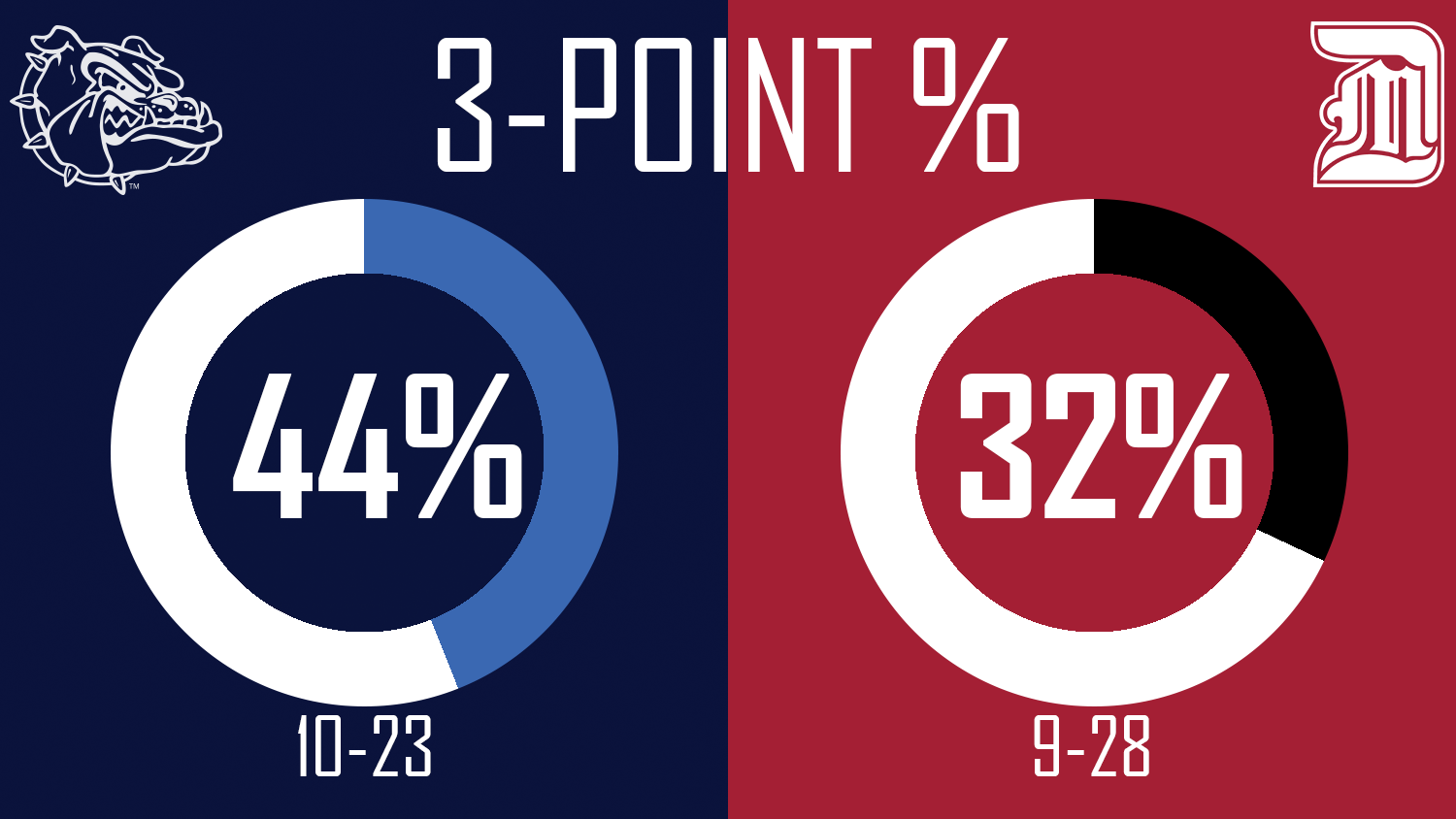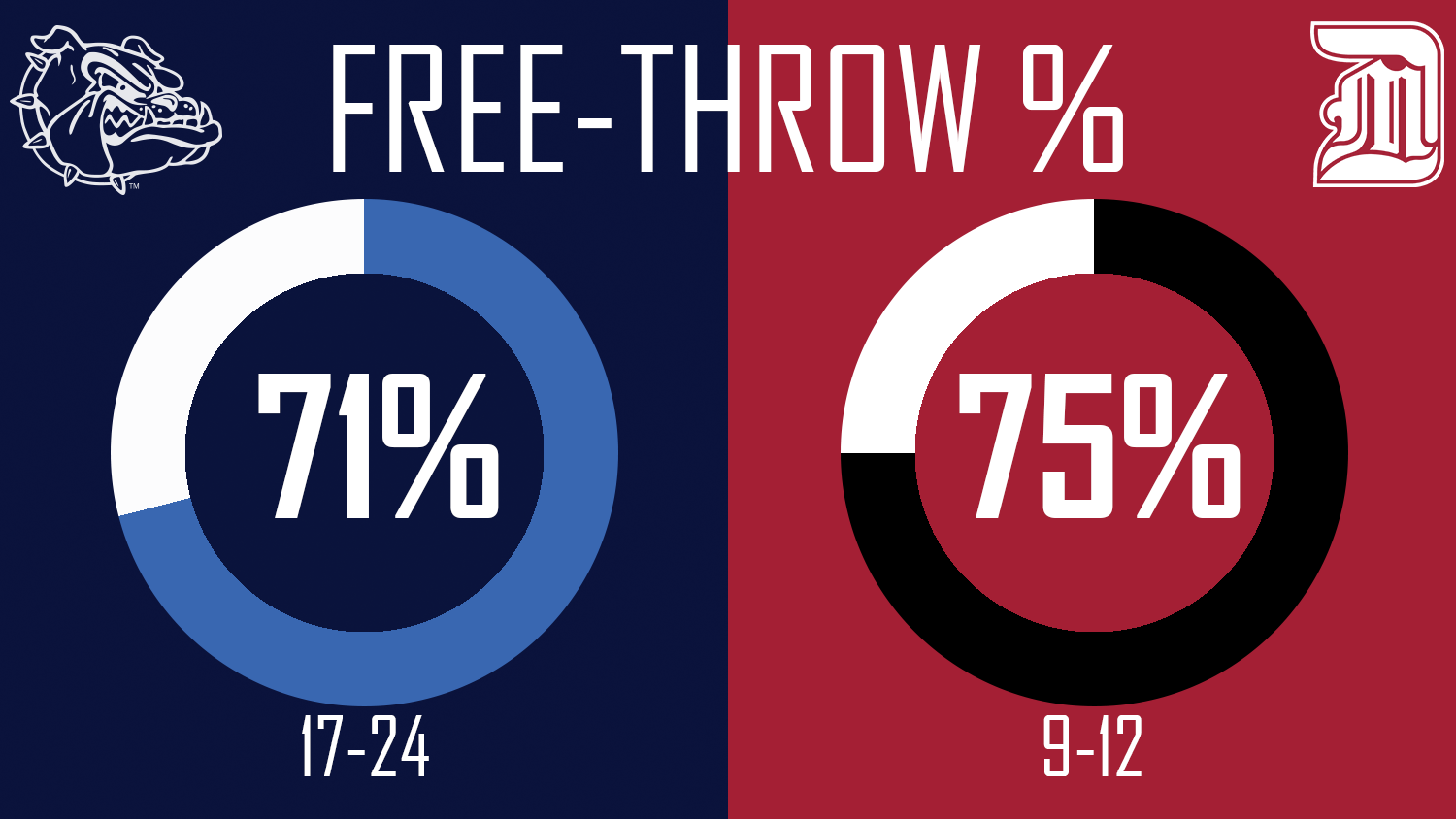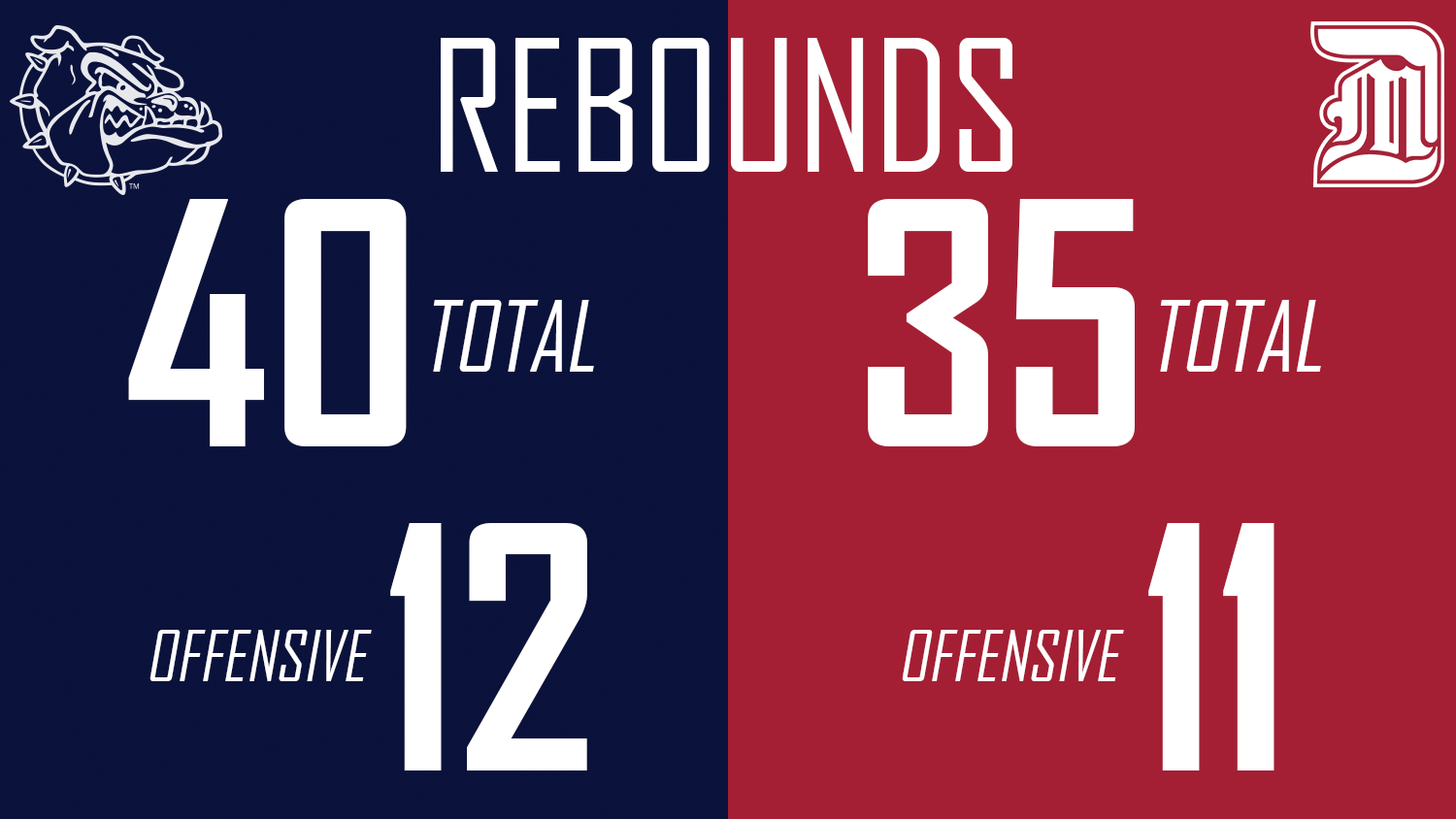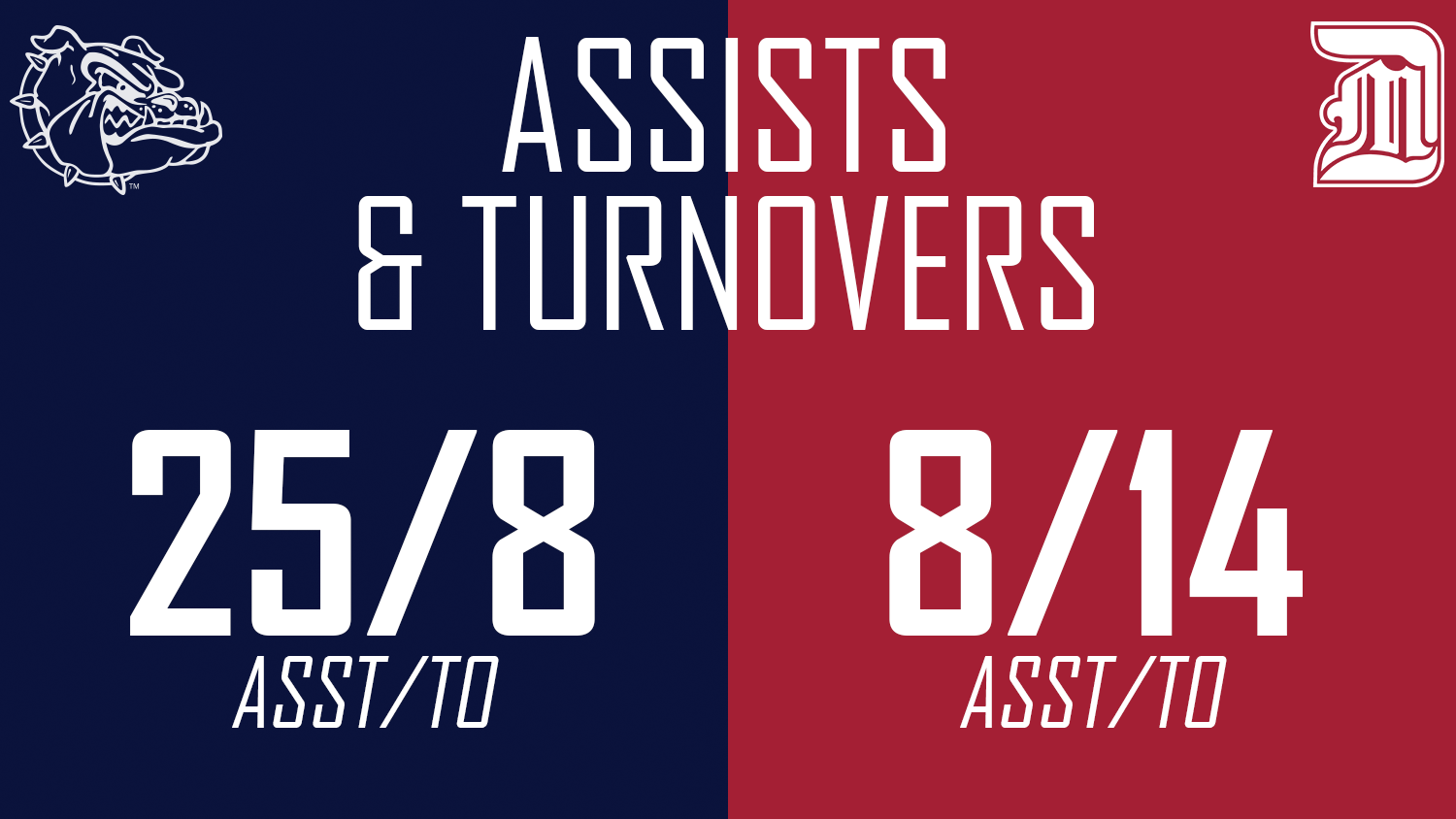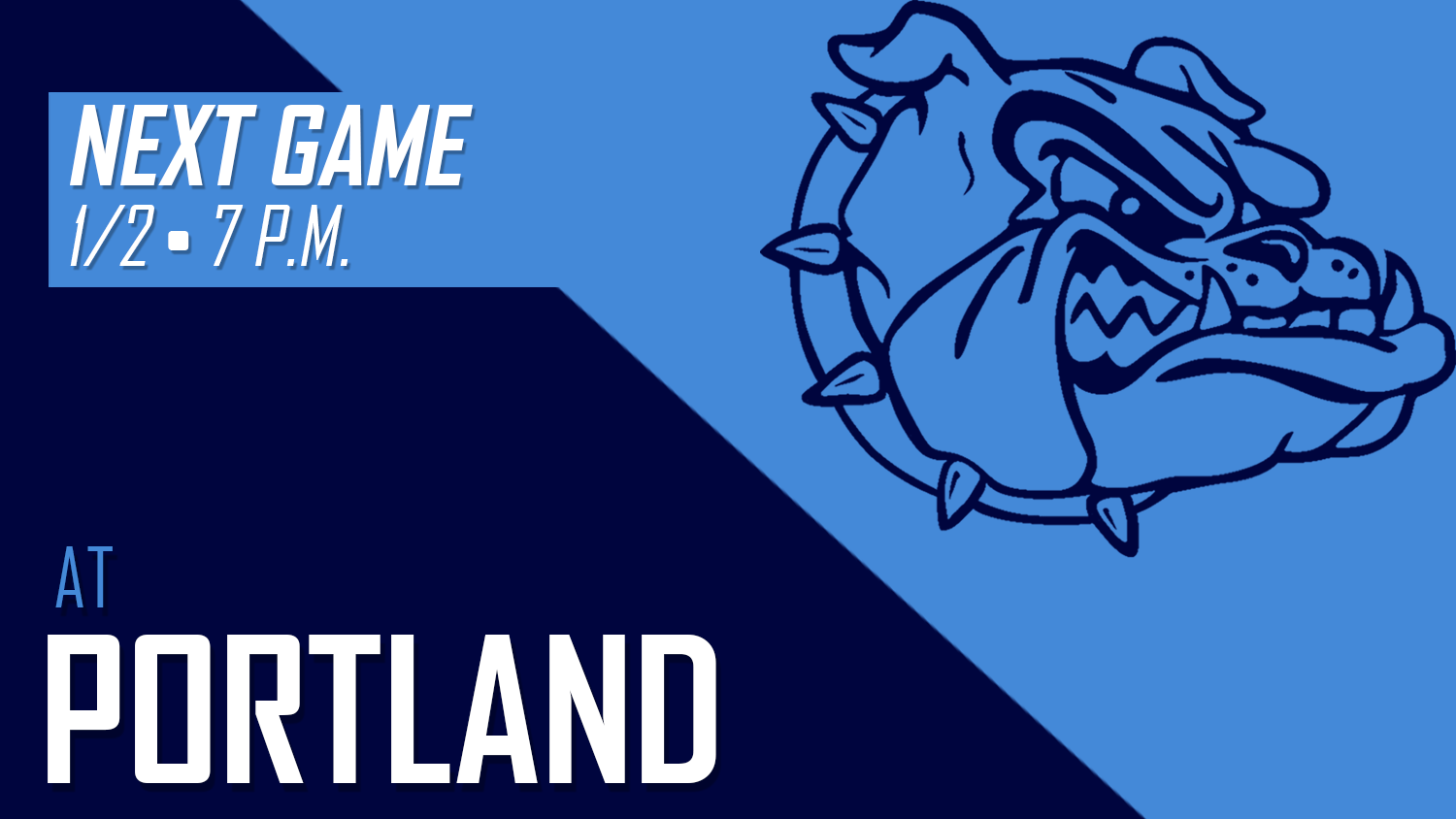 First half
14:08 – Gonzaga 17, UDM 8: All five Zags starters have scored and GU is out to an early lead over Detroit Mercy.
Filip Petrusev, Ryan Woolridge and Drew Timme each have four points, Joel Ayayi has three and Corey Kispert has two for Gonzaga.
Antoine Davis, Detroit Mercy's top scorer coming into the game, has two points on 1-of-3 shooting.
Gonzaga is 7-of-9 shooting and has 10 points in the paint.
11:58 – Gonzaga 22, UDM 8: Ryan Woolridge is up to seven points for Gonzaga and the Zags are on a 10-0 run in the Kennel.
Woolridge is 2 of 2 from 3-point range to lead the Bulldogs. Filip Petrusev has added six points on 3-of-3 shooting.
Gonzaga is shooting 69.2%. Detroit Mercy has connected on just 33.3% of its shots.
Forward Justin Miller leads UDM with four points.
7:21 – Gonzaga 32, UDM 19: Ryan Woolridge continues to lead Gonzaga with 12 points mid-way through the first half.
Woolridge is 4-of-4 shooting and 3 of 3 on 3-pointers. Filip Petrusev has nine points on 4-of-4 shooting as well.
Antoine Davis is up to seven points to pace Detroit Mercy.
3:37 – Gonzaga 46, UDM 32: The Titans have started to heat up, making 4 of their last 5 3-point attempts to stay with the equally hot Zags.
Gonzaga has buried 3 of its last 4 3-pointers and is shooting 72.7% from the floor.
Filip Petrusev has 16 points on 5-of-5 shooting to lead GU. Ryan Woolridge has 15.
Antoine Davis continues to lead Detroit Mercy with nine points.
Halftime
Half – Gonzaga 53, UDM 37: Ryan Woolridge has scored 17 points, Filip Petrusev has 16 and the red-hot Bulldogs take a big lead into halftime against Detroit Mercy.
Gonzaga is shooting 73.1% from the field and 63.6% on 3-pointers. Woolridge is 6-of-6 shooting and 4-of-4 from 3. Petrusev is 5 of 5 from the field and 6 of 9 on free throws.
Detroit Mercy is led by guard Antoine Davis who has 11 points on 4-of-11 shooting.
Drew Timme, a surprise starter for Gonzaga in place of forward Killian Tillie, has seven points on 3-of-3 shooting.
Petrusev has a game-high six rebounds.
Second half
15:28 – Gonzaga 65, UDM 40: Ryan Woolridge is up to 21 points to lead the Zags, who now lead by 25.
Woolridge is 7-of-7 shooting and has a game-high five assists.
Antoine Davis has 14 points to lead Detroit Mercy, which has made just 1 of its last 10 shots.
Forward Filip Petrusev has 16 points for Gonzaga, but he picked up his third foul just 30 seconds into the half.
11:05 – Gonzaga 69, UDM 47: Both teams cool down a bit from the field as the Titans chip away at the lead.
Detroit Mercy has made just 1 of its last 5 shots but hasn't lost any ground on the Zags, who have made just 1 of their last 6.
Ryan Woolridge still leads Gonzaga with 21 points. Filip Petrusev has 20. Substitute Anton Watson has six points in the half.
7:12 – Gonzaga 77, UDM 54: Anton Watson is up to 11 points, with nine in the second half, as the Bulldogs continue to lead the Titans by 20-plus points.
Filip Petrusev leads GU with 22 points. Ryan Woolridge has 21.
Antoine Davis is up to 24 points for Detroit Mercy. He is 9-of-20 shooting.
3:49 – Gonzaga 88, UDM 62: Detroit Mercy guard Antoine Davis is up to a game-high 31 points but the Titans still trail the Bulldogs by 26.
Davis, who is 11-of-23 shooting, has made four 3-pointers in the second half.
Gonzaga has four players in double figures, led by Filip Petrusev's 22 points. Ryan Woolridge has 21, freshmen Drew Timme and Anton Watson each have 11.
Starting 5
Local journalism is essential.
Give directly to The Spokesman-Review's Northwest Passages community forums series -- which helps to offset the costs of several reporter and editor positions at the newspaper -- by using the easy options below. Gifts processed in this system are not tax deductible, but are predominately used to help meet the local financial requirements needed to receive national matching-grant funds.
Follow along with the Zags
Subscribe to our Gonzaga Basketball newsletter to stay up with the latest news.
---