Sports > WSU basketball
USC opens hot, outlasts Washington State to finish line for 93-84 victory
Feb. 2, 2019 Updated Sat., Feb. 2, 2019 at 7:55 p.m.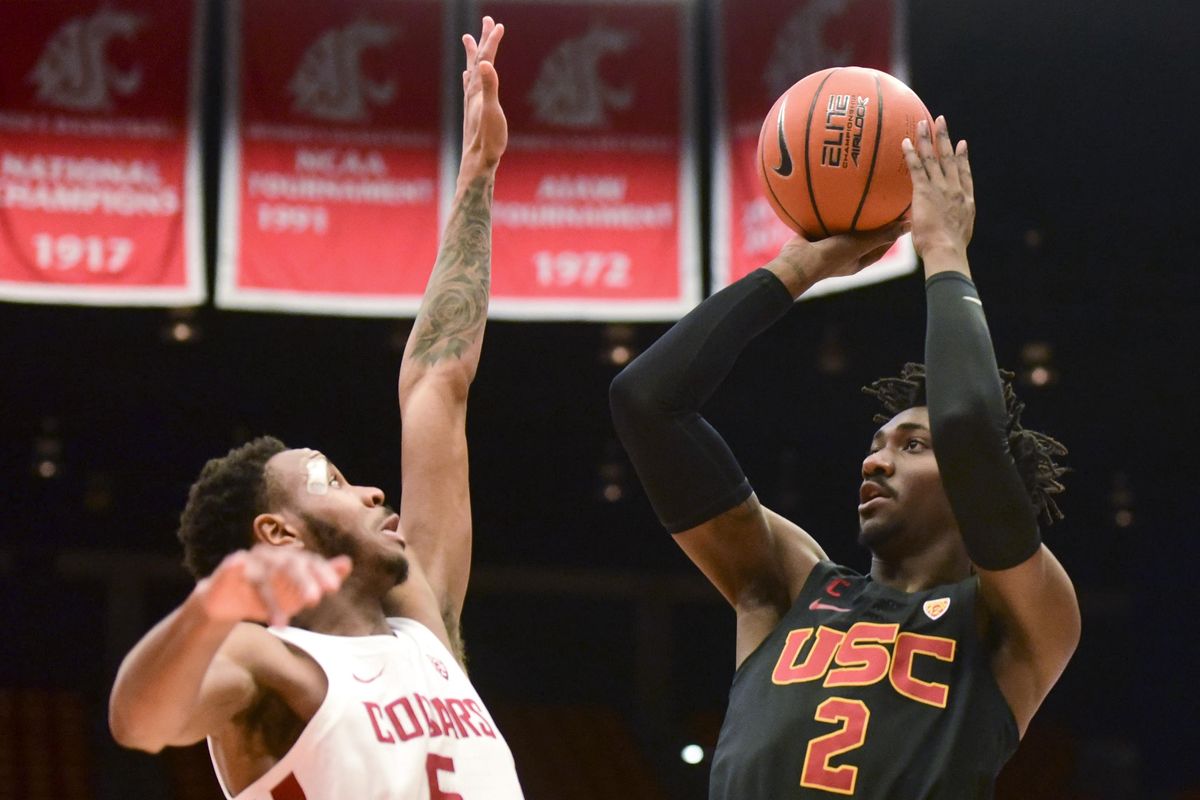 Southern California guard Jonah Mathews shoots as Washington State forward Marvin Cannon defends during the first half Saturday in Pullman. (Pete Caster / AP)
PULLMAN – Even in a few of their worst losses this season, the Washington State Cougars have usually played 15-20 minutes of spirited basketball before watching a taller, stronger and more skilled Pac-12 opponent unleash a mighty scoring run to put the game out of reach.
USC didn't see any reason to put off that scoring run Saturday in a 93-84 victory at Beasley Coliseum. WSU didn't show much resolve in stopping it.
By the time Isaiah Wade rolled in WSU's first basket more than 5 minutes into the game, the Cougars had already missed 10 shots. Coach Ernie Kent signaled for his first timeout 87 seconds after the opening tip, with USC already up 6-0, then made wholesale changes subbing in two players just a few minutes later when the Trojans extended their lead to 11-0.
WSU (8-14, 1-8) stopped the bleeding eventually, but the early gashes were too critical and the Cougars trailed by at least eight points the rest of the way.
It marked their fifth consecutive loss and third straight home loss since an 8-0 start at Beasley Coliseum that's becoming more and more distant. The Cougars have dropped 11 of their last 12.
"I think we needed better energy in the game. To start the game, we've just got to be better," WSU junior guard Ahmed Ali said. "I feel like if we started the game better, we would've had this win. We had our home crowd here, thank you to them, but we've just got to be better with our energy."
The opening stretch was an especially tough one to swallow given how the Cougars performed in the second. They scored 51 points after the break – their highest individual scoring half of the Pac-12 season – and posted a field-goal percentage (47) that nearly matched their 3-point shooting percentage (45).
There was some desperation in WSU's play to open the second half and Ali scored five early points, nailing a 3-pointer and sinking two free throws to fuel a 10-4 WSU run.
"We had to have a sense of urgency," Ali said. "The start made us flat, so I picked up full-court and wanted everyone to feed off my energy and Jaz (Kunc) played a helluva game and Robo (Franks) did, too."
Franks was WSU's scoring leader, with 25 points on 8-of-17 shooting, but on a day the Cougars' bench manufactured a season-high 47 points, the other four starters combined to score just 12 on 5-of-20 shooting.
Ali led the reserves with 18 points, but it came on 40-percent shooting from the field. Still, after replacing starting point guard Marvin Cannon early on in the game, Ali generated offense without much error, dishing out seven assists and no turnovers.
"Once we got rolling, we didn't get our heads down and we battled back," Kent said. "It was the best stretch of basketball that I've seen Ahmed Ali play since he's been here, especially against an athletic team like that. There was a 5- or 6-minute stretch where he literally controlled the game at both ends of the floor."
Kunc, a true freshman from Slovenia, lifted WSU with 14 points on 4-of-5 shooting from the field. Kunc added four rebounds and two assists before fouling out in the second half.
The Cougars had their moments in the second half, but the Trojans seemed to counter each of them. USC took 18 3-pointers and connected on 10. Jonah Mathews went 6 of 7 from beyond the arc and finished with 20 points.
When the Trojans weren't hitting from deep, they were feeding inside passes to big man Nick Rakocevic, who often cleaned up his misses en route to a 25-point, 13-rebound double-double.
The Cougars set a school record with their 41 3-point attempts, but they made just 14.
"I thought we had some great looks," Kent said. "Forty-one 3s, I'd like to get that every night because I thought about 30 of them were wide open, and probably didn't shoot it at a good enough clip."
Local journalism is essential.
Give directly to The Spokesman-Review's Northwest Passages community forums series -- which helps to offset the costs of several reporter and editor positions at the newspaper -- by using the easy options below. Gifts processed in this system are not tax deductible, but are predominately used to help meet the local financial requirements needed to receive national matching-grant funds.
Subscribe to the sports newsletter
Get the day's top sports headlines and breaking news delivered to your inbox by subscribing here.
---