A&E > Art
Bridging two worlds: 'Story and Image' show at Emerge in CdA transforms Sharma Shields' words into visual art
Sun., Feb. 3, 2019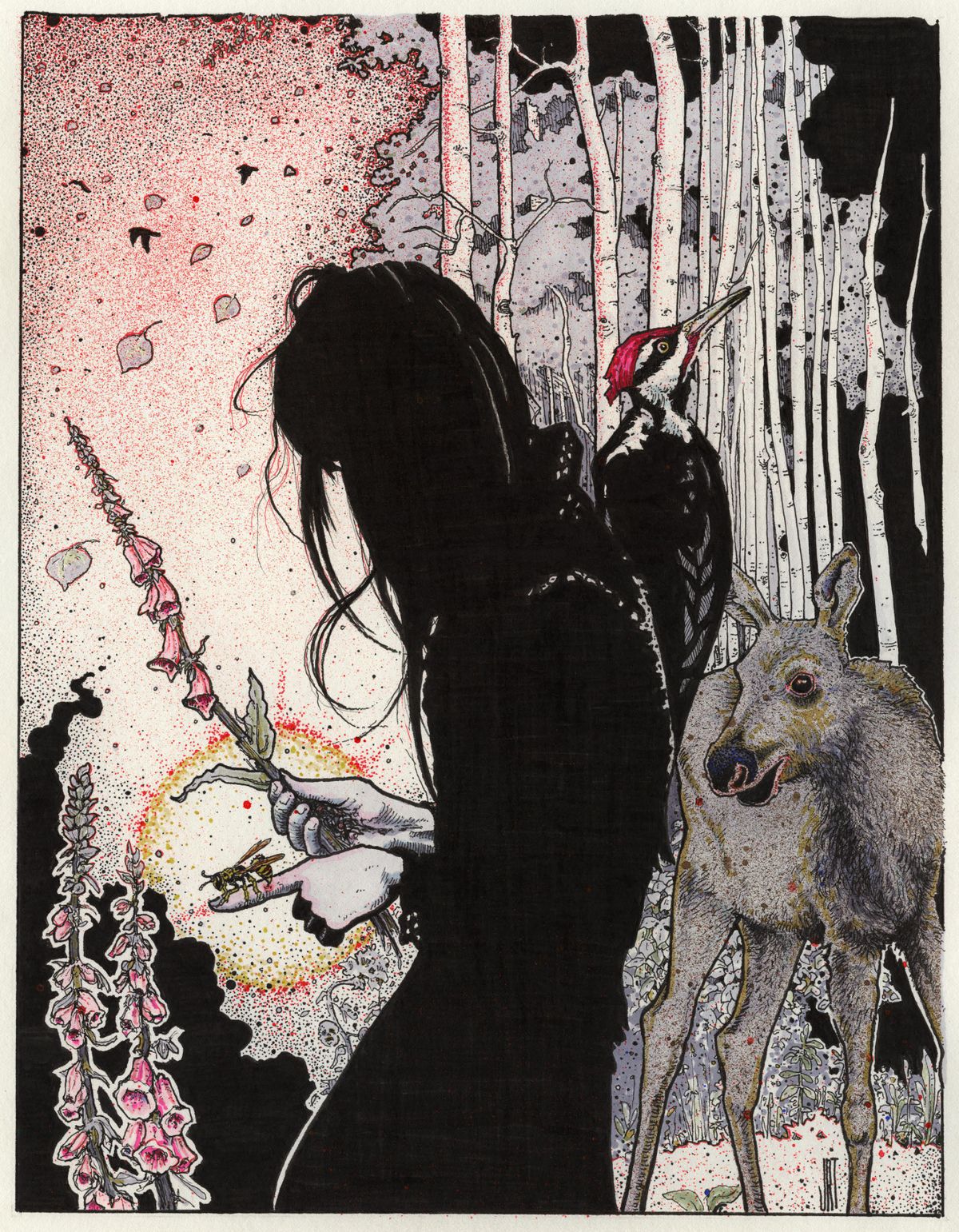 A dozen artists, including Joseph Tomlinson, are illustrating scenes from Sharma Shields' short story "Witch Lake" for the show "Story and Image" at Emerge in Coeur d'Alene. The story first appeared in The Spokesman-Review's Summer Stories series in 2016. (Courtesy)
How is an illustration different from what we typically think of as "art?" Perhaps its specific purpose – to tell a story – makes it more of a literary endeavor than a purely visual one, said Spokane illustrator Derrick Freeland.
"We illustrators are visual artists, but we are also storytellers, and so, in a way, that makes us part of the local literary movement," Freeland said. "We are a bridge between the literary scene and the art scene."
That bridge spanning the visual and literary worlds will stand on sturdy ground in Coeur d'Alene on Friday, when a dozen local illustrators launch a show at Emerge Gallery with Spokane-based writer Sharma Shields.
The exhibition and reading, "Story & Image: Illustration in the Inland Northwest," will feature images and scenes rendered to depict Shields' short story "Witch Lake." The dark tale of sexual abuse and feminist power first appeared in The Spokesman-Review's Summer Stories series in 2016.
Using his contacts with other illustrators through his work as founder of the year-old free quarterly magazine, Spokane Sequential, Freeland worked with Emerge executive director Jeni Riplinger-Hegsted to gather a group of a dozen local illustrators interested in mounting a show. The artists are: Freeland, Mallory Battista, Jennifer Drake, Allen Duffy, McKayla Hartsock, Tiffany Patterson, Randy Palmer, Daniel Scully, Joseph Tomlinson, Christina Villagomez, Susan Webber and Reinaldo Gil Zambrano.
Spokesman-Review features editor Carolyn Lamberson is not surprised that visual artists found ample inspiration in Shields' prose. Shields, author of the short story collection, "Favorite Monster," the novel "The Sasquatch Hunter's Almanac," and a soon-to-be published book "The Cassandra: A Novel," populates her stories with vivid imagery of creatures and situations that can be both beautiful and horrifying.
"I think she is one of the most visual writers in Spokane," Lamberson said. "I can recall the image she created of her sasquatch, Mr. Krantz, when we first see him … dressed in an ill-fitting pinstripe suit with his fly open."
"Harmony," published in 2014, was the first piece Shields ever wrote for Summer Stories. "She depicted a mother as she disgorged a red clay creature from inside her," Lamberson said. "Five years later, that image sticks with me."
Emerge's Jeni Riplinger-Hegsted said Shields' "Witch Lake" story had all the right elements to showcase the talents of the dozen local illustrators exhibiting at the gallery. "The story, the characters and animals are all riveting, slightly creepy," she said. "Then we were thrilled to realize the story is even set in Northern Idaho."
"Witch Lake" is based on a supposedly true story that Shields heard years ago about events at at a remote homestead in Kilroy Bay on Lake Pend Oreille. The story goes that during Prohibition, a young girl was forced by her father to take the place of her mother after the woman died. Abused and isolated, with only animals as teachers, the girl in Shields' story learns to master dark powers, turning into a witch, and takes revenge on her father.
"This is a grim fairy tale, so don't expect any princesses here," Shields said with a chuckle.
The graphic imagery and scenes the illustrators have produced for the show will hang on one gallery wall next to enlargements of Shields' text. They include breathtaking and terrible moments, such as Freeland's drawing of Lake Pend Oreille transformed into blood by the witch. Christina Villagomez conjures the image of a confused girl learning about killing from a mountain lion. Tiffany Patterson chose to illustrate the scene when the girl lies down next to a creek to die amidst the howls of wolves, falsely believing that her first menstruation must mean the end for her. The images evoked by "Witch Lake" are, at turns, haunting and gorgeous. The different interpretations of the same characters are a fascinating part of the show.
More works by the participating artists, including stickers, comics and prints, will be featured in other parts of the gallery. Copies of Shields' books will also be on hand, as will copies of Spokane Sequential.
Riplinger-Hedsted hopes the show will foster relationships between emerging and established artists. "At Emerge, we like to put the artists who are very new to the scene together with those who are more experienced so they can make those connection and come up with future show opportunities," she said. "Or just talk to artists who can give them some guidance or tell them where to go from here."
"I'm looking forward to seeing more of these collaborations between writers and visual artists in the area," Shields said. "We are surrounded by creative talent around here and it's fun to see different genres merge like this."
This story has been updated to reflect the correct time setting for the story "Witch Lake."
Local journalism is essential.
Give directly to The Spokesman-Review's Northwest Passages community forums series -- which helps to offset the costs of several reporter and editor positions at the newspaper -- by using the easy options below. Gifts processed in this system are not tax deductible, but are predominately used to help meet the local financial requirements needed to receive national matching-grant funds.
Subscribe to the Spokane7 email newsletter
Get the day's top entertainment headlines delivered to your inbox every morning.
---