Sports
Gonzaga rewind: Zags' personnel makes alley-oop pass a rim-rattling option
UPDATED: Sun., Feb. 3, 2019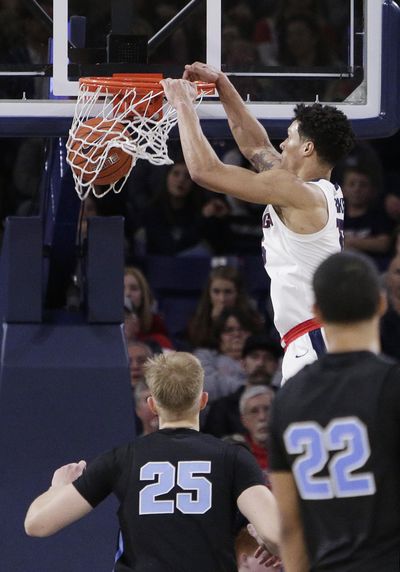 The alley-oop jam, much like a blocked shot, is a crowd favorite.
Gonzaga came up with a new twist on the play in Saturday's win over San Diego.
Point guard Josh Perkins picked off a pass, raced into the frontcourt and lobbed the ball above the right side of the rim. Fellow guard Geno Crandall took over from there, snatching the pass and slamming it home. Cue the crowd noise inside the McCarthey Athletic Center.
Guard-to-guard connections are rare, though it's possible it happened at GU during the Jeremy Pargo-Matt Bouldin-Steven Gray days.
Regardless, the alley-oop has become a weapon for the current Zags, with springy forwards Brandon Clarke and Rui Hachimura usually supplying the exclamation point.
"I think we've tried it at least once (every game)," Perkins said. "They're such big-time athletes and understand angles. I love playing with those two guys. They honestly make me look good."
The Zags had at least six alley-oop buckets in the 85-69 victory, and another one that barely went awry. Their roster composition makes the play a viable option in transition or the half-court.
Perkins picked up four of his six assists with lobs to Crandall, Hachimura and Clarke. The 6-foot-3 Crandall showed off his hops in warm-ups with an assortment of dunks, including a windmill.
"We have two guards that can really see it when you have Geno and Perk, and even 'Snacks' (Zach Norvell Jr.) to a certain extent," coach Mark Few said. "And obviously Rui, and Brandon is such a quick jumper, and (Killian) Tillie can do it, too."
Clarke would probably be the team leader if an official alley-oop count was kept, with Hachimura a close second.
"We've been playing with each other for so long, I feel like it's chemistry now," said Clarke, who practiced but couldn't play in games last season after transferring from San Jose State. "Having that feel for the game together, we can make a really quick glance and we know they're going to throw a lob."
Asked if it's possible to throw the lob too high for the bigs, Perkins said, "You could throw it above the backboard and they could probably get it."
Jones delivers once again
San Diego pushed the Zags deep into the second half, much like it did in two meetings last season. The rematch in San Diego on Feb. 16 will be interesting, particularly if sharp-shooting guard Olin Carter III returns from injury. Carter was 5 of 10 on 3-pointers and scored 42 points in the two losses to the Zags.
With a week to prepare between games, San Diego threw in a some new wrinkles the Zags hadn't seen on video, Few said. "At halftime we had to make some real adjustments and the guys did a good job with that."
The Zags utilized Jeremy Jones defensively on point guard Isaiah Wright. The 6-7 senior was effective, right down to a textbook block-out on 6-10 Yauhen Massalski after switching off Wright.
"He really made a difference," Few said. "He did what he's always been able to do for us."
Jones' numbers didn't jump off the stat sheet, but he contributed two rebounds, two assists, one block and one steal.
"He's obviously a tremendous defender on-ball or off-ball," Perkins said. "He makes plays, and we can switch with him because he's sort of a guard and a big. He was a spark for us."
Popular Wade greets former teammates
Rewind to roughly 30 minutes before, and for an extended period after Thursday night's BYU game, and it was obvious that Jesse Wade made a big impression during his one season in Spokane.
Wade, the former Zag turned Cougar, renewed acquaintances with numerous GU players and coaches prior to tipoff. Following Gonzaga's 93-63 win, Zags players hung out with Wade and his family on the court, visiting and taking pictures.
Wade said before the game he's happy with his decision to transfer to BYU, where younger sister Olivia plays on the soccer team. Wade acknowledged it's been tough to sit out this season under NCAA transfer rules, but he's optimistic about his future with the Cougars. He spoke glowingly about Gonzaga's program.
Wade was named the Utah Gatorade Player of the Year after leading Davis High in Kaysville, south of Ogden, to the 5A state semifinals. After serving a two-year LDS mission, Wade saw limited time in 19 appearances for the Zags in 2018.
It'll be interesting to see where Wade fits in with BYU's roster next season and beyond. TJ Haws, Nick Emery and Jahshire Hardnett are juniors, and there are a few other underclassmen guards on the roster.
There were rumors last month that Hardnett would transfer during semester break. He stayed at BYU, but there's speculation he might explore the grad transfer route after the season.
Local journalism is essential.
Give directly to The Spokesman-Review's Northwest Passages community forums series -- which helps to offset the costs of several reporter and editor positions at the newspaper -- by using the easy options below. Gifts processed in this system are not tax deductible, but are predominately used to help meet the local financial requirements needed to receive national matching-grant funds.
Subscribe to the sports newsletter
Get the day's top sports headlines and breaking news delivered to your inbox by subscribing here.
---