News > Business
Ag Expo to open as Washington farmers continue to face economic uncertainty
Feb. 4, 2019 Updated Mon., Feb. 4, 2019 at 7:05 p.m.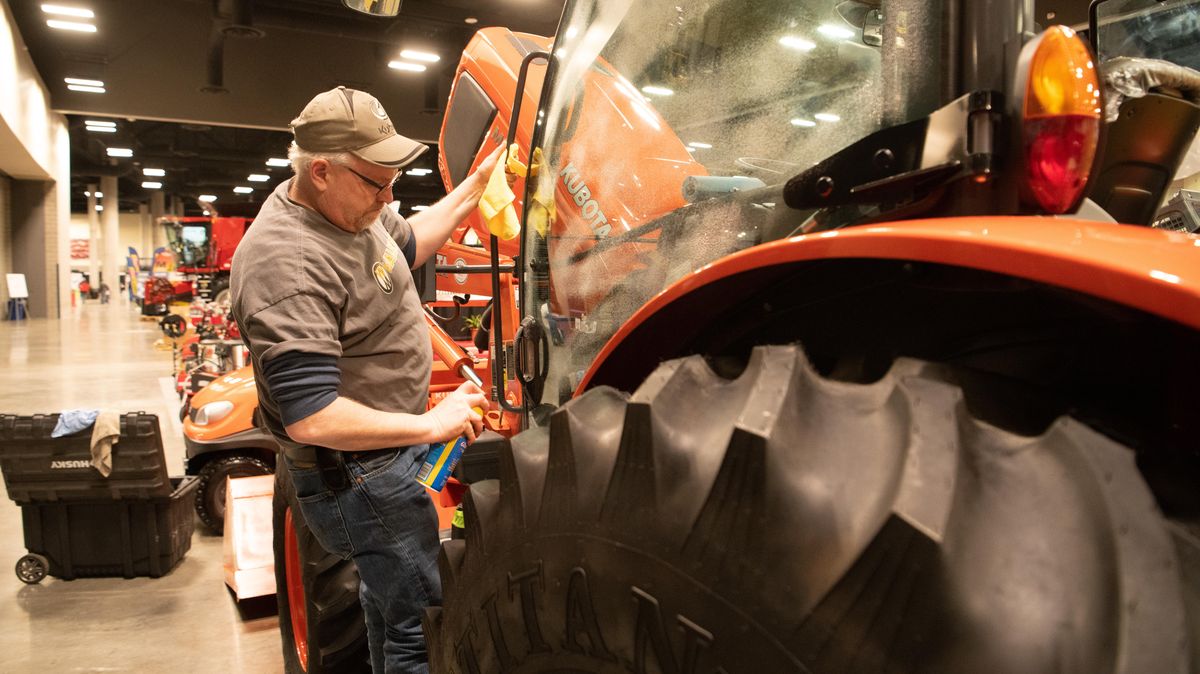 Jody McBride, of Adams Tractor, cleans the windows of a Kubota tractor in the Spokane Convention Center as implement and supply dealers set up for the annual Ag Expo Monday, Feb. 4, 2019. (Jesse Tinsley / The Spokesman-Review)
The wheels, all 6 feet, 6 inches of them, are polished on the shiny new John Deere R4045 sprayer, which is about two stories tall and can extend its arms to spray 120 feet of field in a single pass. But the massive new piece of equipment may be a tough sell as many farmers face an uncertain market after an economic roller coaster 2018.
The huge sprayer is just one piece in rows of farmer eye candy that are part of the Spokane Ag Expo and Pacific Farm Forum, which begins in earnest at 9 a.m. Tuesday and runs through Thursday at the Spokane Convention Center.
The venue is completely full of vendors selling everything from handmade, custom-fit, bison-hide boots from Nicks Boots, to forklifts, scissor lifts, generators, tractors, trailers, freeze-proof water tanks, livestock scales and even live alpacas.
"This is the biggest ag show in the Inland Northwest," said Melisa Paul, director of the Regional Agribusiness Council. "We get about 85 percent return rate on our exhibitors. They are excited to be here every year and show off their new products and technologies."
But many farmers are waiting for the U.S. government to show off new trade deals, said Randy Fortenbery, an agriculture economics professor at Washington State University. At 9 a.m. Wednesday, Fortenbery will provide his economic forecast at what Paul said will be one of the biggest draws for the three-day event.
"On the beef side, exports have been really good. So we haven't been hurt much there," Fortenbery said. "But on the grain side, it's the opposite. China bought some soybeans but no wheat."
He noted that Canada and Mexico have verbal agreements to replace the North American Free Trade Agreement, but it hasn't been approved by either house of Congress. And, talks with China about tariffs have been placed on hold.
"They are talking but there hasn't been any real progress to date," Fortenbery said. "So, the trade situation hasn't improved as much. I believe we'll see better prices in crops, but we would see even better prices if the trade turmoil improved."
Government negotiators have also said the U.S. and Japan have generally agreed on a trade agreement. But uncertainty remains with several key wheat importers after President Donald Trump pulled the U.S. out of the Trans-Pacific Partnership.
The other 11 countries in the agreement include Australia, Brunei, Canada, Chile, Japan, Malaysia, Mexico, New Zealand, Peru, Singapore and Vietnam.
"If the Japanese trade agreement goes forward, and we get similar treatment from other members of the TPP, that's not a big deal," Fortenbery said. "But we could lose market share to Canada and Australia if we can't get other bilateral agreements" with members of the TPP.
While the economic forecast remains in doubt, the hopes of more than 200 hundred vendors will be on full display at a venue that took dozens of employees, volunteers and days to set up.
General admission tickets cost $12, but discounted tickets can be purchased for $10 at any North 40 Outfitters location, Paul said.
"It's going to be a wonderful show," she said. "We are expecting at least 6,000 attendees."
Local journalism is essential.
Give directly to The Spokesman-Review's Northwest Passages community forums series -- which helps to offset the costs of several reporter and editor positions at the newspaper -- by using the easy options below. Gifts processed in this system are not tax deductible, but are predominately used to help meet the local financial requirements needed to receive national matching-grant funds.
Subscribe now to get breaking news alerts in your email inbox
Get breaking news delivered to your inbox as it happens.
---